4 Pumpkin Recipes for a Nutritious Breakfast
Pumpkins are a very versatile vegetable, great in both sweet and savory recipes and a perfect energy boost to start your day with.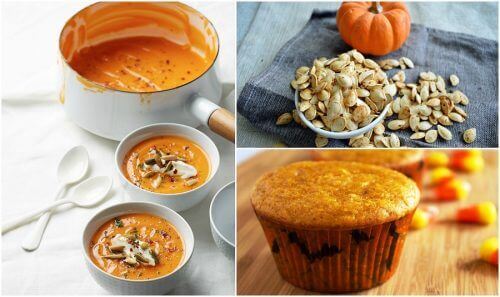 Pumpkin recipes allow for versatility in your diet. Pumpkins are a vegetable belonging to the cucurbitaceae family.
The plant comes from Southern Asia but now is grown all over the world.
Pumpkin recipes are culinary favorites due to the fruit's versatility. Additionally, pumpkin offers a significant source of essential nutrients.
And, it's actually used a lot in weight-loss diets. After all, it is very low in calories and contains vitamins and minerals that support a properly functioning metabolism.
The best thing is that it is easy to find and has a flavor that makes it go great with other ingredients in healthy recipes.
Today we'd like to share with you 4 ways to add pumpkin to your breakfast and take advantage of all of the nutrients and energy is has to offer.
Are you ready to try these delicious and nutritious pumpkin recipes?
1. Pumpkin muffins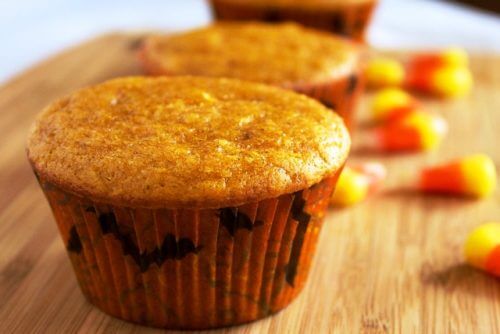 Muffins are a great energy-packed breakfast bread.
Here the ingredients provide carbohydrates and natural fiber that helps improve digestion while keeping you feeling full longer.
Ingredients
1 cup of pumpkin puree (210 g)
1/2 cup of apple preserves (110 g)
2 eggs
1/4 cup of almond milk (62 ml)
2 cups of whole wheat flour (400 g)
3 tablespoons of honey (75 g)
1 teaspoon of baking soda (5 g)
1/2 teaspoon of salt (2 g)
Baking spray (as needed)
Preparation
Add all of the ingredients to a large bowl and mix until all dry ingredients are mixed well into the wet ones.
Spray the muffin tins and bake for 20 minutes at 350 degrees.
"Take a look at this too: 3 Different Recipe for the Perfect Breakfast"
2. Pumpkin soup
Pumpkin soup is one of many low-calorie but very nutritious pumpkin recipes. It is an excellent way to start your day off with extra energy.
Additionally, while it's also good for lunch or dinner, soup is an easy option for a change of pace at breakfast time as well.
Ingredients
2 cups of pumpkin puree (420 g)
3 cups of chicken broth (750 ml)
1/2 cup of low-fat milk (125 ml)
1/2 teaspoon of powdered onion (2 g)
1/4 teaspoon of salt (1 g)
Preparation
Add all ingredients except for the milk to a sauce pan.
Then, heat on medium heat and stir frequently, cooking for 15 to 20 minutes.
After this time, add the milk, mix well, and cook for 2 minutes longer.
And, if you like, you can process it in a blender for a smoother texture.
3. Pumpkin smoothie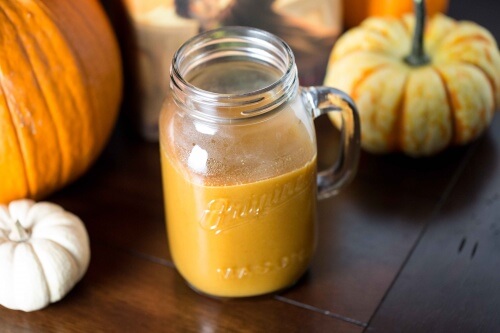 This pumpkin smoothie is an energizing drink that will help keep you going both physically and mentally as you go throughout your busy day. It is one of the easiest pumpkin recipes to enjoy on the go.
You can have it as part of your breakfast or anytime hunger hits between meals.
Ingredients
1/2 cup of pumpkin puree (105 g)
1 ripe banana
1 cup of almond milk (200 ml)
1/2 teaspoon of cinnamon (2 g)
1/2 teaspoon of vanilla extract (2 g)
Ice (optional)
Preparation
Add all of the ingredients to a blender and process until all lumps are gone.
Then, if you like, add ice.
"We recommend reading: The Best Breakfasts are Packed with Energy"
4. Roasted pumpkin seeds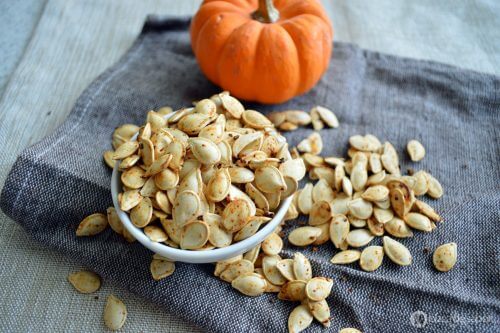 Pumpkin seeds are also full of nutrients that your body needs.
They are anti-inflammatory, improve your digestion, and are perfect for controlling your appetite in the mornings.
Ingredients
1 cup of pumpkin seeds (64 g)
2 tablespoons of canola oil (30 g)
1 tablespoon of olive oil (16 g)
1/2 teaspoon of cinnamon
Preparation
Rinse the pumpkin seeds to remove any residue.
Dry them with a paper towel and then spread them onto a previously greased (with canola oil) cookie sheet.
Roast the seeds for 20 to 30 minutes at 350 degrees.
Once ready, put them in a container and sprinkle them with the olive oil and then the cinnamon.
Optionally, you can replace the cinnamon with ginger or another spice.
With these recipes you can enjoy healthier, more nutritious breakfasts.
Pumpkin tastes great and you'll love it as part of your first meal of the day.
The best part is that it's wonderful for the whole family and a good way to take care of yourself.