Prevent Pain and Inflammation from Arthritis with these 17 Foods
To control problems associated with arthritis, you should eat more foods that help to block pain and inflammation naturally. Learn about some of them in this article!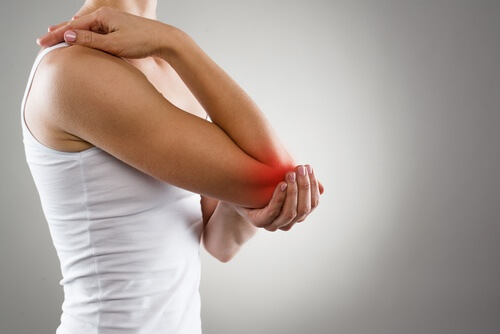 Do you suffer from pain and inflammation? Is it due to arthritis?
Arthritis is an autoimmune disease that causes inflammation in the joints. 
It affects various joints at the same time.  If it is not treated on time, or in an effective way,  it can cause intense pain, numbness and immobility in that part of the body.
In this type of ailment the cells react.  They have the task of defending the frequent and inopportune flareups which block pain.
They also create antibodies that react against their own body tissues.
To fight this, it's necessary to seek effective medical help and begin to consume some foods that block the pain and reduce the inflammation.
Here we present you with a list of those foods that will help you.
1.  Ginger
The analgesic and anti-inflammatory properties of ginger are comparable to that of ibuprofen and cortisone.
You can get this effect by consuming raw or hot ginger, in a tea or chewing on it directly on a bit of the root.
In any form, the pain will be reduced as if you had taken an analgesic.
2. Cayenne pepper
Cayenne pepper contains a substance called capsiacine. Besides helping to generate endorphins,  it allows us to alleviate initial pain from injuries.
Add to the food you're eating or consume one teaspoon of cayenne pepper dissolved in water.  It will give a feeling of well-being in your body and help to block pain.
3.  Cherries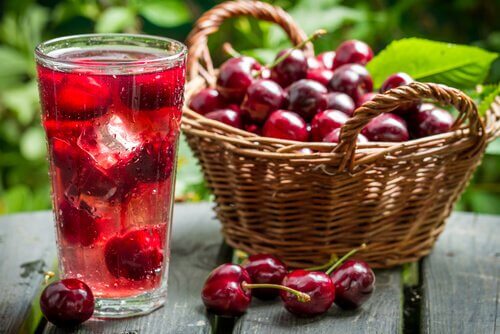 The ruby red color of cherries is due to a chemical compound called anthocyanine.
This compound also blocks pain like an anti-inflammatory medicine and without the steroids.
The daily consumption of cherries can reduce pain up to 25%.
4.  Garlic
Garlic is another food that blocks pain thanks to its anti-inflammatory properties. In addition, it helps the immune system function correctly.
The best benefits are obtained by eating garlic raw, chopped up in a salad or salsa, but without cooking it.
5. Red beets
Red beets are a potent antioxidant with a sweet flavor once they're cooked.  Besides helping block pain, they contribute to improving the way the immune system functions.
We recommend that you eat them in salads or include them in a delicious drink.
6.  SalmonSince it's rich in omega 3 fatty acids, salmon helps to reduce inflammation and lessens pain and swelling.
It would be ideal to include it in your diet at least once a week.
7.  Broccoli
Broccoli is outstanding for its antioxidant and anti-inflammatory properties.
Therefore, it's a good idea for all individuals with arthritis joint pain to include it in their diets frequently.
8.  Extra virgin olive oil
Besides having healthy fats for the heart, olive oil contains compounds that make it one of the best foods to block pain.
This oil also acts in a similar way as ibuprofen in the body.
9.  Cranberries
This fruit is rich in carotene, a potent anti-inflammatory.
This not only acts as a pain blocker in the case of arthritis, but is is also recommended for other ailments, such as heart disease, chronic fatigue, and allergies.
10. Oranges and grapefruit
These two fruits are rich in vitamin C and help to reduce the risk of suffering from arthritis.
However, it is best to eat the entire fruit since the juice has too much sugar.
11. Green Tea
Green tea is known to be a natural source of antioxidants. What complements this virtue is that it has a substance called epiallocatechin gallate.
This substance inhibits the production of molecules that cause inflammation in the joints and destruction of cartilage.
12. Carrots
Thanks to their beta carotene and beta cryptoxanthin, carrots are ideal to prevent the appearance of arthritis. 
Be sure to add them to your diet in a way that you like between 3 and 5 times a week.
13.  Brussels sprouts
Brussels sprouts reduce the deterioration of the cartilage. However, if this is not a vegetable that you regularly consume, it's possible that it may take you some time to adapt to it's flavor.
Nevertheless, it is a good idea to begin to include it gradually if pain and inflammation have begun to appear.
14. Turmeric
Turmeric is an amazing root.  If the pain and inflammation is giving you problems, it's time to include this in your diet.
The simplest way to incorporate turmeric into your diet is bit by bit in your green smoothies.
15. Pineapple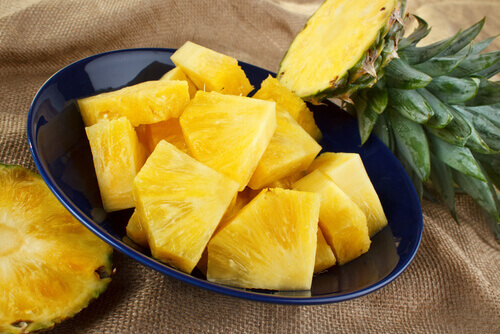 The bromeline in pineapple helps to reduce inflammation and regulate the autoimmune system of the body.  This is exactly what provokes excessive inflammation.
16.  Spinach
Thanks to the great quantity of flavonoids, spinach reduces inflammation.
It is also rich in vitamin K that also helps to improve the inflammatory response of the body. 
17. Tomatoes
In this case, the lycopene in tomatoes is in charge of reducing the pain associated with inflammation.
To obtain its benefits, it should be consumed cooked. This is the only way that the lycopene is released.
What are you waiting for? Add these foods to your diet today!