Prevent Crow's Feet with These 6 Natural Products
Even if you don't have very noticeable crow's feet, the best thing to do is to start to use natural products as soon as possible in order to delay their appearance.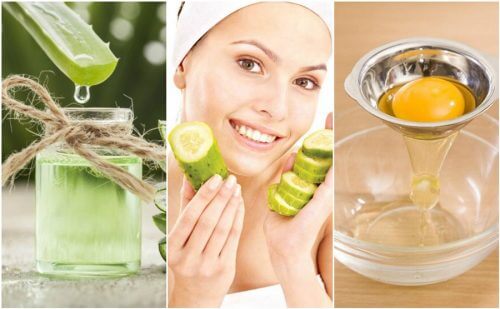 Crow's feet are fine wrinkles found at the corner of our eyes, that result from the stretching the skin endures due to our facial expressions as well as the skin's loss of collagen and elasticity.
Their appearance is a common sign of aging, but they can also appear prematurely because of sun exposure, toxins, and poor diet.
Although it's great that they are nothing to be alarmed about in terms of health, many people look to diminish them because they affect the look of their faces.
The problem is that many of the treatments and commercial creams are very costly and not all of them are easy to get on a regular basis.
Luckily, thanks to their properties, some natural ingredients can be used as cosmetic rejuvenators to minimize their appearance.
As we continue, we will share the 6 best ones to incorporate into your daily beauty routine.
You'll love them!
1. Egg whites
Egg whites are a natural ingredient that have been used for centuries as an alternative to regular cosmetics thanks to their ability to clean and tone the skin.
They contain essential amino acids and vitamins and minerals that create a protective layer against cellular damage. This is why they are great for eliminating the premature appearance of wrinkles.
How to use them?
Beat the egg white until they have a foamy consistency
Clean your face and apply the egg white to the outer corner of your eyes and your cheekbones
Let site for 15-20 minutes and then rinse with cold water
2. Prevent Crow's Feet with Milk
The lactic acid in milk is an anti-aging agent that helps to remove dead cells and skin spots.
Its properties regulate the production of collagen and give a tightening effect that decreases the appearance of crow's feet.
How to use it?
Put a small amount of milk in the freezer and when it is fairly cold, rub it over the contours of your eyes.
Let sit for 15 minutes and rinse.
Repeat every night to get the best results.
3. Papaya
A papaya mask helps to replace anti-wrinkle creme by noticeably decreasing fine wrinkles around our eyes.
This fruit contains enzymes and antioxidants that tone the skin and reduce the loss of elasticity and firmness.
How to use it?
Grind a slice of ripe papaya and apply the pulp to the corners of your eyes and cheekbones.
Let sit for 30 minutes and rinse with cold water.
Use the mask at least 3 times a week.
4. Castor Oil
Although castor oil is known for its hair growth benefits, it is also good to know that it is a great way to minimize the appearance of fine lines like crow's feet.
Its natural fatty acids, as well as its softening properties, deeply nourish the skin and diminish the look of wear and tear.
How to use it? 
Put a few drops of castor oil on your fingertips and rub over your crow's feet.
Do not rinse off. Repeat every night.
5. Aloe Vera
The gel from aloe vera is a natural cream that helps to hydrate and firm the skin which helps decrease the appearance of signs of premature aging.
It contains vitamins, minerals, and antioxidants that create a protectant barrier against the dangerous effects of free radicals. 
How to use it?
Extract the gel from the aloe vera leaf and rub it over the corners of your eyes until it absorbs into the skin.
Let it sit for 2 hours and rinse.
Use at night 2-3 times a week.
6. Pepper
Without a doubt, peppers are one of the most beneficial natural cosmetics for the delicate area around your eyes.
Its high concentration of water, in addition to its antioxidants and minerals, fights sagging, wrinkles, and problems like under eye bags.
How to use it?
Blend a pepper until it is well mashed and then put it in the fridge.
Let chill for two hours and apply to the areas you wish to treat.
Let sit for 20 minutes and then rinse.
Use every day, preferably before bed.
Would you like to prevent crow's feet and other fine lines? Choose any of these home remedies and incorporate them into your daily beauty routine, even if your skin is already in perfect condition.