How to Prepare Coconut Water Kefir to Improve Your Health
Preparing your own coconut water kefir is very beneficial and simple. Get the ingredients and follow this simple recipe to start enjoying its properties every day!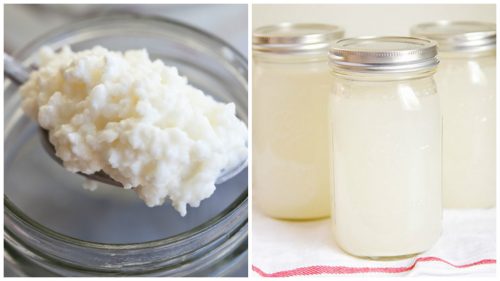 Kefir is a probiotic product that is made from a fermentation process that allows a number of bacteria that are beneficial to health to grow.
Its grains look similar to cauliflower, but they're much softer and gelatinous, in addition to having more medicinal properties.
Moreover, its main microorganisms are the bacteria Lactobacillus acidophilus and yeast Kluyveromyces marxianus. However,  these may vary depending on the region the kefir was made in and the culture method used to produce it.
The traditional recipe uses cow's milk, which acquires a flavor and texture similar to that of yogurt.
Nevertheless, it can also be prepared with coconut water. This will give an extra boost of essential minerals with fewer calories.
Below, we want to tell you how to make coconut water kefir so that you can enjoy its benefits at home.
Try it out!
Coconut water kefir to improve your health
Coconut water kefir is a fermented food that is made with organic coconut water, without being heated or processed.
The combination of this dairy probiotic with the electrolytes and nutrients of coconut water provides us with a great ally to promote the well-being of the whole body.
During the fermentation process, natural sugars are transformed into lactic bacteria. After they're  absorbed, these bring many benefits to the gut.
In addition, it contains essential minerals like potassium, sodium, and magnesium, which are necessary to properly hydrate cells and for proper muscular and cerebral functioning. Furthermore, these also promote the proper functioning of the renal system, facilitating the elimination of toxins and metals that form stones and obstructions in its ducts.
Its antioxidants contribute to improving the body's blood supply,  optimizing the cellular oxygenation process and cardiac functioning.
In fact, it's a good supplement to consume to control cholesterol levels and high blood pressure thanks to its vitamin E and fatty acid contribution.
Finally, its healthy bacteria balance the microbial flora of the intestine. This strengthens its defenses and increases its capacity to deal with the harmful microorganisms that attack the body
How to prepare coconut water kefir
To enjoy all the benefits of coconut water kephir, you only need to follow a few simple steps that will allow you to do it at home.
Make sure you get the water directly from real coconuts, since commercial coconut water products don't usually have the same properties.
Ingredients
1 liter of coconut water
100 grams of kefir grains
Utensils
Method
Put the kefir grains in a glass jar and then pour in the coconut water.
Cover the product and leave it in a cool, dark place for 48 hours.
After this time you'll notice that the kephir grains will have risen to the surface.
Strain the mixture and store the grains in the fridge so that you can reuse them.
Ferment the kefir for two days and then consume it or remove the cover from the jar. This will prevent it from exploding due to the accumulation of gases that occur during the fermentation process.
How to consume it
You can consume coconut water kefir on its own, or you can combine it with nuts and berries to give it a more pleasant taste.
 Ideally, you should consume it on an empty stomach so that its nutritional properties act during the whole day.
You can also consume a small amount of it when you feel tired or when you're craving food.
Read this article: 7 Reasons Why You Should Eat More Nuts
Things to remember!
Kefir grains can be reused as many times as you'd like since
the fermentation process keeps them in perfect condition
.
Therefore, after preparing the drink, follow these tips:
Put the kefir grains in half a liter of water with two tablespoons of sugar.
Leave them for 2 to 4 days, occasionally removing the lid and drain them.
Remove the grains again and combine them once again with coconut water.
As you can see, preparing your own coconut water kefir is very beneficial and simple.
Get the ingredients quickly and follow this simple recipe to start enjoying its properties every day.
Although its effects are not immediate, over time you'll begin to feel that your body is healthier.