Precautions Before, During and After Sun Exposure
Sun exposure can cause negative consequences for the skin, such as redness, sunburn, aging, and an increased risk of cancer. What should you be doing to protect yourself? Find out now! After all, summer is around the corner!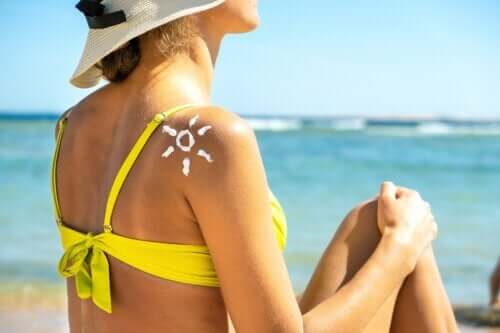 Sun exposure for longer than the recommended time, or without the necessary precautions, can be counterproductive to skin health. Maybe you just want to achieve a magazine cover tan, but in reality you can end up with burns, premature aging, eye damage and, in the worst cases, skin tumor lesions.
However, there's no need to worry. There are several studies that give you tools and tips to take all the precautions before, during and after contact with the sun. These will help you to keep your skin healthy and prevent you from suffering the consequences we just mentioned. Are you interested in knowing what they are? Just keep reading!
Considerations to take into account before sun exposure
In one of its reports, the National Institute of Health of the United States (NIH) indicates that sunlight is one of the risk factors for premature skin aging.
Also, in the long term, it leads to cancer if you don't take the necessary care. Therefore, before exposing yourself to the sun, you have to put  the following recommendations into practice.
Don't use products with alcohol
Perfumes and products with alcohol in their formula aren't recommended for the skin. The reason? When they come into contact with the sun, they tend to produce dark spots that are difficult to remove.
Even liquids such as lemon juice have this effect. If you apply it to your skin and then receive sunlight, you'll notice an almost immediate darkening. Be careful!
Avoid waxing or shaving
Some people choose to wax at the last minute, before going to the beach or the pool. However, this is a mistake. By doing so, your skin will be more prone to irritation of the hair follicles.
Then, with exposure to the sun and other environmental factors, you may experience pain, inflammation and even infection. So, if you plan to be outdoors, be sure to wax well in advance.
Take care of bruises
If you have bruises, try to avoid sunbathing for a long time. In case you have to expose yourself, try to cover them. As explained by some experts at My Health Alberta, this combination can cause spots to appear in the area where the bruise is located.
Use sunscreen
As much as you want to show off a perfect tan, the most important aspect to consider is the health of your skin. Exposure to the sun for many hours without sunscreen, which may happen when going to a beach or a swimming pool, is very harmful.
Sunstroke is the least of the problems you can have. In the long run, if you continue to refuse to wear sunscreen, you may end up developing serious diseases such as skin cancer. Be careful!
Precautions during sun exposure
Now, this is perhaps the most important step when you are going to sunbathe. It's not only the before and after, but the care you should apply when you are in full exposure. In this regard, consider the following points.
Drink water
By sweating (a very common process when there's sun exposure) and not drinking water, you'll be losing a significant amount of fluids that can lead to dehydration. Therefore, while you go to do outdoor sports, to the beach or to enjoy a day at the pool, always have a bottle with water to keep you hydrated.
In addition, according to the OSDE medical services network in Argentina, water represents 60% of the body's composition, so maintaining a good level of hydration will ensure the proper functioning of all organs.
Take care of your hair
Hair and the sun aren't the best of friends. In fact, if you're planning a vacation trip that involves prolonged exposure to the sun, then you need to make sure you take care of your hair.
Use heat protectant, moisturizing masks and, once you get back to normal, don't forget to give your hair a little trim to ensure the health of all your beautiful hair.
Reapply sunscreen
A single application of sunscreen isn't enough. When exposed to the sun, specialists suggest to reapply the product to ensure optimal care. According to the American Cancer Society, you should use a product of at least 30 SPF (sun protection factor).
The higher the SPF (sun protection factor), the greater the protection against ultraviolet rays. Carry it with you in your purse so you can touch it up when necessary.
Don't wear makeup
Applying makeup before going to the beach or pool can have negative consequences for skin health. Product residues can cause clogged pores when sweating. As a result, the risk of acne and infections increases.
Care after sun exposure
Last, but not least, is the care that comes after sun exposure. Believe it or not, these steps just as vital as the others we've mentioned, as they'll make your skin relax after subjecting it to the stress of ultra violet rays.
Moisturize your skin after sun exposure
After a long period of exposure to the sun's rays, it's common for the skin to become dry or dehydrated. To fix this, you should drink between 2 and 3 liters of water a day.
On the other hand, you can provide moisture with moisturizers that provide some nutrients. For example, products based on aloe vera or almond oil are good options.
Take a cold shower after sun exposure
Salt or chlorine must be eliminated from the skin once you return home. To do this, we recommend taking a cold shower. This will allow you to improve the oxygenation of the skin, in addition to giving you a feeling of freshness. You can complement it with neutral soap and a gentle drying.
Apply post-sun products
You can find many products that are specially made for post-sun care. For example, creams made with aloe vera, chamomile, and some with mint extracts. These allow you to soothe redness and inflammation if you have suffered burns.
They're also good choices if you have sensitive skin. For a better effect, you can put them in the refrigerator for a while before applying them. This way, you'll experience more freshness when rubbing them on your skin.
Cut your hair after unhealthy sun exposure
Sometimes the damage caused to the hair by long exposure to the sun is irreparable. In these cases, even if you don't think so, the best thing to do is to cut at least 2 fingers at the ends of the hair. You'll remove that damage and allow for healthy new growth.
You can also reinforce your hair care with moisturizing masks and other nourishing treatments. Don't forget to use daily heat protection!
What to remember about sun exposure
Sun exposure makes it possible to achieve a tan that improves the aesthetics of the skin. However, it's important to remember that too much sun exposure can be harmful. Therefore, to minimize the risks, we must apply certain precautions before, during, and after direct contact with the sun.
If your skin is very sensitive and reddens too quickly, the ideal thing is to maximize care to mitigate the risks. In addition to sunscreen, other elements such as hats, long clothing, and sunglasses can help. Don't forget to care for your skin!
It might interest you...