Our Older Siblings: Friends and Second Parents
Although sometimes we can have certain differences, older siblings are characterized by their unconditional attention toward their younger siblings and for being an example for them in every aspect of life.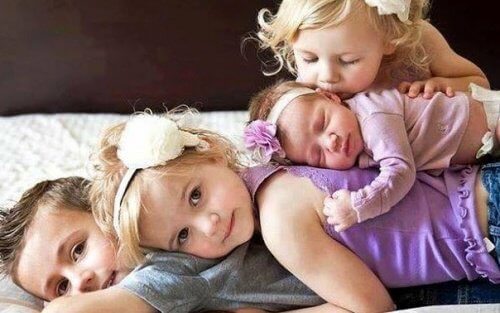 Older siblings didn't ask to be older siblings. One fine day their lives changed with the arrival of that younger sibling. This sibling was whiny and spoiled by parents who suddenly offered nearly all of their attention.
The older sibling needed some time to accept that they were no longer the only kid in the house. That older sibling was no longer the prince who was destined to receive all of the toys and touches.
They had to learn to share affection and to take good care of his clothing or his books so that they could be passed down to the younger siblings. What's the role of an older sibling in a younger's life?
Almost without knowing how, something bizarre followed those years of small jealousies. When they were younger, concessions were though and they didn't know very well how to define their relationship.
As they grew older, it became clear that they had a role, a right, and a duty: to look after and to take care of those special friends. Those younger siblings would become a part of the older sibling's heart.
Older siblings: vital traveling companions
Not everyone maintains a good relationship with their siblings. Despite this, for the vast majority of the population, siblings assume an irreplaceable psychological and emotional support.
We share with them a common origin and history that, at times, might not have been exactly easy.
Siblings give us roots and unite us to those days ever so decisive as our infancy and early childhood. They are the ones also who support us in these days of maturing. 
An older sibling is like a second father or a second mother
An older sibling sees himself obligated to reconsider many things he took for granted. When new guests claim what was his place in the family, how does an older sibling react?
For many children, having younger brothers is undoubtedly something complex that the parents should learn to manage. Parents need to love and cover the necessities of all their children equally.
Only when all the children see themselves as loved in the same way by their parents can the older sibling grow to their challenges. As they take on more responsibility, older siblings become protectors for the smallest ones.
The older sibling is the one who will offer advice, advice that adolescents are sometimes too afraid to ask their parents. They are the ones, in addition, who are going to live the first experiences and therein set the example that the younger ones will follow.
Siblings have the capacity to intuitively know  what is needed in each moment. As a result, they ensure that their younger siblings don't make the same mistakes they did.
When the relationship we have with our parents is somewhat complicated or isn't as satisfactory as it should be, the link that siblings establish is much more intense.
That small, vital circle between older and younger siblings arises like a wall of protection. These relationships help them build support and emotional strategies to face hardship. They are instances that, if experienced in early childhood, do not tend to be forgotten in maturity.
In spite of everything, their love is unconditional.
Not every sibling is comfortable sharing their feelings. Most of the time, especially as they are growing up, siblings will bicker with each other. Perhaps that's beacuse many older siblings aren't all that comfortable talking about their feelings.
Still, we can feel their love and concern in their small gestures. Things like phone calls and shared memories are a good way to feel your sibling's love. You will also notice it in the simple fact of perceiving how he puts you ahead of many other things. This way he shows his protector instinct.
Older brothers are a pillar in your life. Often, it makes you wonder what your day to day would be like without that exceptional and wonderful connection.
It is curious that it's said that siblings "are the enemies you love the most." This highlights once again those complex years of childhood in which the pranks, the shouts and the bickering marked some moment or other.
Nevertheless, all of these vital pieces help us to educate our children better in the future. Parents understand that arguments and bickering are normal, but they also try to treat everyone the same.
Parents should always refrain from discriminating on the basis of gender. At the same time, they avoid overloading the older sibling with responsibilities merely for being a few years older.
A childhood inhabited by love, affection, and respect is vital for every child to grow in a way that is mature, safe and free.
It might interest you...