Effortless and Natural Ways to Relieve Dry Skin
Your skin undergoes changes due to a poor diet, the climate, or the passage of time. Hydration slows aging. Follow these steps to moisturize your skin with natural treatments.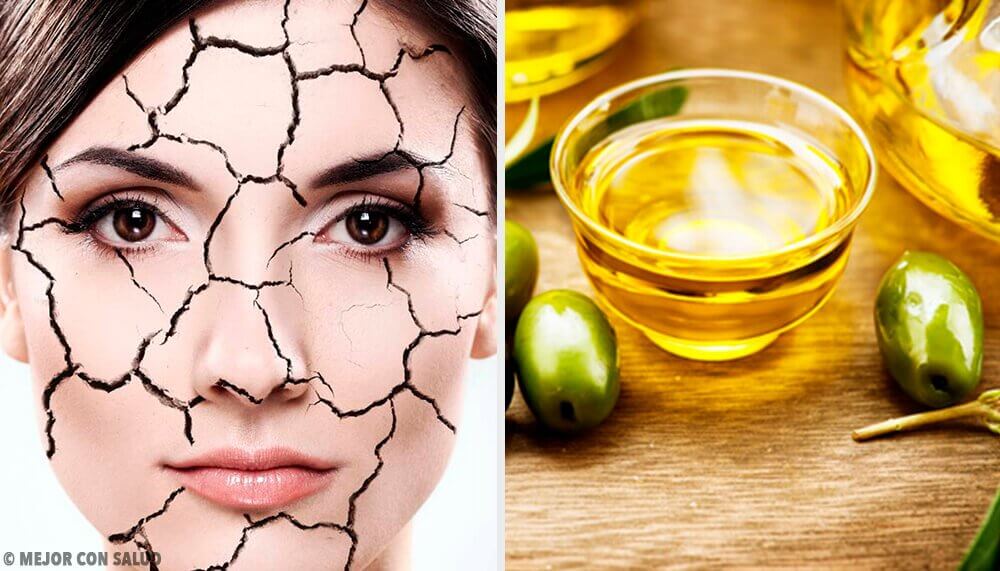 What is dry skin? It's a common condition in which the dermis undergoes changes due to a poor diet, the climate, or the passage of time. It all starts when the sebaceous glands begin to decrease fluids that help moisturize the skin and prevent water loss.
The moisturizing substances are responsible for maintaining the skin's homeostasis, slow down the aging process, and fight any problem in the dermis. The absence of this hydration can present itself in different ways, for example through cracks in the skin or itchiness. However, symptoms vary depending on the degree of dehydration.
The Appearance of Dry Skin
Your face may look dull and feel sensitive.
Thin texture.
Fine and closed pores.
Reddening.
Premature wrinkling.
Tightness.
Peeling.
In severe cases, there is some bleeding between skin folds.
Steps to Moisturizing Your Skin
The first thing you have to do is clean your face really well, preferably with a cleansing milk.
Then, apply an alcohol-free tonic uniformly.
You must also apply a moisturizer that also contains sunscreen. You should do this every morning.
In addition to the moisturizer, you must also apply a nourishing cream, which is exclusive for night use. It will help prevent aging and saggy skin.
Don't forget to apply in the area around the eyes and on your lips because they are also part of the treatment.
Remember to apply a face mask at least every couple of weeks.
Finally, exfoliate once a week to remove impurities and dead skin cells.
See also: Five Masks that Give You a Perfect Face
Natural Treatments
Moisturizing Mask
Bananas are high in potassium, making them an excellent ally for combating wrinkles. Meanwhile, oats and honey nourish and moisturize your face.
Ingredients
1 banana
4 tablespoons of oats (60 g)
1 tablespoon of honey (15 g)
Preparation
First, place the banana in a container and crush it with a fork to form a paste.
Next, add the tablespoons of oatmeal and mix until incorporated.
Finally, add the tablespoon of honey.
How To Use
First, rinse and dry your face.
Next, apply the mask in circular motions.
Finally, leave on for 15 minutes and then rinse.
Milk Bath
No wonder milk was one of the ingredients most commonly used by Egyptians for beauty purposes. Milk is still used today. We can find it in hundreds of soaps and creams.
This is because it's made up of carbohydrates, proteins, and fats that nourish the skin. Also, its lactic acid content also acts as an exfoliant.
How To Use It
As a Moisturizer
To begin, clean your face well.
Then, rub a cotton swab moistened with milk over your skin and wait 5 minutes.
Finally, rinse with warm water.
As a Makeup Remover
Before going to bed, moisten your makeup removing wipes with warm whole milk.
Remove your makeup.
Finally, dry with cotton.
As an Exfoliant
In this case, you'll also use a bit of ground oatmeal and honey.
Ingredients
2 tablespoons of ground oats (30 g)
1 tablespoon of honey (15 g)
¼ cup of whole milk (35 ml)
Preparation
First, pour the 2 tablespoons of oatmeal into the milk.
Next, add the honey and stir until the ingredients are incorporated.
Finally, apply the mask.
How To Use
Apply the mask to your skin.
Leave on for 15 minutes.
Finally, rinse with warm water.
Olive Oil
Olive oil helps fight skin dryness due to its high fatty acid contents. However, it's important you use it in small quantities.
Ingredients
½ tablespoon of olive oil (15 g)
Commonly used cream
Cotton
Preparation
To begin, wash your face with cleansing milk.
Next, apply the tonic and wait for your skin to absorb it.
Then, moisten the cotton with olive oil and apply on your face.
Leave on for 10 minutes.
After that, rinse with warm water and apply your moisturizer.
Finally, repeat the procedure for 1 week. You'll definitely see the difference.
Don't miss: Eliminate Skin Impurities with These 6 Facial Masks
Tips
Avoid products that contain alcohol.
Use moisturizing masks.
Increase your fluid intake.
Eat a balanced diet that's rich in nutrients.
Use a moisturizer every day, especially those that contain vitamins, elastin, and collagen.
Never go to bed without removing your makeup first.
Try to quit smoking because this bad habit disrupts tissue oxygenation.
Are you ready to moisturize your skin?
It might interest you...