Your Past Has Made You the Woman You Are Today
All of the setbacks that life has thrown at you, each of your joys and every lesson you've learned over the years has shaped the woman you are today.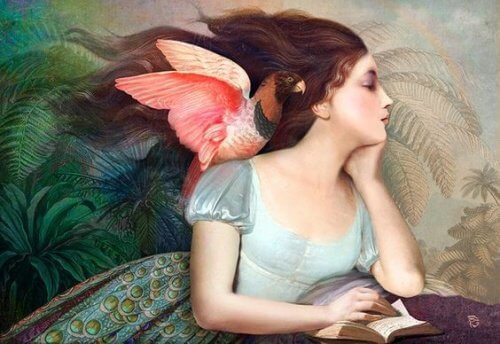 The woman you are right now has a unique and exceptional history. Your personal story is punctuated by both light and dark. This includes times of personal difficulty and times of personal success.
Everything that is lived, felt and seen weaves a tapestry of experience that makes up everything that you are. A person who is able to accept each of these pieces without regret will move through the cycle of their life more easily.
Of course there are certain memories that bring a lot of stress and anger, however there are also times of happiness.
There's no doubt that there exists a version of your own self that you don't like and want to reject. Nevertheless, you can't do it.
You must be able to accept the woman you were yesterday because she has helped provide strength and beauty to the woman you are today.
We invite you to reflect more on this.
The woman today looks in the mirror and sees an incredible story
No one but you knows all the paths that you have been on. No one knows your personal struggles or how hard you work for the things you love.
Your personal map will contain some dark corners, corners that you've never shared with anyone. You haven't because they reflect times of crisis of which you are not proud.
However, when you look at them from a distance, you can accept them and recognize how influential they were.
See also The gift of being a woman over 40
A failed and painful relationship, a project that didn't succeed – these are all remnants of that past that sometimes causes you pain to remember.
But far from looking at life as if it were a series of isolated train stations, view it as a continuous cycle, where everything defines the woman you are today.
Accepting yourself
Accepting yourself doesn't mean that you simply look in the mirror and love every inch of what is reflected on its surface. It's much more than that. In fact, self-acceptance is something that you can practice every day.
Accepting yourself means knowing how to take responsibility for your mistakes and learning from them.
Accepting yourself means understanding that you're not infallible, you can't do everything or satisfy all the desires of those around you.
Accepting yourself means knowing that life is change and you have to adapt to each variation with optimism and integrity. If not, you won't be able to fully enjoy life.
Maturity is a valuable inner journey
Growing up isn't just another birthday. It is being able to fulfil your dreams. There's nothing more upsetting than simply letting time pass without sensations, discoveries, learning new things, making mistakes and smiling.
Real life is lived outside of your comfort zone. That means living beyond that line, just past the barrier of fear, where the best things happen.
Growing up is an inner journey that requires you to take advantage of everything you have experienced to modify your personality.
You are not the same woman you were 20 years ago. You still have a part of that woman but the journey is peeling off layers and adding new ones.
Never be afraid of growing older, be afraid of a life left unlived.

Who I am now
You are at the halfway point in which you can look upon yesterday with satisfaction, because you've accepted all of your paths and choices. However, in turn, you direct your focus to the future and still wonder what that horizon will bring.
Don't miss Sometimes getting lost is the best way to find yourself
No matter what the future brings, it's not here yet. Wise people believe in one thing: the best time is now.
Your best age is right now and the most important time of your life is opening up in front of you at this very moment.
You know that fate will roll its own dice. However, you are also the creator of your own reality, making your own decisions and going for what you want.
You entire life has given you strength, courage and determination, which all are valuable treasures. This is your personal legacy, something that is without a doubt, truly marvellous.