Microwave Cake: Fast and Simple Desserts
When preparing mug cakes, we should be careful not to put too much mixture into our mugs because it could spill over.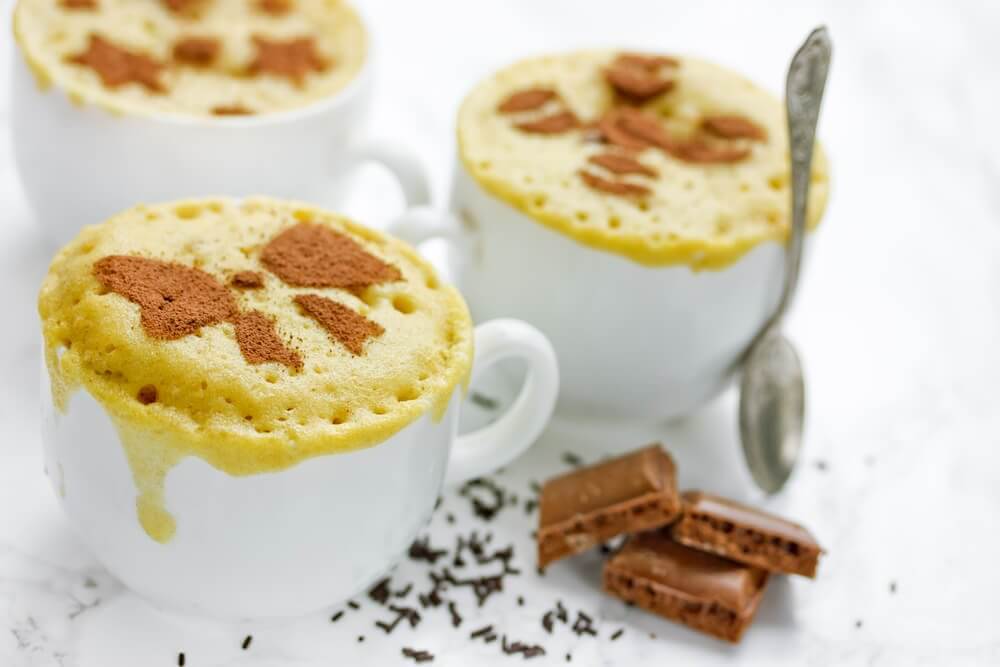 When it comes to dessert, recipes that are fast and simple– and of course delicious— are always better. Are you a fan of microwave cakes? 
You might not believe it, but the microwave is one of the few appliances that can carry out tasks other than heating up and reheating food, which helps for easy meals.
This home appliance can provide high and consistent temperatures that are great for dishes with simple preparations.
It's also perfect for recipes that don't require stirring or slow-cooking.
Things to keep in mind when making a microwave cake
Preparing the microwave
Before using the microwave for any kind of recipe, you should prepare it prior to cooking for a better cooking process as well as end results:
Clean the microwave.
Select the time range, power and space.
Choose proper materials with which to cook. We should opt for utensils that are microwave-safe, such as glass pie pans, paper towels, microwaveable plastic wrap, and cooking bags.
Selecting the right ingredients
There's a wide variety of preparations and ingredients available for cooking.
However, if we're trying to make a cake in a microwave, we should use foods and ingredients with certain characteristics:
They should be able to fully cook in less than 5 minutes.
How to make a microwave cake
In order to make a top-notch, delicious microwave cake, you only need a few ingredients and the right utensils.
Ingredients
1 tablespoon of pure cacao or baking chocolate (30 g);
½ tablespoon of butter at room temperature (10 g);
2 eggs;
2 tablespoons of warm milk (30 ml);
3 tablespoons of flour, self-rising or all-purpose (45 g);
1 pinch of baking powder.
Utensils
2 microwave-safe vessels;
1 pair of scissors;
Preparation
First, prepare the baking chocolate or pure cacao. Using a spoon or a scale, measure out 30 grams of the chocolate or cacao.
Next, melt the chocolate in the microwave, around 40 seconds, in one of the microwave-safe vessels.
After, add the butter to the chocolate and stir until the mix is homogeneous.
After mixing, add the eggs and milk to the mixture. Stir constantly to maintain the consistency of the mixture.
In the other vessel, sift the flour with the sugar and baking powder.
Mix them to add them to the chocolate mixture later. Gently stir all the ingredients together.
After, snip three openings at the bottom of each vessel you'll use for cooking: this will help circulate air and steam in the cooking vessel.
By doing so, our microwave cake will be nice and spongy.
Divide the mixture evenly and pour into the vessels, filling them halfway so that the cakes all come out a similar size. They should have enough space to expand without spilling over the edges.
Cooking the cakes
Before cooking the cakes in the microwave, we should cover the microwave plate with a napkin. In addition to preventing messes, it'll also help the cake quickly rise and grow.
After, select the power option of the microwave to cook the cake.
You shouldn't cook them for more than a minute and a half or two minutes at medium-power. After cooking, take them out of the microwave.
Afterward, flip them over, but don't remove them from their vessel, and let them cool for 3 minutes. This technique will keep all the heat inside the cooking vessel and cake.
By doing so, the cake will continue to cook with the remaining heat, even after it's been taken out of the microwave. Another advantage of using this technique for these kinds of recipes is that it prevents overcooking.
Lastly, after the cakes have rested for the previously stated time, remove them from their vessels.
And, you're finished making a delicious chocolate dessert.
In addition to enjoying a soft and spongy texture that cake should have, we'll also have made it simple and in no time.
It might interest you...