Medicinal Herbs to Cleanse Your Liver
Your liver is part of your body's purifying system. As such, it's important to take care of it. Discover medicinal herbs to cleanse your liver to enhance its functioning.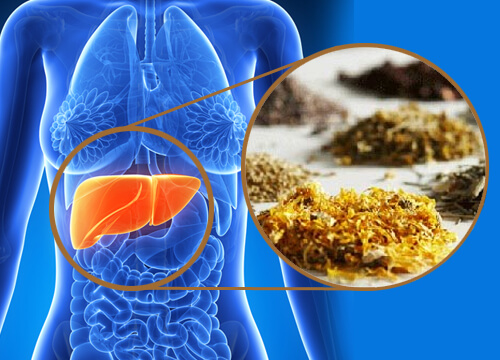 The liver is the most important organ that you have. Therefore, you should take care of it to live a healthy life. The rest of your organs will function depending on how you care for it. Find out more about medicinal herbs to cleanse your liver.
Indeed, it's important to pay attention to our list of herbs to cleanse your liver and gallbladder naturally. This is because they have the ability to help detoxify these organs.
Herbs to cleanse your liver: borututu tree bark
This tree's bark has age-old properties that help to detoxify the liver, gallbladder, and the digestive system in general. It's also a great blood depurative or purifier. What's more, it's packed with antioxidants. As a result, your body may better resist toxins in water, foods, the environment, and those from stress.
Chicory root
Another herb is the chicory root, which has excellent benefits that help the liver and gallbladder. Further, this plant's root may help prevent the formation of gallstones. You can make a healthy tea to drink twice a day using 1 tablespoon of roots and 2 cups of boiling water.
Milk thistle seeds
Another example is milk thistle seeds, which may have the ability to increase the possibility of regenerating liver tissue. Milk thistle seeds may also boost bile production, which is vital to the liver's proper functioning.
A good milk thistle tea can help control cholesterol levels. What's more, it provides the body with many antioxidants that are crucial for getting rid of free radicals. It also helps prevent liver and gallbladder inflammation.
Mint leaves
Tea with mint and spearmint leaves can be effective in improving proper liver and gallbladder functioning, as well as the entire digestive system. This is because both plants have the ability to relax muscles and reduce the discomfort that causes colic from stomach disorders.
Turmeric
Turmeric is a powerful antioxidant, which makes it a notable aid in ridding the body of toxins. Firstly, it cleanses your blood to help keep your body in perfect health. It also promotes proper blood circulation, which is why some advise for its regular consumption to keep your liver healthy.
Yellow sorrel root
This root is very effective for detox since it allows the expulsion of some substances that can harm your liver and gallbladder. It may also stimulate the intestinal tract, which helps those who suffer from constipation. It can even relieve kidney problems since it boosts urine production, promoting the expulsion of harmful substances from the kidneys, bladder, and the body in general.
Chanca piedra
The benefits of this amazing plant were recently discovered, but it's known to be truly effective for preventing and improving liver and kidney problems.
In order to make a proper chanca piedra tea, boil (about) 3 glasses of water and add 3 tablespoons of its leaves. Once it has boiled for 15 minutes, lower the heat and let it sit. Drink this mix three times a day for a week.
Pregnant or nursing women shouldn't use this herb. You should use it with caution if you have diabetes or hypertension.
Closing
Lastly, there are many herbs to cleanse your liver. They can be a vital help for treating and preventing diseases. As such, you should know how to use each one and be very careful when taking them. Also, avoid consuming more than the advised amount since they can cause an adverse effect.
It might interest you...