4 Masks to Relax Your Eyes and Erase Dark Circles
Natural masks can be a good complement to reduce the appearance of dark circles. Do you dare to try them out? In this article, we share four interesting options.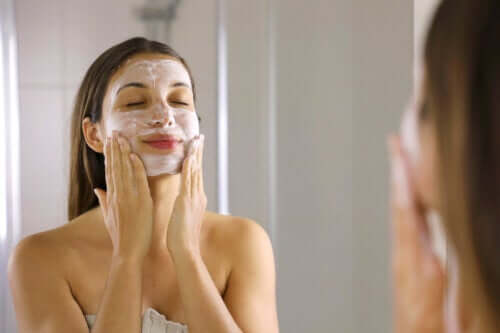 There's no miracle remedy to relax your eyes and erase dark circles instantly. In fact, you may need to constantly apply some treatments to be able to minimize their unsightly appearance little by little. Would you like to try some natural masks?
Since ancient times, a series of natural ingredients have been used to help relax the eyelids, while reducing the darkening that makes your eyes tired. While many of these options lack scientific evidence, anecdotal evidence suggests that they may be effective.
What are dark circles and why do they appear?
Dark circles are a darkening of the skin around the eyes that can affect both men and women. Although they aren't a health problem, their presence is considered unsightly, as it makes the face look sick and tired. According to the Mayo Clinic, its causes include:
Fatigue, which is its most common cause.
Allergies.
Atopic dermatitis (eczema) and contact dermatitis.
Allergic rhinitis (hay fever).
Hereditary factors.
Rubbing or scratching the eyes.
Sun exposure.
Thinning of the skin and loss of fat and collagen associated with aging.
Likewise, data published in the Journal of Cosmetic Dermatology indicate that this alteration is caused by other factors, including:
Dermal melanin deposit
Post-inflammatory hyperpigmentation
Periorbital edema
Superficial vasculature
Shading due to skin laxity
Masks to relax your eyes and erase dark circles
It's very important to bear in mind that, as dark circles have multiple causes, they may require various types of treatments to ensure elimination. Thus, before trying any product, be it natural or conventional, it's best to consult a dermatologist or aesthetic professional to discover the possible options.
According to a publication in Clinics in Plastic Surgery, there are new therapeutic options, including longer lasting hyaluronic acid fillers, laser procedures, and topical products that can yield good results. However, as we already mentioned, the choice between one or the other depends on the cause.
However, you must bear in mind that this type of treatment, although effective, is usually very expensive. Therefore, some prefer other types of options. In this case, we propose some natural face masks that can help relax your eyes if you apply them regularly. Do you dare to try them out?
If you decide to go for these types of options, keep in mind that you won't get immediate results. In addition, if possible, you should complement them with good habits such as good sleep, a good diet, and optimal hydration. Be consistent with their use!
1. Potato and cucumber to relax your eyes
Both potato and cucumber have been used as refreshers to relax the eyes. In addition, due to their water and nutrient content, they can also help hydrate and tone. In this case, combined with vitamin E, they make an interesting treatment to reduce the appearance of dark circles.
As a study published in the Indian Dermatology Online Journal states, vitamin E protects the skin from the negative effects of free radicals. In addition, it's photoprotective and helps reduce dark circles that form under the eyes.
Ingredients
¼ medium potato
¼ cucumber
½ vitamin E capsule
Preparation
Firstly, wash and peel both vegetables.
Boil them in plenty of water for 10 minutes at low heat. When they become soft, take them out and leave them to cool.
When they cool down, blend them with the vitamin E capsule and mix until a paste forms.
Apply on the whole area around the eyes carefully to avoid letting it enter them.
Wait for 15 minutes and wash off with cold water.
2. Chamomile and yogurt
A review published in the journal Phytotherapy Research suggests that chamomile has antioxidant and anti-inflammatory properties. In addition, it contains phenolic compounds that also contribute to skin health. For this reason, it's often used as an ally against dark circles.
However, more research is needed to demonstrate chamomile's role in reducing periorbital skin swelling and darkening. In any case, combined with ingredients such as yogurt, it's an ideal mask to relax the eyes and reduce dark circles.
Ingredients
1 chamomile tea bag
¼ cup of hot water (62 ml)
1 tablespoon of yogurt (20 g)
Preparation
Prepare the chamomile tea by soaking the bag in the hot water.
Add the yogurt to the infusion and mix together well. Make sure there are no lumps or air pockets left in the mixture.
Store it in the refrigerator because chilling the cream will maximize its effects.
After a day of refrigeration, gently apply the mask and leave it on for 20 minutes.
Wash off with cold water and apply a hydrating cream.
3. Apple and olive oil mask
Apple is used in natural cosmetics due to its water and antioxidant content. For its part, olive oil is a good complement, as it helps moisturize.
Ingredients
½ half apple
1 tablespoon of olive oil
Preparation
Cook the apple in a little water. Use just enough water to soften the fruit, making it easy to blend.
Blend the apple until it has the consistency of apple sauce.
Add the oil and mix well to make the mask.
Apply in the eye area, making sure the mixture doesn't enter the eyes as oil can be harmful for them.
Cover with a wet towel and leave on for 30 minutes.
Wash off with warm water and finish by applying a hydrating cream.
4. Almond and avocado oil
The oils in this mask contain vitamin E. For this reason, they're good options to improve the appearance of the eye area and reduce dark circles.
As a publication in the Indian Dermatology Online Journal states, vitamin E helps protect the skin against the aggressions of ultraviolet rays and free radicals.
Ingredients
3 drops of avocado oil
3 drops of almond oil
Preparation
Mix the two ingredients together and lightly pat on the mixture in the eye area.
Be careful not to let the mixture enter your eyes. Lightly massage the area to facilitate absorption.
Leave it on until your skin has absorbed the oil completely.
Wash off with warm water and apply your normal cream around your eyes.
Final tips to relax your eyes and erase dark circles
You can try several types of treatments to reduce dark circles and look more rested. However, for best results, it's best to consult a dermatologist or aesthetic professional in order to determine the cause of the dark circles and the appropriate therapeutic options.
Similarly, it's important to improve your lifestyle and maintain healthy habits for your skin. Wearing sunscreen every day, avoiding tobacco exposure, and ensuring good hydration can prove helpful. Keep that in mind!
It might interest you...