4 Masks to Erase Dark Circles and Relax Your Eyes
In order to get the most out of these masks and erase as much of your bags as possible, take your time with them and dedicate some time to relaxing after using them.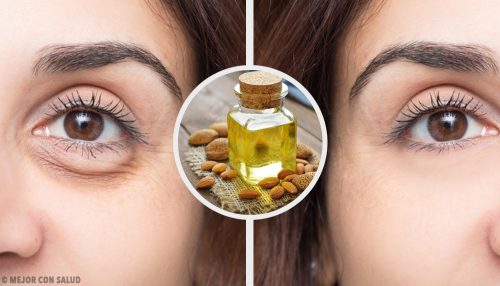 However, dark circles, or bags, can also be an inherited family trait. Fortunately, we can use homemade masks to relax our eyes and erase dark circles immediately.
An advantage of these home remedies is the simplicity of their preparations; you can make them in a jiffy and they require minimum effort. What really matters is that you select fresh ingredients in order to attain the best results. 
If you're left with a lot of extra product, you can store it in a tightly closed glass container in the refrigerator.
Keeping it in the refrigerator will also make the masks even more relaxing as they will be chilled.
1. Potato and cucumber to eliminate bags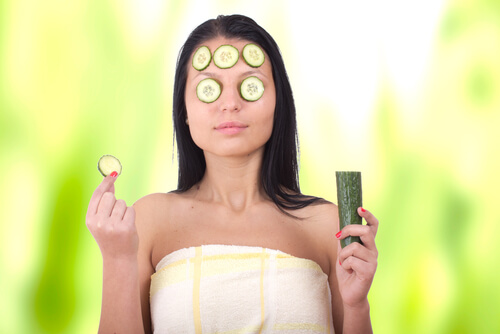 This mask is an excellent blood regulator that helps to relax the eyes by soothing the eyelids. After a week using this mask, your bags will disappear almost completely.
We recommend that you use this treatment daily for a week and, after, once a week.
Ingredients
¼ medium potato
¼ cucumber
½ vitamin E capsule
Preparation
First, wash and peel both vegetables.
Boil them in plenty of water for 10 minutes at low heat. When they become soft, take them out and leave them to cool.
When they cool down, blend them with the vitamin E capsule and mix until a paste forms.
Apply on the whole area around the eyes carefully to avoid letting it enter them.
Wait for 15 minutes and wash off with cold water.
Also read: 10 Home Solutions for Dark Circles
2. Chamomile and yogurt
Known for its calming and relaxing effects, chamomile makes for an excellent ingredient for eye-relaxing recipes.
When used with yogurt, chamomile results in a fabulous cream for the eye area. It's very economic, hydrating and great for erasing bags.
Ingredients
1 chamomile tea bag
¼ cup of hot water (62 ml)
1 tablespoon of yogurt (20 g)
Preparation
Prepare the chamomile tea by soaking the bag in the hot water.
Add the yogurt to the infusion and mix together well. Make sure there are no lumps or air pockets left in the mixture.
Store it in the refrigerator because chilling the cream will maximize its effects.
After a day of refrigeration, gently apply the cream and leave it on for 20 minutes.
Wash off with cold water and apply a hydrating cream.
If you work in front of a computer for various hours, use this mask at least three times a week to relax your eyes and erase bags. You can also apply it daily before sleeping to recieve constant benefits.
3. Apple and olive oil mask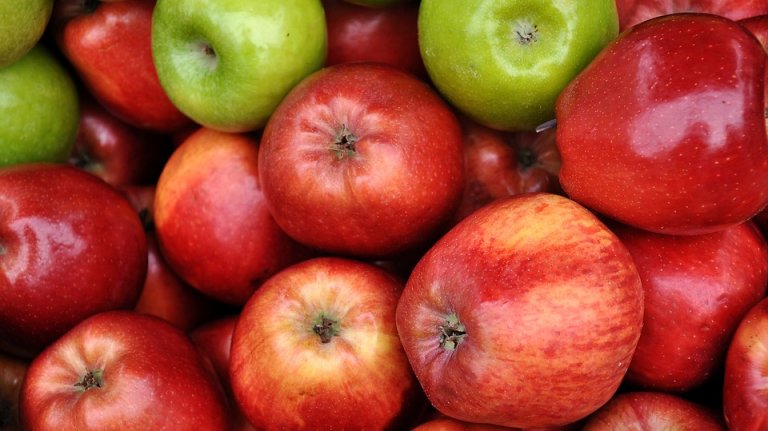 Apple is rich in antioxidants which are quintessential for cell renewal. This characteristic matches well with the moisture and nutrition that oil offers. You can relax your eyes with this mixture two times a week.
It's crucial that the olive oil is absolutely pure. Some brands combine olive oil with other oils which can change its properties.
Ingredients
1 tablespoon of olive oil
Preparation
Cook the apple in a little water. Use just enough water to soften the fruit, making it easy to blend.
Blend the apple until it has the consistency of apple sauce.
Add the oil and mix well to make the mask.
Apply in the eye area, making sure the mixture doesn't enter the eyes as oil can be harmful for them.
Cover with a wet towel and leave on for 30 minutes.
Wash off with warm water and finish by applying a hydrating cream.
Visit this article: 7 Natural Remedies for Bags Under Your Eyes
4. Almond and avocado oil
Want a way to erase dark circles without having to worry about storing leftover creams in the refrigerator or elsewhere? If that's your case, try this combination of oils.
Both are highly nutritious and economic options. They're easy to apply and you can leave them on all night long.
Ingredients
3 drops of avocado oil
3 drops of almond oil
Preparation
Mix the two ingredients together and lightly pat on the mixture in the eye zone.
Be careful not to let the mixture enter your eyes. Lightly massage the area to facilitate absorption.
Leave it on until your skin has absorbed the oil completely.
Wash off with warm water and apply your normal cream around your eyes.
Important considerations to erase dark circles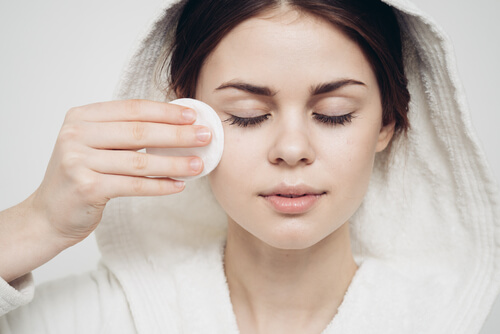 Nobody can deny that bags are a huge aesthetic problem. In addition to making you look tired, they affect the result of the makeup you apply. So, be sure to erase dark circles with these tips:
1. Use masks carefully
Given that our eyes are very sensitive organs, you should avoid getting any of these masks into your eyes.
Despite their natural elements, they can damage your vision. In order to avoid vision problems, take every precaution.
2. Take advantage of using the masks to rest well
You should aim to prepare your mask and wear it without any rush.
By doing so, you can let them work for a few minutes more while you relax. Create the perfect ambiance with some calm music and a nap.
3. Remove masks carefully
The skin around your eyes is lightly damaged so it's important that you erase dark circles with these masks.
The ideal way to wash them off is by lightly massaging in a circular motion with plenty of clean water. If you aren't able to do so, use a cotton ball to gently remove the mask.