Maria Dolores Ballesteros, the 80-Year-Old Mexican Woman with Three University Degrees
Maria Dolores Ballesteros is a shining example that age is just a number. At 80 years of age, she got her law degree while also teaching nursing classes.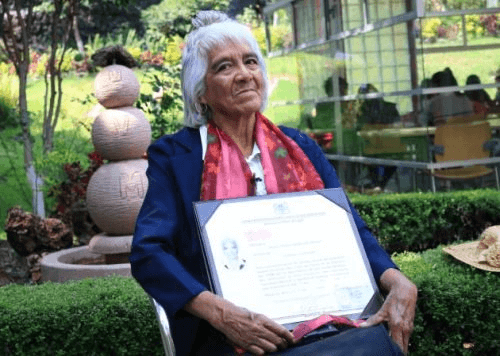 Maria Dolores Ballesteros dreams of doing a thousand more things in life. 
It's as if her eyes, her hands, her heart – and above all, her mind – didn't have enough with all the goals that she reached, with all of her triumphs…She wants more.
If this 80-year-old Mexican woman is news today, it's not only because she has obtained a law degree from the University of Mexico (UVM), but also because this is the third degree she has earned.
In her portfolio, Maria Dolores Ballesteros already has a degree in labor relations and also in nursing. 
Her thing, her great passion, is helping people, providing a service, whether it's health, legal, or social.
Her commitment to those who need some type of assistance has no bounds, along with her zeal for learning, her desire to be in touch with her environment, to nurture her curiosity and her passion for life and knowledge.
As she explains, having many projects on her mind is what keeps her alive. 
We are looking at a great example. A woman who inspires, who encourages with her strength, optimism, and vitality. As adults, we should all aspire to be like Maria Dolores Ballesteros.
Age is just a number, not a barrier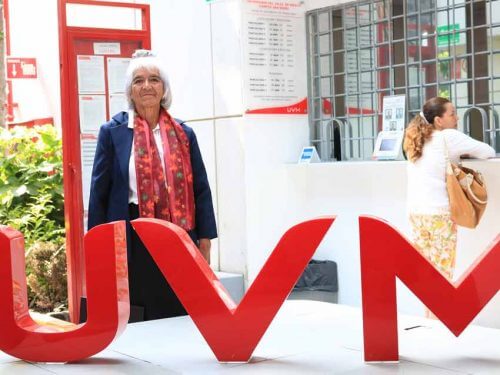 Age takes its toll, we might say, that no one can escape the passing of time, the pain in the bones and joints.
We could also make reference to that vitality that tends to escape us, the illnesses that come with age, the gray hairs and wrinkles, a back that hurts, and that at times gets tired…
We could say this and much more, and we would be justified in doing so. Because, maturing, getting old and reaching the age of 70 or 80 in perfect physical health is a blessing that not all will attain.
Now then, it could be that the body hurts, that we are no longer agile, that with the changing of the climate our arthritis ails us more, but what time cannot change, tarnish, or ruin is our attitude towards life. 
That is where we have power, where we do have control of the reins: because an excited mind has no concept of age, it does not know how to surrender, and it feeds on projects that make it feel young.
Because youth is an art in which we should all invest time and effort, just like Maria Dolores Ballesteros.
From an early age, her parents encouraged her in a very definite path, studying, and to do that they would constantly repeat the same phrase to her:
You were born to study, not to wash dirty pots. 
Maria Dolores Ballesteros, a life of knowledge and social service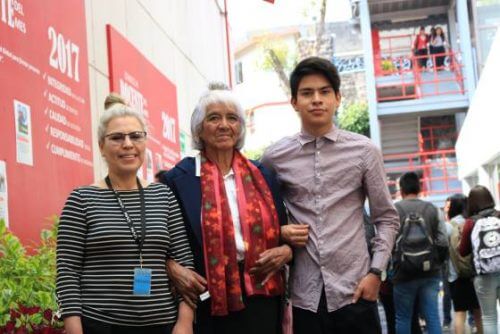 Maria Dolores Ballesteros has 4 children and 8 grandchildren. They all have their own college degree.
It is very probable that this woman with the stern looks encouraged them from an early age with the same idea her parents inculcated in her: to become a better person, to learn how to help others, to be useful, to be someone in life.
Whatever the case may be, it appears that Maria Dolores Ballesteros wanted more than her first degree.
Above all, a nurse of life
After obtaining her degree in nursing, she spent a good part of her life working at the National Institute of Cardiology of Mexico, as well as at the National Medical Center, and the Spanish Hospital.
Later, she specialized in internal medicine and gastroenterology. One of her greatest accomplishments was having witnessed the first kidney transplant in Mexico.
On the other hand, among her most renowned experiences, one that is guarded in her memory as a defining moment, is that of leaving her country without papers to work as a nurse in the United States and Canada. 
Maria Dolores Ballesteros used her experiences from outside her country to help her build a nursing school in her own country.
In fact, she continues to teach classes to hundreds of students.
The Law, her real passion
One of the most complex things that our protagonist had to face was how to dominate the digital world. 
The internet was, without a doubt, the most complex and strange thing she had to face. However, today, she can move about the internet and can manage it just as well as anyone else. This includes her young schoolmates at the University.
Conversely, she proclaims herself to be an ardent lover of Civil law, Penal law, and Land law.
As if her academic achievements were not enough, this woman is also a leader in her community.
That is where she plans to practice law, her great passion.
However, even though she is already 80 years old, and we wish for her to become a centenarian, it would not be at all strange for her to again set foot in the university classroom once again in search of a new degree.
She is a great example and a marvelous woman that we hope to hear more of in the future.
"I cannot say a thing, because each person chooses their own path in life. What I do believe, is that we should all have a project in life and follow the opportunities it presents.
If someone does not continue studying, it is because they do not want to. We all have many opportunities, especially today."
-Maria Dolores Ballesteros