Make Your Own Homemade Chimichurri
Discover the curious origin of this Argentinian sauce followed by a delicious and authentic recipe that you can enjoy at home.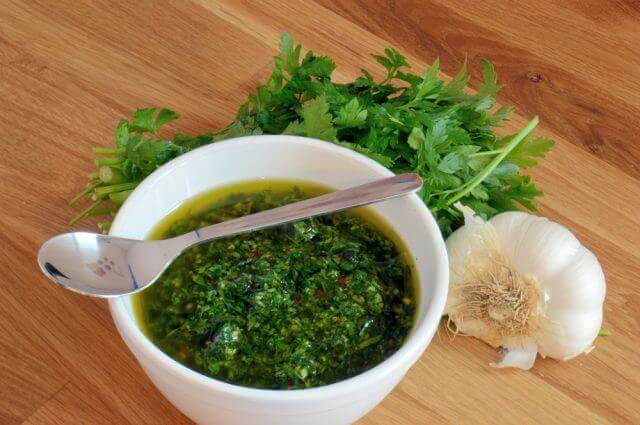 Chimichurri also goes good with empanadas, a stuffed dough that's baked or fried. Likewise it's good with salads that are common to the region. They generally contain chopped herbs and spices mixed with oil and vinegar.
The condiment's main ingredients are parsley, olive oil and chili. However, you can use the ingredients you prefer to customize your own chimichurri.
Even if you tweak the original recipe a bit, you should follow the recipe's original proportions to get its traditional flavor. By keeping track of its traditional flavor, your recipe will match perfectly with any food.
This condiment is so popular, you can find it in many supermarkets. However, you should make it from scratch with fresh ingredients and adjust them to your liking.
Below you can take a look at a delicious homemade chimichurri that is evenly proportioned according to authentic chimichurri. Likewise, you'll find four other variations.
The origin of the name "chimichurri"
In gastronomy, there are three possible stories that could explain the origin of its name; the real story has yet to be determined.
The first story claims that James McCurry – – popularly referred to as Jimmy – – created the condiment and commercialized it in the 19th century. As the story goes, he initially made chimichurri as a substitute for Worcestershire sauce. The non-native English pronunciation eventually became "Yimi Churry".
Another version is about XIX century British soldiers that were captured by the Spanish in South American colonies. The prisoners requested a condiment for their meals by asking "give-me-curry" or "che-mi-curry", which later morphed into "chimichurri".
The last theory originates from a Basque term that spread to South America, "tximitxurri". The term means "mix" or "jumble" and it refers to a sauce that uses repeated ingredients and techniques for all sorts of dishes.
Traditional chimichurri recipe that you can make at home
This recipe uses the original ingredients and proportion. This amazing condiment makes up approximately 6 servings. If you want to make a bigger batch, increase the quantities of all the ingredients evenly.
Ingredients
3 bay leaves.
1 squeezed lime (100 mL).
½ teaspoon of salt (2 g).
1 cup of olive oil (200 mL).
½ cup of red or white wine vinegar (100 mL).
½ teaspoon of black pepper (2 g).
1 teaspoon of dried thyme (5 g).
3 cloves of finely chopped garlic (15 g).
1 generous tablespoon of oregano (10 g).
5 tablespoons of chopped parsley (40 g).
½ finely chopped red onion (20 g).
1 teaspoon of sweet chili powder (5 g).
Preparation
Crush the oregano, parsley, garlic and bay leaf with a mortar and pestle.
Add the onion and the rest of the spices (thyme, black pepper and sweet chili powder) to the bowl. 
Prepare the condiment base by emulsifying the oil, vinegar and salt together.
Add the base to the prior mix and stir together.
Store in a glass jar with a lid.
Keep the condiment in the least cool area of the refrigerator for a few days.
After you start using it, it can be stored away for 3 months in the fridge.
Read this article: 3 Guacamole Recipes that You're Going to Love
Chimichurri variations
You can make several variations off this original recipe by adding different ingredients to the mix, or by substituting others. For example, if you substitute the red onion for a little more garlic, you can make a garlic chimichurri.
You can make a tomato chimichurri by adding 200 grams of dried tomatoes to the original recipe. Be sure to give the tomatoes enough time to re-hydrate.
For a cilantro chimichurri, replace the parsley with cilantro, using the same quantities. You'll end up with an extremely aromatic condiment that's perfect for a variety of dishes.
Now that you have this easy chimichurri recipe on hand, there's no need to buy it. Benefit from the high quality and longer shelf-life from the fresh and natural ingredients.