Make These 7 Fun Box Crafts
Although you don't need to keep each and every box that comes into your hands, you can make some lovely decorative elements, beyond their usefulness.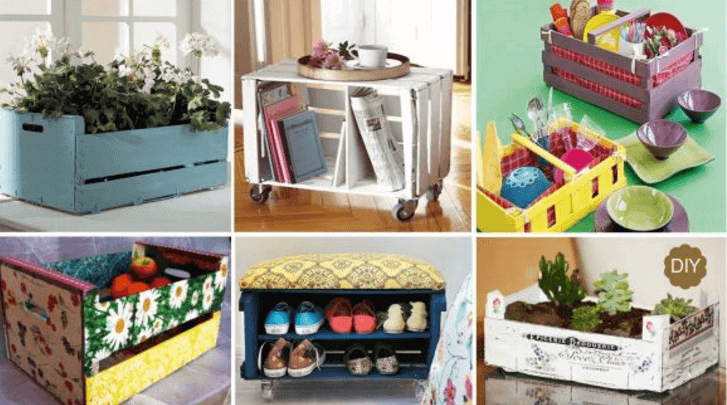 Decorating with boxes is an easy and fun way to create your own decor. You can use wooden or even cardboard boxes. In fact, both are very easy to get and you can choose them depending on how you plan to use them. Keep reading to discover our 7 fun box crafts!
Cardboard boxes come in many shapes and sizes, and the best thing is that they are versatile. What's more, by finding other uses for them, you reduce the impact on our environment. In other words, it helps you to recycle.
Additionally, choosing to reuse wooden boxes means you can create more sturdy pieces, which can hold more weight. However, you need to be careful when working with them, since you can get splinters.
Below, we show you some advantages and 7 different uses for these craft boxes. Keep reading and discover what they are!
Advantages of using craft boxes
Although there are many advantages of using craft boxes, below we show you the most common:
They're cheap.
You can find them in various sizes.
There are different thicknesses and strengths for different uses.
These boxes are practical and have various uses.
They're easy to decorate: with paint, fabric, and other techniques of woodworking, etc.
Lastly, doing crafts can really help your psychological and emotional health. By focusing your attention on what you're doing rather than what you're thinking about, you're able to relax.
1. Desk organizers
It's very common to have pens, pencils, markers, all over the place and not be able to find anything. So, here's an idea for an organizer you can make from a cardboard box.
Materials
Painter
Paste
Cardboard box
Toilet paper tubes
Directions
First, decorate the box however you like. It can be with plastic colored paper.
Then, stick the rolls inside the box.
Paint the inside of the rolls.
Lastly, place pens and pencils inside the rolls.
Uses
Place on a desk.
Use the smallest rolls for small items.
Use the longer rolls for rulers, for example.
Put the different types of items in groups, and put them in each tube.
2. Underpants organizers
Looking for underpants in an unorganized drawer can waste time that you could use in another way. Also, a messy drawer isn't nice to look at. Below, we suggest an idea to create your own underpants organizer with cardboard boxes.
Materials
Scraps of cardboard
Fabric to cover it
Fabric adhesive
Medium-sized cardboard box. You could use a shoebox, for example.
Directions
First, cover the entire box with fabric, inside and out.
Cut out pieces of cardboard to make compartments in the box that will hold the underpants.
Cut pieces of fabric to cover the walls of the compartments.
Finally, place your underpants in each space, according to your preference.
3.  A box for toilet tissue
One of the simplest ways to decorate your bathroom is to use boxes. The rolls of toilet tissue end up looking very nice in a covered box, without the lid, on a table or a shelf in the bathroom.
Materials
Paste
Twine
A box that you can fit four toilet paper rolls in
Directions
First, start at one end of the box by applying the paste.
Second, attach the twine over the paste and cover the entire box.
Let it dry.
Lastly, place the rolls of toilet tissue inside.
4.  Storing towels
Similar to the toilet tissue, towels tend to end up stacked and disorganized. A good idea may be to roll them up and place them inside a covered box. You can cover the lid and also decorate it however you like.
5. A tea box
The tea lovers among us tend to have many different types at home. Having them in the same box is a practical solution and also very decorative. It's best to make them from wood, as it's sturdier.
Materials
Varnish
Paint
Paste
Wooden box
Small pieces of wood to make dividers
Directions
First, start by cutting little pieces of wood with a small saw to make the divisions.
After that, stick them together and let them dry.
Paint the box with the colors you like the most.
Finally, varnish it to preserve the wood.
6. A Magazine rack, one of the classic box crafts
A magazine rack is one of the most popular crafts that exist. It's a great idea to keep magazines in order.
Materials
Water
Paint
Paste
Newspaper
Rectangular cardboard boxes, like a cereal box, for example
Directions
First of all, cut two cereal boxes diagonally to the middle. This way, you'll be able to identify the magazines.
Continue by gluing them together and allowing them to dry.
For the other side, cut pieces of newspaper.
Make a mixture of equal parts of water and paste.
Spread the mixture over the box sticking pieces of the newspaper on it. This will strengthen it.
Finally, allow it to dry, and paint to your liking.
You can replace the newspaper with toilet tissue. In addition to making it sturdier, it will also give a rough texture that will look nice.
7. Accessory storage
This is a great way to store accessories that are always piled up in a drawer. This way they'll stay organized and you'll be able to see them right away. Give it a go!
Materials
A small, shallow cardboard box
Paper to cover the box
Pieces of fabric
Paste
Directions
First, cover the box with decorative paper inside and outside.
Then, make rolls with the fabric and place them in the box.
After that place rings between the rolls of fabric.
The result will be a beautiful box with accessories in view and organized.
Do you have some boxes at home? Put them to use!
If you have some boxes at home and you still aren't using them for anything, now's the time for you to do so! Although it's true that you don't have to keep them all, there are some that you can get a lot out of, both for organizing objects and decorating your space. Give these craft boxes a go and see how you can create unique pieces!
It might interest you...