How to Make a Medicinal Tea Out of Apple, Cinnamon, Anise, and Clove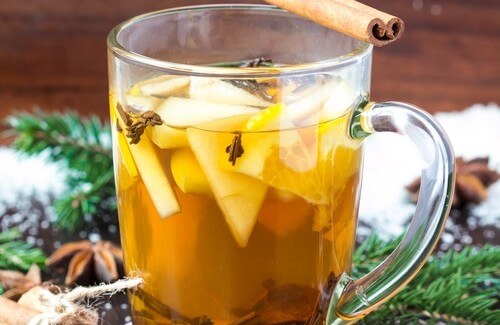 Teas are an excellent way to consume liquids as well as obtain the medicinal and curative properties that depend on what ingredients are used. In this case, we will show you have to make a medicinal tea out of apple, cinnamon, anise, and clove, a delicious drink that also boasts several different healthy properties.
Apple Tea Properties
Apple tea is an easy and excellent way of getting the nutrients from this delicious fruit. Apples are a good source of vitamin A and potassium.  A small portion of this fruit has 159 mg of potassium and 73 IU (international units) of vitamin A. When you drink apple tea, the properties of this fruit remain active, which is why it is an excellent infusion option.
Cinnamon Tea Properties
Cinnamon, besides being an aphrodisiacal spice, contains cinnamtannin B1 compound, which is the reason why cinnamon tea helps prevent diabetes and regulate glucose in patients with Type 2 diabetes, especially when you drink it during fasts. Not only that, cinnamon tea also possesses nutrients like iron, dietary fiber, and calcium, which help the digestive system. It has also been proven to help lower blood cholesterol.
Anise Tea Properties
Besides being an aromatic tea, it is a medicinal infusion. Among its curative properties, it has the ability to improve your digestive system. It has anti-inflammatory, expectorant, and anti-coughing properties, and helps calm anxiety and nerves. It is even good for regulating menstrual periods.
Clove Tea Properties
Clove tea is an excellent infusion that fights vaginal infections caused by worts since it contains oleoresin. It also has curative properties for oral health: it prevents plaque from forming and relieves gum pain. Besides that, it has antioxidant properties that activate your metabolism and prevent age-related sicknesses.
How Do I Make the Tea?
Ingredients
– Any type of apple
– Star anise
– One clove
– One cinnamon stick
 – Water
– Sugar or your choice of sweetener
Utensils
– A medium pot
– A strainer
– A pitcher
– A knife
Instructions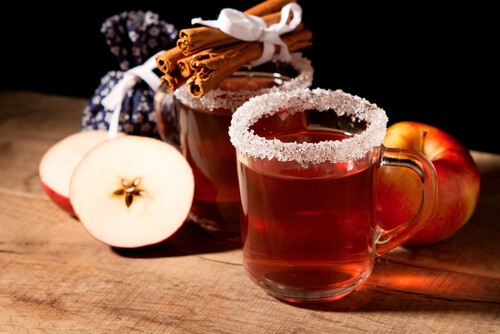 Wash the apple and cut it into small pieces using a kitchen knife. Leave the peel on but remove the seeds and the stem.
In a medium sized pot, boil the apple pieces in approximately 5 cups of water for about five to six minutes.
Add the clove, anise, and cinnamon to the mixture and let all the ingredients sit for 8 minutes.
Strain the mixture and pour the liquid in a pitcher. Then, add about a half cup of sugar or whatever sweetener you like. Stir the liquid well with a wooden spoon until the sugar dissolves. If you don't want to sweeten it, it is not necessary.
The tea is ready to serve. You can save any extra in the fridge for up to three days.