How to Make Eggs in the Shape of a Heart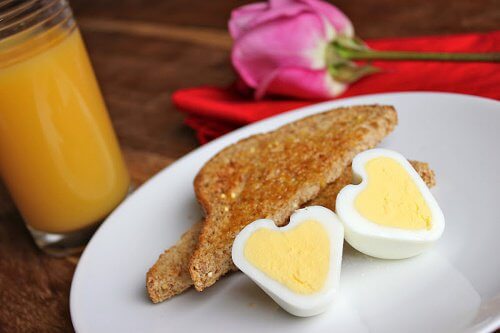 Do you want to add a unique touch to your breakfast or dinners? Then don't miss out on this opportunity to surprise your partner. It's really fun and is sure to make them smile.
Eggs are always a versatile resource that offers many possibilities in the kitchen. Today on our page, we want to show you three romantic ways to prepare them in the shape of a heart.
Make eggs that are heart-shaped
At first glance, it might seem like something that's really difficult to pull off, but we assure you that it's as simple to do as it is fun. So much so that we're sure you're going to try it on more than one occasion.
What do I need?
1 hard boiled egg
2 rubber bands
A stick 8″ in length
A piece of cardboard 8″ x 6″
Directions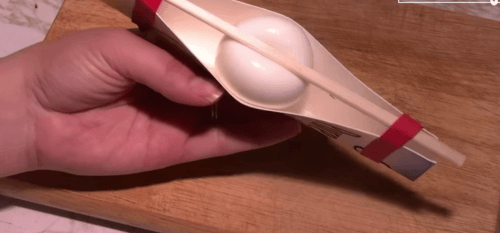 It's really simple. The first you'll need to do is cook the egg like you would normally do.
Once cooked, quickly remove the shell. Then, while it's still hot, place it in the mold we made to give it the shape of a heart. How do I do that? It's really easy. Take the piece of cardboard and fold it in half, and put the egg inside.
Now, as you can see in the above image, the secret is in placing the stick in the center of the egg. To keep it in place, wrap the rubber bands around the cardboard to hold it.
Let the egg cool for half an hour, then carefully remove the stick. Now you just have to cut it in half and like magic, both halves will be shaped like a heart. Use it as part of a fun breakfast.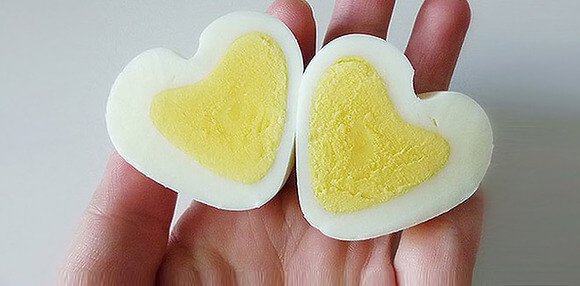 2. Fun with heart-shaped fried eggs
You already know how to make hard-boiled eggs into a heart shape. What if you could learn how to do the same thing with fried eggs? We'll show you two original ways to do it, you choose the one you like best. Or try both!
Eggs with sausage: tasty!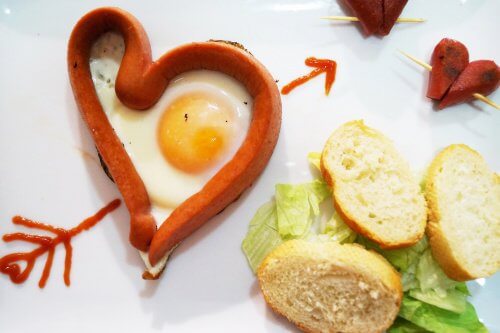 So simple and fun. The first thing we need to do is get some sausages that are long and thin enough to make our hearts. Some people also make them with vegetables, strips of peppers or even potatoes. Choose whichever one you like best, but for a fun breakfast or dinner, sausages always turn out great.
Fry the sausages using tongs or a toothpick to hold them in the shape of a heart. Next, very carefully crack an egg into the center of the sausage mold. Use a wooden spoon if you need to. Try to find a frying pan that's right for this type of delicate task.
Little by little, the egg will cook. The next step, equally delicate, is to put our heart on a plate without it breaking. If you can manage to do that, your job is done. Don't forget to decorate your heart with a little ketchup to make Cupid's arrow!
The simplest technique: use a mold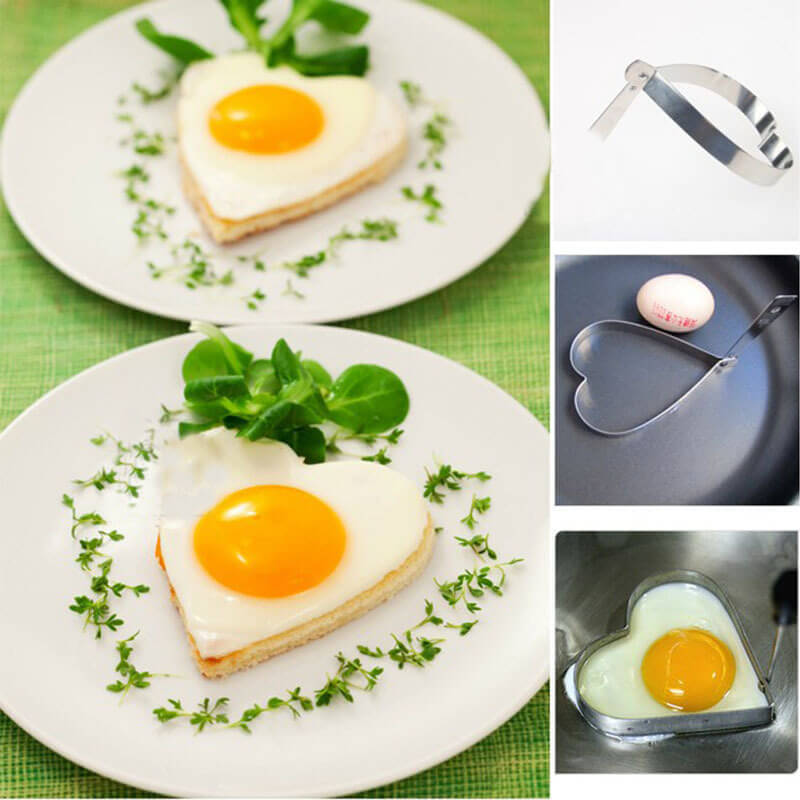 There are molds manufactured exclusively for frying eggs in the shape of a heart. They have a little handle that lets you cook the egg a little easier. To do this, just add a little olive and once hot, crack in the egg.
The egg will quickly fry without any trouble. Then all you have to do is put it on a plate and it's ready! This mold will also let you cut heart shapes out of bread. Then just toast them and put the egg on top. It's really original.
Some real experts in this type of thing can actually shape the yolk into a heart shape while it's still in the pan. How do they do it? With a spoon, pushing the yolk around to make it into a heart.
Remember that eggs are always a great choice for breakfast. They're full of protein, perfect for starting your day. You won't have to worry about cholesterol as long as you keep your portions balanced. Ready to make some hearts for breakfast?