Maintain Your Weight and Take Care of Your Muscles and Body with Watermelon
Looking for some more ways to enjoy all of the fantastic health benefits of watermelon? Try these great recipes!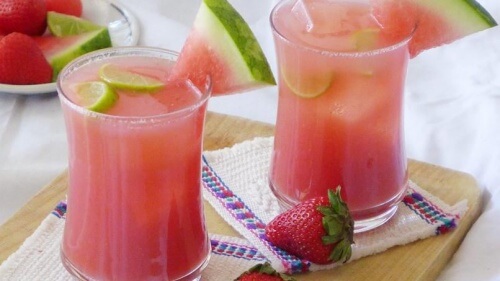 Watermelons are much more than that refreshing fruit that we all like to eat at any time of the day. Many people consider it a food that is halfway between a fruit and a vegetable.
This is because they belong to the same family as cucumbers and pumpkins. However, because of their uses, properties, and benefits, it's common for us to see it more like a fabulous fruit that takes great care of our health.
Watermelon isn't just water. In fact, it interestingly has a higher concentration of lycopene than tomatoes. Lycopene is a great antioxidant that promotes heart health and, in turn, allows us to detox the body.
Overall, watermelon is undoubtedly a gift from nature that we would love to have all year round to take care of the health and well-being of our whole family.
For our part, we also suggest that you consume any other type of melon if watermelon isn't in season. These recipes will give you ideas to include it in any dish you have during the day.
Choose the one you like best!
Drink watermelon, chia seeds, and lemon to detox your body
Ingredients
8 strawberries
1 cup watermelon (200 g)
1 glass of water (200 ml)
5 tablespoons lemon juice (50 ml)
1 tablespoon chia seeds (10 g)
Method
This spectacular juice is good to drink at the start the day: it will purify your body and energize you thanks to the chia seeds. In addition, it will help you lose weight.
You just have to cut the watermelon and strawberries in half and then place these pieces in the blender.
Blend them well and add the glass of water and 5 tablespoons of lemon juice.
Finally, sprinkle the chia seeds on the drink and simply enjoy!
Two delicious salads with watermelon that will help with weight loss

Proposal 1: watermelon with feta cheese and mint
Ingredients
1 small grilled chicken breast
1 cup watermelon (200 g)
12  feta cheese cubes
10 small fresh mint leaves
1 cup rocket (20 g)
1 pinch of black pepper
Method
First, prepare the chicken breast. If you do it on the grill and with a little lemon, it will be great.
Cut the watermelon into small pieces and put it on the plate, along with feta cheese and mint.
Then, add the rocket, balsamic vinegar and chicken breast, which you should cut in small pieces and garnish with black pepper.
You'll love it!
Proposal 2: watermelon with salmon

Ingredients
1 slice fresh salmon
1 bowl of watermelon (200 g)
20 raisins
5 cherry tomatoes
5 nuts
1 pinch of black pepper
5 tablespoons lemon juice (50 ml)
Method
This salad is as healthy as it is nutritious.
First, grill the salmon.
Once it's ready, cut it into small pieces – like you had to do with the chicken in the previous proposal – and put it on the plate.
After this, you only have to add the watermelon, cherry tomatoes, walnuts, raisins. Then, season everything with the lemon juice and the black pepper.
If you want a more complete dish, you can add a little quinoa to this recipe. The result is delicious.
3. Fresh lemon mixed with water for muscle pain
If you suffer from cramps while you sleep or if you get home exhausted and feeling sore, try this fresh water mixed with watermelon and lemon.
Watermelon is rich in a compound called L-citrulline, an amino acid that has the ability to relax and relieve muscle pain.
This drink is very suitable for athletes. After a training session, it usually helps the physical recovery process, in addition to reducing any muscle discomfort.
However, it's important to remember that watermelon contains fructose, so it's not a good idea to eat too much of it.
You should ideally not consume more than one cup a day (200 g).
Here's how you can prepare this healing water for muscle pain:
Ingredients
1 cup watermelon (200 g)
The juice of 1 lemon
1 glass of water (200 ml)
5 fresh mint leaves
2 ice cubes
Method
As soon as you try this refreshing drink, it'll become essential in your life. You can make it in just over 5 minutes.
To make this drink, you just have to put all the ingredients in a blender: the watermelon, glass of water, lemon juice and mint.
Blend until you get a very smooth drink and serve it in your favorite glass.
Finally, add the two ice cubes and drink the beverage slowly.
You'll love it!