Magnetic Therapy for Multiple Sclerosis: What Does the Evidence Say?
Recent research has found that magnetic therapy can help the symptoms of multiple sclerosis. Want to know more about it? We'll go into detail about it here.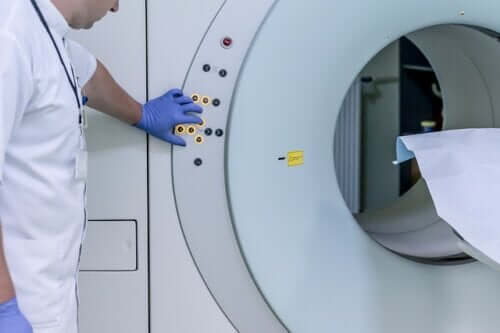 In recent years, researchers have seen the effects of magnetic therapy on symptoms of multiple sclerosis. Even though there's little research, interesting results have come from recent studies regarding the use of this therapeutic option.
Magnetic therapy, also called magnetotherapy, may involve static electromagnetic fields or pulsed electromagnetic fields ​varied in time. These, according to evidence, appear to improve blood circulation and body oxygenation in patients with multiple sclerosis. Interested in learning more about it?
Research on magnetic therapy for multiple sclerosis
Multiple sclerosis is a neuroinflammatory disease that affects the myelin, that is, the sheath that forms around the nerves and whose function is to allow nerve impulses to transmit rapidly along the neurons.
According to a publication at the National Institute of Neurological Disorders and Stroke, this is the most common disabling neurological disease among young adults. It often develops between the ages of 20 and 40. However, it can also occur in older adults and children.
To date, there's no definitive cure for the disease, but there are treatments to reduce attacks, control symptoms, and improve the quality of life of patients. Specialists are still investigating therapeutic options, and have discovered interesting findings.
For example, research in the journal Clinical Neurology and Neurosurgery recognizes the benefits of magnetic therapy for multiple sclerosis (MS). In particular, it stresses that pulsating magnetic fields can help control common symptoms of MS, such as paresthesia or the sensation of pins and needles.
How does magnetic therapy work for multiple sclerosis?
As we've discussed, there are two forms of magnetic therapy. The first uses static electromagnetic fields, which involve static magnets, such as those found on bracelets, shoe templates, necklaces, and other devices. The second uses pulsed electromagnetic fields, which use energy waves to change the way the body faces pain.
Proponents of static magnetic therapy suggest that their application can help control pain due to the effect of magnets and their electromagnetic field when they come into contact with tissues. It's an option that's often used in alternative medicine.
On its part, pulsed electromagnetic field therapy seems to provide an electrical frequency that stimulates the ions and electrolytes of the body. As a result, it improves circulation and energy and decreases symptoms such as numbness, tingling, and pain.
To date, experts are still investigating and trying to prove these therapies. Despite this, therapy with pulsed electromagnetic fields has been taking advantage of patients with multiple sclerosis, as it has shown better effects.
Previous studies, such as one published in Pain Research and Management, found that this therapy can be used to reduce pain, inflammation, and the harmful effects of stress. It's even been FDA approved for the treatment of conditions such as migraine.
Treating multiple sclerosis is multidisciplinary
It's important to make it clear that magnetic therapy is not a cure for multiple sclerosis. The disease needs a multidisciplinary approach, that is, the participation of several different health professionals.
The overall objective is to maintain the patient's quality of life and slow the disease's progression as much as possible. Therefore, after diagnosis, the doctor may suggest taking medication to reduce and prevent attacks and to modify their progress.
These include options such as the following:
Corticosteroids
Ocrelizumab(Ocrevus)
Beta interferons
Glatiramer acetate
Dimethyl fumarate (Tecfidera), among others
In addition to this, medication may be needed to control fatigue, insomnia, and muscle relaxants. Treatment also needs to come from professionals in physiotherapy, nutrition, and psychology.
No matter what, a specialist should chose the therapeutic options, depending on the disease's progression. If you want to try magnetic therapy, make sure you research it thoroughly and seek out a trained professional.
It might interest you...