Lynlee, the Girl Who Was Born Twice and Touched the World
Doctors had to remove a tumor from little Lynlee at 16 weeks of gestation. Afterward, they had to go back and return the baby to her mother's uterus. Learn about this incredible story in this article!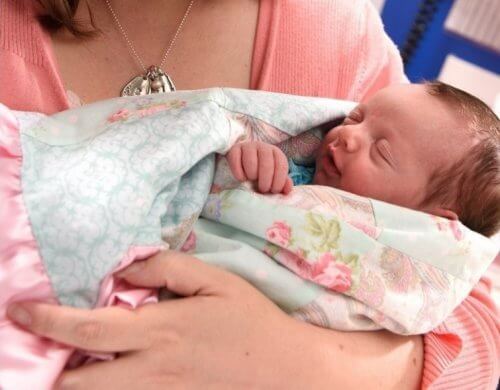 Lynlee Hope is a little girl from Lewisville, Texas, whose amazing story is known throughout the world.
The date of her birth, which is registered as her birthday, is not actually the day that she entered the world.
When her mother was 16 weeks pregnant, a sonogram found that Lynlee had an infantile tumor on her coccyx.  This tumor is known as a teratoma sacrococcygeal.
Because of the position of the little girl and the size of the tumor, her life was in danger. The tumor was taking blood from the baby and could have caused heart failure.
A double intervention was required.
The baby had to be taken out of her mother's uterus via Cesarean section. They operated to remove the tumor and then to return her to the  mother's uterus to complete the gestation.
The child only had a 50% chance of survival, but they decided to take the risk.  Lynlee was connected to the placenta by means of the umbilical cord during the surgery and received oxygen.
It was a remarkable procedure and is truly an amazing medical accomplishment.
Lynlee's Incredible Surgery
The doctor performed the surgery at 23 weeks of gestation. At the same time, the tumor was pressing against the heart of the baby.
Oddly enough, the tumor was almost the size of Lynlee at the time they were operating on her.
Due to the difficulty of the surgery, her heart actually stopped beating while the main part of the tumor was being removed.
In spite of this, she held strong. When the operation was finished, she was returned to her mother's womb. Her mother stayed on best rest for 12 weeks while the baby finished developing.
Lynlee was "born the second time" on June 6, 2016.  Days later, doctors removed the rest of the tumor and she began to heal.
Presently, Lynlee is at home recuperating to begin her life.
Isn't it amazing?