True Love is Blind to Years, Wrinkles, and Time
The secret to timeless love is based on understanding, the ability to get along, and respect. These couples take responsibility for growing together and bringing happiness to the relationship.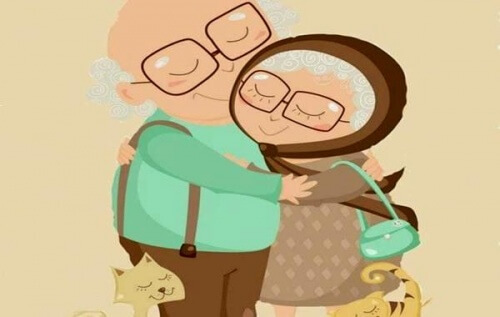 Some loves last a summer, a year, or a whole lifetime.  The truth is, it doesn't matter how long it lasted, as long as it was worth it, it made you happy, and it left you with a memory to cherish.
But the most enriching loves, those that nourish, that help us grow and make roots inside and outside, are those that accompany us until our bones ache and the years weigh on us, but your time shared together never grows old.
Some people find it hard to believe in timeless love.  But love that lasts a lifetime truly does exist.  It exists, and these are the secrets to it.
The pillars that make love last a lifetime
Let's start by solidifying one very important aspect.  There are couples out there that enjoy relationships that last 2, 5, or 10 years, and they enjoy the same happiness as those that last a lifetime.
And there are other people out there who find their well-being and balance in being alone.  What we mean to say is that, the truth of it all is, there are many roads, and many faces, to happiness, and we don't need to romanticize" eternal love."
Love lasts as long as it needs to last, and it will endure if both parties invest time, love, and effort into it.  Let's take a look at these pillars that define the most stable of relationships, the ones that endure in spite of our wrinkles.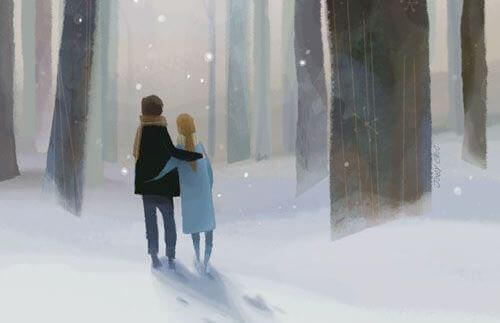 It's not about "tolerating," but building up
I'm sure that at some point in your life, you've heard someone say that when it comes to love, the most important thing you need to know is how to tolerate, how to give in, be patient, and forgive.
You need to be careful when it comes to "popular wisdom" that sometimes can lead you to bad results.  You definitely do need to be patient; you need to know how to forgive, that's true.  But everything needs to be balanced, always taking responsibility for your own self-esteem.
Love that lasts a lifetime is not limited to "tolerating each other," staying quiet and pretending, hiding things you dislike, and complaining about them in private.  That is not healthy, nor is it good for emotional well-being.
Positive, lasting relationships know how to build up, how to create bridges, come to agreements, finding things together and caring for each other every day.  Never go to bed angry, but rather with enthusiasm for the next day to come, so you can continue this combined project.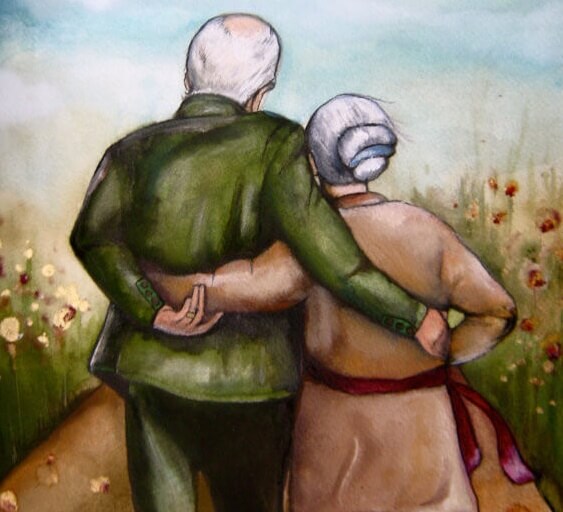 Sincere concern for each other
Couples pass through several different stages that are not exempt from crises.  Work problems, family problems, times when you fall into the same old routine and monotony…
Sincere love lasts a lifetime because it faces personal problems, because there is an authentic understanding and mutual concern.
You're not always searching for your own well-being, your ego is torn down, not for the other's benefit, but for both of your benefit.
"I understand that you are happy by developing your career, enjoying your hobbies and friendships, and all of that well-being is then reinvested into the happy partnership."
If there is no concern or interest in the other person, nor sincerity and authenticity, the connection is slowly broken.  You're dying of hunger for affection and respect.
The magic of doing things together
Happy couples are, first and foremost, a great team.  They slowly file down their differences, and not because they give in or the other person tolerates it, but because of a clear, mutual respect.
One thing that brings you closer every day is the pleasure of doing things together.  Getting up together, going to bed together, laughing together, having fun together…
If you understand each other and demonstrate a clear desire to share things, spaces, and projects, the couple will grow old together with much more affection.
So one aspect that you should also keep in mind is growth.  Doing things together means continuing to experience together and to start new projects together.  This will help you to continue to discover things about each other, strengthening your connection even more.
Traveling together, going out with new friends, allowing the other to have his/her own hobbies and projects also helps to grow individually and as a couple.
I'm sure that somewhere, you know an elderly couple that fills you with admiration for their love that is still alive in their eyes, in spite of the years and the time gone by. This is because true love is blind.
Without a doubt, they have gone through a lot of hardships and moments of crisis; but they have fought for each other, and for their relationship.  They know that love needs to be built and that it's an investment. Most of all, they truly care for each other.