I Still Love My Partner, I Just Don't Want Sex
You don't want sex with your partner and are freaking out? Don't panic yet. Instead, try to find out what the causes may be in order to take action.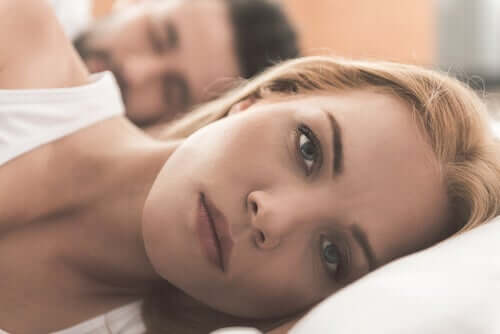 I love my partner, but I don't want sex. I don't know why I'm no longer turned on that way. Is this the end of our relationship? Is there anything I can do about it?
It's common to experience a decrease in libido when you have been in a relationship with the same partner for many years. However, it's normal to be worried about it under some circumstances.
You must reflect on this. This is because not feeling the overwhelming passion you used to feel isn't the same as being entirely turned off. Perhaps you've realized you're no longer in love or even attracted. Continue reading to find out why this may happen.
Don't panic if you don't want sex with your partner
Thoughts of the past may come to mind if you feel you no longer desire your partner as you once did. You may also obsess about how exciting everything was when you first met.
However, as you well know, going back isn't possible and can lead to anxiety and frustration. Relationships go through different stages and each one is beautiful in its own way.
When you start dating, everything is more exciting because you don't really know this person. The process of discovering them is fun, akthough based on your own idealization. This is precisely why relationships often end as soon as this phase is over.
People who stay with their partners beyond that point most likely do so because they like who they truly are. This appreciation goes beyond sex and physical attraction. It's now a true connection in which commitment and intimacy are the main factors. At least according to the triangular theory of psychologist Robert Sternberg.
Don't be overwhelmed or stressed out by intrusive negative thoughts. You can't always be right, it's normal to doubt your feelings during certain times because they're ever changing — you're everchnaging. As you can see, it's normal for passion to diminish/fluctuate over time.
The reason why you don't want sex with them anymore
Before getting into the "drama mode", it's important to analyze the possible reasons why sexual relations have taken a sharp decline. There possibilities are many. Thus, be sincere with yourself so as not to damage the relationship and hurt yourself in the process.
Here are some statements you may or may not identify with. Again, it's important to be honest with yourself.
"I'm not as turned on as I used to be because I feel safe with certain habits and routines." This is about fearing of change.
"I've stopped doing little sweet things for my partner or showing them how much you love them, but they already know it!"
"I'm really stressed due to work and the current economy make me unhappy, but my partner doesn't get it."
"I've decided not to confront certain problems and this includes little to no communication with my partner. For one, they're always working. Also, they cheat on me."
"Actually, I no longer love them, but I stay with them because I'm comfortable and fear loneliness."
As you can see, there are as many possibilities as there are people. This is why you must evaluate your relationship often. Do so when you're calm though, not after an argument.
Also, keep in mind that you may be resisting going deeper into this subject. For example, denying it will keep you from paying attention to your relationship but avoiding it will eventually make you uncomfortable.
Therapy
In spite of the previous suggestions, a couple should consult a therapist if they can't rekindle the flame. It's important to do some prep work ahead of time.
This means you should stop blaming each other person for the situation. Thus, pay attention to and be open to their perspective. Don't obsess over "they no longer turn me on."
Begin to work with a therapist once you're clear on what you want. Similarly, keep in mind that doing so requires a high level of sincerity, both with your partner and with the specialist. This is because you won't be able to solve the situation if you lie to yourself.
It might interest you...