Lose Weight With These 5 Amazing Fruit Smoothies
Include these smoothies in your daily routine to detox your body and lose weight. To achieve your goals more easily, include a healthy diet and exercise.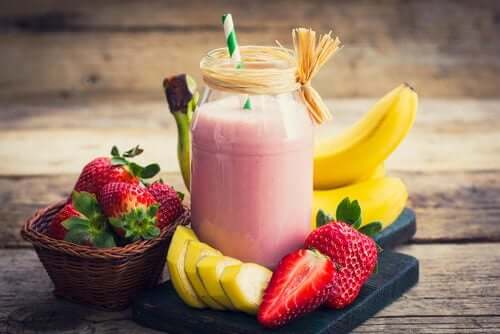 Losing weight is often associated with restrictive diets and eating tasteless preparations, but nothing could be further from the truth. To achieve your goal, you don't have to deprive yourself of food, much less of good taste. To prove it to you, we'll share  the recipes of some of the best fruit smoothies that you can include in your diet, first thing in the morning.
A report from the World Health Organization (WHO) and the Food and Agriculture Organization of the United Nations (FAO) explains that we need to consume fruit daily to supplement the diet and thus, provide the body with part of the nutrients it needs to be healthy. This also helps to prevent the development of diseases and to maintain a good energy level.
Lose weight with these fruit smoothies
Combining fruits to produce a delicious juice is the perfect choice for getting variety in your diet plan without going overboard. With these delicious fruit smoothies you will give your routine a change. They're easy to prepare and you can adjust them to your needs and tastes.
Thanks to these recipes, you can achieve a healthier diet and your body will thank you for it. After trying them, you'll need a little creativity to create your own combinations. Remember, you'll be getting many essential nutrients from just one glass.
1. Melon and strawberry
The first of the fruit smoothies we suggest is a delicious summer blend with a sweet, but still refreshing touch. As its ingredients are rich in water, this smoothie can help you fight fluid retention in a natural way.
Ingredients
½ melon, cut into cubes
1 cup of strawberries (150 g)
1 glass of water (200 ml)
How to make it
Simply mix all the ingredients in a blender. You can choose the consistency yourself. If it's a bit thick and you don't like it, add more water.
We recommend that you drink one glass in the morning and another before bed.
2. Apple and raspberry for anxiety
If you suddenly have a craving for food, but you're not actually hungry, then you can choose to prepare the second of the fruit smoothies we're going to tell you about below.
Since apple is a fruit with a high fiber content, this smoothie will help you to satisfy your appetite easily and appease that craving for food.
Ingredients
5 raspberries or strawberries
1 apple
1 handful of nuts (almonds, hazelnuts, walnuts, etc.)
2 tablespoons of oats (30 g)
1 cup of cold camomile tea (250 ml)
Mint leaves
How to make it
Remove the seeds from the apple.
Now, cut it into slices or cubes. No need to remove the skin.
Then, blend with the rest of the ingredients in the blender until the combination is homogeneous.
You can drink this smoothie at any time of the day. But, above all, when you feel a craving for unhealthy treats and food.
3. Pineapple, cucumber, and flaxseed
If you want to achieve the best results in time for a special day, try this solution. You can prepare it with cucumber, as we're going to indicate below, or substitute this ingredient for a fruit of your choice, such as banana, pear, apple, or orange.
Ingredients
2 slices of pineapple
½ cucumber
2 tablespoons of 100% natural flaxseed, whole or ground (30 g)
1 glass of water or a type of tea that you like (200 ml)
How to make it
Mix all the ingredients in a blender until you obtain a homogeneous consistency.
Enjoy as part of your breakfast.
4. Watermelon, strawberries, and tomato
Loaded with freshness, vitamins, minerals, and lycopene, this fruit smoothie will help you eliminate retained fluids easily while activating you and giving you enough energy to encourage you to exercise and lose weight.
Ingredients
2 cups of strawberries (300 g)
1 cup of watermelon (150 g)
2 ripe tomatoes
How to make it
Blend all the ingredients until you get a smooth mixture. The consistency should be like a light juice.
If you want something more refreshing, you can put the strawberries and watermelon in the freezer the day before. Then, take them out just seconds before you make the smoothie. It'll be like ice cream!
5. Fruit and aloe vera smoothie
Choose the fruits you like the most and mix them with a touch of aloe vera if you want to fight constipation, reduce inflammation of the abdomen, and eliminate toxins from your body. You can be inspired by the following recipe.
Ingredients
2 slices of pineapple
½ cucumber
1 apple
The gel from ½ aloe vera stalk (you can also use ready-made aloe vera juice).
The juice of 1 orange
Optional: Chia seeds
How to make it
Wash the fruit and cut it into cubes.
Squeeze the juice from the orange
Blend all the ingredients until you get a smooth mixture without lumps.
Final recommendations
Avoid adding sugar and sweeteners to your drinks. Try to enjoy the sweetness that some foods already have, such as papaya and banana.
If you are going to add a touch of honey or agave syrup, try to keep it in moderation. Half a teaspoon can be enough for 1 glass.
On the other hand, never consume these drinks as substitutes for main meals. Remember that they are a complement to your diet.
Don't stop consuming whole pieces of fruit in their natural state by consuming smoothies or else, you won't be taking advantage of all the benefits that fruit can provide.
Moreover, consume these drinks no more than twice a day and remember that you shouldn't only rely on the consumption of these natural smoothies to stay healthy, but also on other good lifestyle habits, such as exercise.
If you have any doubts about how to lead a healthy lifestyle, consult your family doctor. And when it comes to diet, you can consult a nutritionist.