Lose Weight with Cold Melon Soups
Melons aren't just diuretics and detoxifying. They can also make delicious cold soups. They make delicious, healthy meals.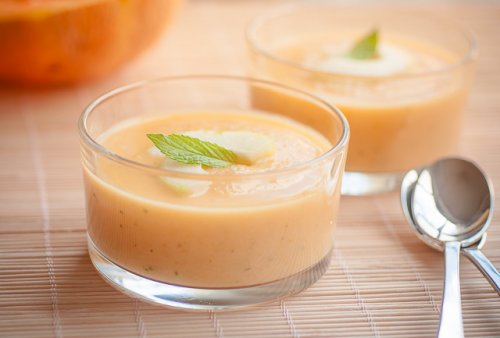 If you're trying to lose weight, try these cold melon soups. They make a great addition to your meals. You're sure to love them. Especially if you're the kind of person who never has time to cook.
You probably already know that melons are vegetables that have a high water content. They also have lots of fiber and minerals. This makes them great at purifying our bodies. They also help to reduce inflammation.
Melons come in all sorts of varieties. And, they can be combined with any number of ingredients. This means that you're sure to find a combination that tastes great. You can also add all kinds of vegetables to these soups.
Now, keep in mind that the best melons are grown organically. What would happen if we combined melons with other purifying and slimming foods? We can make some marvelous recipes doing just that.
So then, what are you waiting for? Try these cold melon soups today.
You'll love them!
Cold melon and mint soup
This is considered one of the best melon soups. It is both a digestive aid and relieves muscle tension and pain. This is due, in part, to the mint. It's worth trying.
If you really like it, it will become one of your go-to dishes.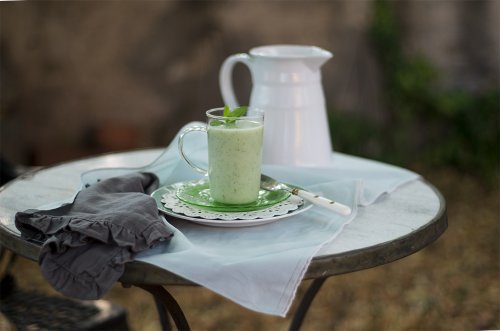 Ingredients
1 cup (200 g) of melon (any variety)
1/2 cup (100 ml) oat milk
a pinch of white pepper
1 teaspoon (5 g) fresh mint
5 tablespoons of grated carrots
Preparation
This is a simple recipe to make
First, get your melon. Cut it into pieces. Estimate the approximate amount of melon you will need. This can change depending on the number of people. For one person, we recommend around one cup (200 – 250 g).
Then, peel and grate the carrot. Five tablespoons is all you should need.
In the blender, add the melon, oat milk, and mint. Blend until smooth.
Then, chill the soup in the fridge for a few minutes.
When you serve it, sprinkle a pinch of white pepper on top and add the grated carrot.
Cold melon cucumber soup
This is a very filling, light, and detoxifying soup. This is fantastic for days when we have a lot to do in the morning.
Have you ever had a huge dinner and later wanted something to help reduce the heaviness you feel in your stomach? This is a great dish to do just that.
This is how we can make this refreshing melon cucumber soup.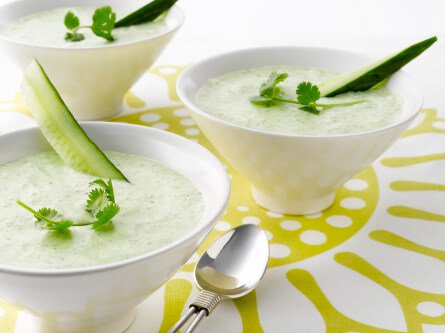 Ingredients
1/2 cup (100 g) of melon
1/2 cup (100 g) of cucumber
3/4 cup (150 ml) of cold water
1 tablespoon (10 ml) of apple cider vinegar
 a pinch of white pepper
a few mint leaves
Preparation
First, peel the cucumber. Chop both the cucumber and melon to make them easier to blend.
In the blender, add the water, melon, and cucumber. Blend until smooth then serve.
Before serving add the apple cider vinegar and sprinkle the pepper on top.
Garnish with the mint leaves.
Cold melon red-pepper soup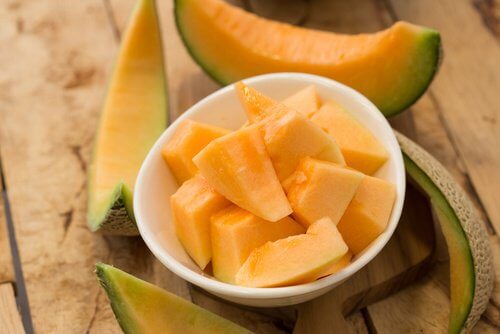 Ingredients
1 and 1/2 cup (300 g) of melon
1 pepper
2 tablespoons (20 g) of red pepper
3 tablespoons (30 g) of onion
2 slices of day-old bread
1 tablespoon (16 g) of olive oil
Preparation
First, wash all the ingredients.
Chop the melon and pepper.
In the blender, blend the melon, fresh pepper, onion, bread slices, and olive oil. Blend until smooth.
Chill in the fridge and serve cold.
Add red pepper flakes and white peppercorn to taste.
As you can see the ingredients are easy to find. They are things we usually have on hand.
You can change the amount of red pepper and onion to suit your taste. Even if you don't normally eat them, small amounts can be very beneficial.
The flavor will surprise you. It'll even help you to feel good.