Pineapple-Coconut-Ginger Beverage to Lose Weight
Ginger can stimulate metabolism and thus help you lose weight so include it into a hypocaloric diet, here's a beverage for that very purpose.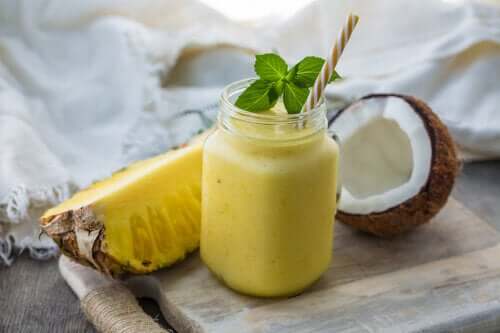 Today's article contains some suggestions for a beverage to lose weight by eliminating fluids in a balanced way. You may not be aware of it but the best way to do so is to trade fattening foods for healthier ones that activate your metabolism. This way, burning calories becomes less of a battle.
But first, we'd like to tell you more about these delicious foods, read on!
Don't fall for miracle diets
There are many types of "miracle diets" that promise fast and amazing results in a short time. These diets are usually based on some food with useful health properties. However, they're usually strict and poorly balanced, and too low in fat and calories.
In fact, according to cardiologist Robert Atkins, an effective and healthy diet is one that doesn't keep you hungry but fills you with vitality, while progressively improving your eating habits.
The foods used in miracle diets are an excellent way to lose weight more easily. However, you must use them as part of a balanced diet.
Lose weight with wholesome foods
Next, we'll highlight three foods that'll help your body burn calories and fat and eliminate retained fluids. Keep in mind that you should maintain a balanced diet and exercise daily in order to lose weight more effectively.
Coconut
This tropical fruit that's gotten a bad rap for a long time due to its saturated fat content. However, it's been proven to be highly nutritious. It's even great as part of a weight-loss diet. As stated in an article published in the journal Progress in Cardiovascular Diseases.
According to Atkins, your body speeds up your metabolism when you eat this kind of fat; thus, you lose weight more easily. He also says that coconut oil improves heart health, boosts defenses, provides energy, and keeps skin healthy.
Pineapple
Pineapples are often found in weight-loss diets and are commonly recommended for digestive problems. This tropical fruit is certainly high in water and fiber; it's also low in calories.
These characteristics make it an excellent way to satisfy your hunger when you feel like snacking between meals. It's also a powerful diuretic, according to Atkins. Therefore, eating it regularly helps eliminate retained fluids.
Ginger
This root is used as a spice in many different cultures and adds a fresh, spicy kick to foods but also improves digestion.
However, in natural medicine, it's perfect for eliminating toxins and built-up fluids to really get your metabolism going according to an article published in the Annals of Nutrition & Metabolism.
A beverage to lose weight
These three ingredients are great for making a coconut, pineapple, and ginger beverage that's really good for your health? Here's how to make it!
Ingredients
1 quart of water
1/2 ripe pineapple
The pulp of half a coconut
A piece of ginger (to taste)
Note: Use coconut milk instead of water if you can't find a fresh coconut.
Preparation
First, blend the coconut pulp with hot water for a few minutes
Then, add the pineapple and ginger and beat again until mixed fairly well
Following this, strain and, if you like, chill
The pineapple is already sweet but you may add a bit of stevia if you must
How to drink it
According to Atkins, you can drink this beverage throughout the day as follows:
2 cups on an empty stomach, a half-hour before breakfast
1 cup at mid-morning
Another cup at mid-afternoon
Introduce this beverage to your hypocaloric diet and lose weight
Drink this coconut-ginger-pineapple drink for one or two weeks, several times a year. It's important to maintain an overall balanced diet for your goal to lose weight to be more effective.
It's also essential to do physical activity on a regular basis to work your body, develop endurance and attain any goals you set for yourself. Every step you take in this direction will improve your health. Are you ready to get started?
It might interest you...