Learn to Prepare These 4 Healthy Stuffed Veggies
Vegetables and legumes go great with other ingredients. When you stuff them, you get a complete, healthy, and balanced dish that's also low in calories.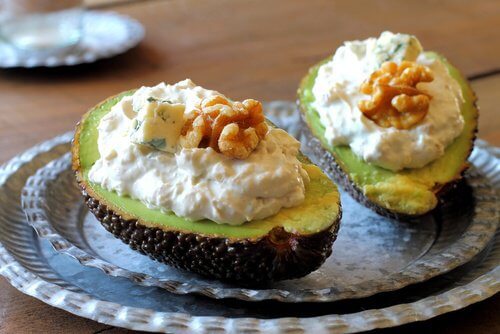 The daily consumption of vegetables is one of the keys to enjoying good health and a balanced weight. If you've exhausted all your ideas for including vegetables in your daily diet, surely you'll love to learn how to prepare some of the following four stuffed veggies recipes.
Stuffed vegetables are a delicious and nutritious way to eat vegetables combined with other healthy ingredients. These recipes are very low in calories and ideal to include in your diet at all times.
4 stuffed veggies recipes
1. Stuffed peppers
This stuffed peppers recipe is very healthy since it replaces ground beef with miso barley paste. This is a delicious combination that reduces the consumption of saturated fats, providing important nutrients for your body instead. Calories: 267
Ingredients
1 package of miso barley paste
3 cups of baby arugula
¼ cup of feta cheese
Olive oil
4 small seedless peppers, cut in half
Preparation
Preheat the oven to 180°C (350°F) and while it's heating up, cook the miso barley paste, according to the instructions on the package, in water and salt.
When the miso barley paste is ready, drain it, return it to the pan and add the baby arugula, feta cheese, olive oil, and ¼ teaspoon of salt and a little ground black pepper.
Use this mixture to fill the peppers, then place them in a baking pan, cover with aluminum foil and place in the oven until they soften (about 40 minutes).
2. Stuffed sweet potatoes
Sweet potatoes contain an important amount of vitamin A, which is essential for the health of your eyes and skin. They're also a rich source of potassium, which is important for the nervous system and muscle function, and vitamin B6, which helps the body to fight infections, according to some studies. Calories: 325
Ingredients
2 medium sweet potatoes
¾ of a whole broccoli, chopped
Olive oil
1 garlic clove
A pinch of ground red pepper
¼ cup of mozzarella cheese
Preparation
Wash the potatoes well and then boil them for about 25 minutes, with the skin on.
When they're ready, remove them from the heat and strain out the water. Let them sit for 10 minutes.
While they're cooling, wash and then cook the broccoli in water with a little salt for 5 minutes.
Preheat the oven to 200°C (400°F).
Cut off a small portion from the top of the potatoes and remove the inside being careful not to get too close to the edge.
Place this in a bowl and mash. Then, add the cooked broccoli, diced garlic, salt, and red pepper, mixing it well.
Next, refill the sweet potatoes with this mixture and sprinkle grated mozzarella cheese on top.
3. Tuna stuffed tomatoes
Tuna stuffed tomatoes is a delicious recipe, low in calories and excellent for lunch.
Ingredients
6 ripe tomatoes
1 can of tuna
½ a white onion, finely chopped
1 small jar of mayonnaise
¼ cup of capers
Preparation
Wash and disinfect the tomatoes, using a little water with vinegar to clean them well.
Cut off the top part of each tomato and remove the seeds and pulp, being very careful not to damage the outer shell or skin.
In a separate bowl, marinate the tuna by adding a little mayonnaise and the chopped onion.
Finally, you can refill the tomato skins with the mixture and decorate the top with capers.
4. Stuffed avocado
Avocado is a nutritious and delicious fruit that you can easily include in a great number of recipes. This stuffed avocado recipe is a healthy and delicious way to eat avocados, taking advantage of the healthy properties of the other ingredients as well, such as tuna, tomato, and spices.
Ingredients
2 mature avocados
1 medium can of tuna
½ small onion
1 hard boiled egg
1 tomato
A handful of fresh cilantro leaves
The juice from one lemon
4 tablespoons of mayonnaise (60 g – 2 ounces)
2 teaspoons of mustard (20 g – 0.7 ounces)
Salt and pepper to taste
Preparation
In a bowl mix the tuna, tomato, onion and boiled egg (which have all been previously chopped or sliced).
Cut the avocados in half and remove the pit.
Carefully remove most of the pulp, chop it up and add it to the tuna mixture.
Add the mayonnaise, mustard, and lemon juice and mix well.
Finally, you can add the cilantro, salt, and pepper to taste. Then, fill the avocados with the mixture and serve them with a salad.
We invite you to try any of these stuffed veggies. We're sure your family will love them!
It might interest you...