Learn How to Make Fried Rice with this Easy Recipe
Although you may believe that it's impossible to emulate the taste of typical Chinese fried rice, the fact is that there are some tricks that will help you make this recipe as tasty as possible.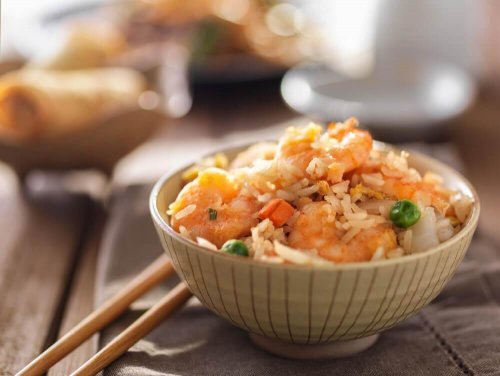 The Chinese have popularized fried rice to the point that it's one of the most consumed dishes in the world nowadays. After all, rice is a versatile ingredient that's even used to prepare desserts.
To make fried rice, it's first absolutely necessary to understand the importance of a good stir-fry and the required seasonings for this particular dish. Without them, your fried rice won't taste as good as it should.
However, you should keep a very important concept in mind regarding the type of seasoning this recipe requires. We're talking about soy sauce, an essential dressing for almost all oriental preparations. This ingredient will ensure that the fried rice has that characteristic taste that distinguishes it from others. In addition, it's a very simple, practical, and inexpensive way to season this dish.
It doesn't matter if you're not that good at cooking or if you simply don't have a lot of time to cook. Soy sauce will make your fried rice very tasty regardless!
However, there are other things we have to share with you before we start explaining how to make the recipe.
Fried Foods
From a nutritional standpoint, fried rice isn't held in high regard. However, this doesn't mean it's categorically bad or contraindicated.
In fact, what's important is your diet and the lifestyle you lead. To illustrate it better, it's not only about what you eat. A sedentary lifestyle, along with a diet rich in fats, cholesterol, and carbohydrates, isn't good for you.
However, there's nothing wrong with eating fried foods sparingly. You should always remember that although you can eat any type of food, you should avoid highly processed or synthetic foods as much as possible.
Quick and Delicious Homemade Fried Rice
Ingredients
1 1/2 cups of white rice (180 g)
2 cups of water (500 ml)
2 tablespoons of extra virgin olive oil (30 ml)
1 tablespoon of salt (15 g)
1 large carrot
3 tablespoons of soy sauce (45 ml)
1 large onion
2 pieces of leek
1 pinch of ground black pepper
Preparation
You must have a microwave, as it'll allow you to make the dish a lot faster.
In a heat resistant bowl, pour the water and add some salt and olive oil.
Then, set the timer to 90 seconds and microwave at maximum temperature.
Take the water out of the microwave and add the white rice. Set the microwave to 10 minutes at maximum temperature.
While the rice is in the microwave, finely chop the carrot, onion, and leek.
Then, add the olive oil to a frying pan, heat it, and add all the vegetables.
Sauté the vegetables and make sure to never stop stirring. This way, the vegetables won't burn nor lose their aroma and flavor.
Add a touch of soy sauce and keep stirring.
When the rice is ready, incorporate it into the frying pan, add more oil and soy sauce, and stir.
The ingredients should be well-mixed to ensure the best possible flavor. After a few minutes, taste the rice to make sure it's well seasoned.
Finally, turn off from heat and sprinkle some pepper on top.
Enjoy!
It might interest you...