Learn How to Prepare Decorative Icing for Cakes
If you want to decorate your cakes and other desserts (muffins, biscuits, etc.) with a simple icing that looks good, the best option is a cream. In this article, we'll show you how to prepare it.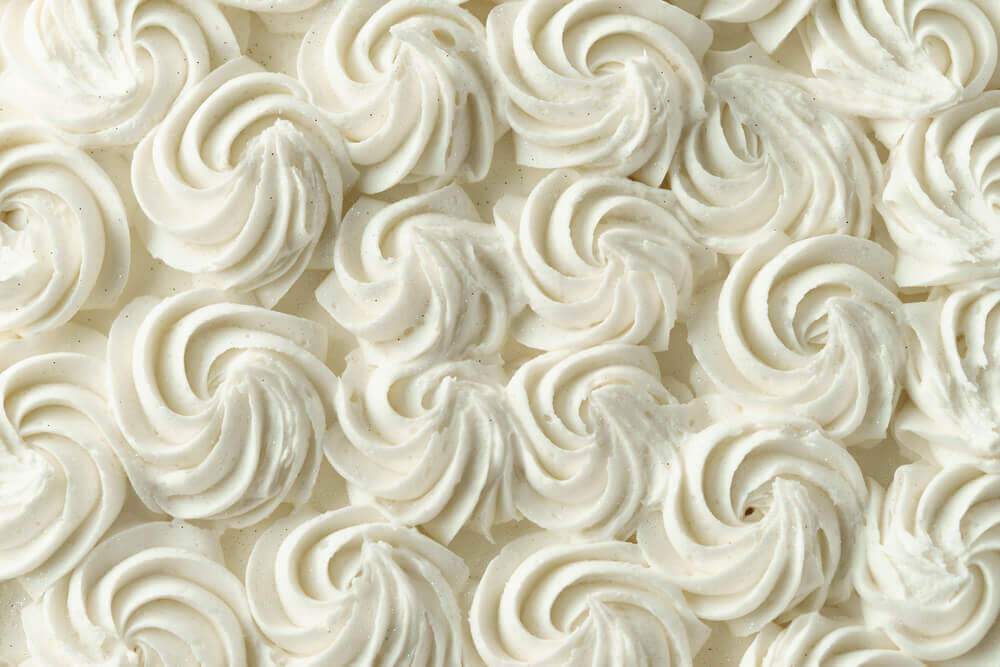 Decorative icing for cakes involves a very simple preparation. It doesn't include many ingredients and does not require a long or complicated process. 
So look for your apron and get ready to decorate those delicious sweets.
Today, we'll show you how to prepare decorative icing for cakes. As you've probably seen, there are cakes that require a lot of previous experience. The option we present today is simpler, and you don't need to be a professional. As you prepare and use this delicious topping, you'll gain experience.
Now, it is important to note that creativity is crucial when decorating a cake. This way, we give an original and personal touch. 
Recipe for decorative cake icing
When decorating a cake, it's necessary to make it with ingredients that don't require refrigeration, so chocolate or condensed milk are not very recommended unless they're going to be consumed soon.
Thanks to its creamy and smooth texture, the decorative icing that we are going to prepare is the one that is most used in pastry and confectionery. It's very versatile and easy to prepare.
Usually, this cream includes flour, milk and eggs. Then flavor is added using ingredients such as lemon zest or other essences. 
This recipe is for a basic icing using ingredients that are easily accessible. Then, you can add other flavors and ingredients to make it more diverse.
Ingredients
3 egg yolks (90 g)
4 cups of milk (1 liter)
1/2 a cup of sugar (80 g)
1 teaspoon of vanilla (5 mL)
1 piece of grated lemon peel

1/2 a cup of

cornstarch

(90 g)
Preparation
Place the milk in a saucepan and put it over low heat.

Add the sugar in the milk and the lemon zest. Stir to mix the ingredients well.

In another bowl, mix the egg yolks with the cornstarch.

Once the milk starts to boil, pour this mixture into the bowl of the yolks and cornstarch.

When you have mixed the ingredients well, place this mixture over low heat and beat until you get a thick cream.

Finally, add the vanilla essence and stir vigorously. Let it cool and you're ready to apply it to your cake.

When you're ready, place the cake on a stable surface.

With a wooden spoon, spread the icing on top of the cake and spread it all over the surface.

Then, with the help of a spatula, mold the cream around your cake to the desired shape.
You'll probably see that your cake looks very simple with only white icing. However, you can use natural dyes to add a more personal touch to the cake. You can also use fruit or nuts to add an extra touch.
Select the colors you're going to use depending on the shape you want to give your cake. Make use of a pastry bag  (if you have it), with various nozzles to give free reign to your imagination. Go ahead and create different figures of flowers, roses, leaves, letters and everything you can think of.
Some recommendations
Here are some recommendations to take into account when making your icing and also some ideas to improve the recipe:
Always use the correct amounts of each ingredient. You can see if the consistency is as expected, as well as test if the flavor is right.
Avoid mixing ingredients in aluminum containers, as these can generate an inappropriate appearance. It's better to use plastic or glass containers.
Sift the cornstarch before adding it to prevent lumps.
It's important that the vanilla essence is added at the end, and not while the mixture is being heated, as it can evaporate.
There are many ingredients that you can add to your decorative icing to vary its flavor. For example, you can use butter, orange zest, instead of lemon, cinnamon sticks, or we can even add chocolate. The important thing is that it does not overshadow the taste of the cake.
It might interest you...