Learn All about World AIDS Day
On World AIDS Day, everyone should remember that this disease constitutes a pandemic. In other words, there are sufferers all over the world. Also, that current science can treat it and slow down its progression, especially if it's caught early.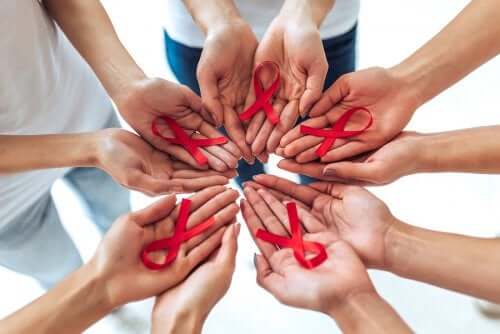 For the past 31 years, each December 1 has marked World AIDS Day. This day has the goal of publicizing the progress against HIV/AIDS and of raising awareness of the importance of preventing and adequately treating this pandemic.
The theme of the 2019 World AIDS Day was "Communities make a difference". It refers to the importance of different social actors in addressing this problem, as educators, the media, health workers, and volunteers are all contributing and can contribute in different parts of the world to fight this pandemic.
"The only vaccine that protects us is prevention."

-World Health Organization-
Communities are vital because the most important thing isn't to discover new drugs and better treatments for this pandemic but to take preventive measures to prevent the spread of the disease. Also, it's necessary for communities to request better services and a greater budget in each nation. That's what the 2019 World AIDS Day asked for.
Global HIV/AIDS overview
According to data provided by UNAIDS, 38 million people worldwide were living with HIV in 2019. Among them, 49% are men and 51% women. About 24 million of these people receive some form of treatment for their condition. This means that approximately 14 million people aren't being treated.
The most worrying thing is that approximately 8 million people don't know they're infected with HIV. This means that many people can transmit the infection without even knowing it. Hence, World AIDS Day 2019 focuses on communities. In other words, the responsibility we all have to solve this problem.
The highest risk group are homosexuals, who are 22 times more likely to get AIDS. Intravenous drug users are also 21 times more likely to get it than other people, a figure that also applies to sex workers. Transgender people have a 12 times higher risk.
What everyone should know about AIDS
The best way to prevent the spread of AIDS is safe practices, particularly sexual. Regardless of your stance on the issue, it's best to use condoms during sex, especially if you don't have a steady partner. Even in the latter case, it's also advisable if any of the partners have had sex with other people.
Also, in any situation involving the use of needles that penetrate the skin, you must take extreme caution. Such needles should be used only once and, obviously, should never be shared. This applies to all types of medical procedures, as well as for the use of psychoactive drugs intravenously.
You must remember that HIV, in principle, doesn't cause any symptoms. Therefore, if you committed an unsafe practice, you may have the virus without knowing it.
Being HIV positive doesn't mean you have AIDS. HIV is the virus, while AIDS is the disease that occurs in the last stage of infection. It can be controlled in the early stages.
The message of World AIDS Day
The goal for the coming year is "90-90-90". It means that in 2020, 90% of people living with HIV should know their diagnosis. Likewise, that 90% of carriers should have access to antiretroviral treatment, the only effective treatment so far to stop the spread of infection and prevent it from becoming AIDS. Finally, it's intended that 90% of those treated should have stable results.
In the last year, there were 770,000 AIDS-related deaths in the world. Although the figure is still high, antiretroviral treatment helped the mortality rate to reduce by 40% since 2004. One recommended measure is to get tested for HIV if you have ever engaged in any risky behavior. It's very simple and can literally save your life.
The incidence of AIDS by region, in order, is as follows: Sub-Saharan Africa, South and Southeast Asia, Latin America, Eastern Europe and Central Asia, North America, East Asia, Western and Central Europe, Middle East and North Africa, the Caribbean Basin, and Oceania.
It might interest you...
https://mejorconsalud.as.com/dia-mundial-lucha-contra-sida-compromiso-todos/