Johnson & Johnson Will Have to Pay $417 Million as Talcum Powder Has Been Linked to Cancer
A jury in Los Angeles, California, said the company was aware of the cancer risk associated with its product and, nevertheless, hid this information from consumers.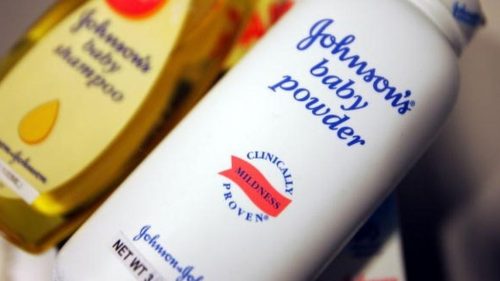 $417 million?! That's the amount that the company Johnson & Johnson will have to pay to a 63-year-old woman. Eva Echeverría claimed that the cause of her ovarian cancer was the use of talcum powder on her private parts.
The victim explained that she was only 11 years old when she started using talcum powder, Johnson's Baby Powder.
However, it was 10 years ago, in 2007, that a tumour was removed and she was diagnosed with ovarian cancer. Unfortunately, it was in a terminal phase.
Therefore, the jury deliberated that the big company had to pay here $70 million in compensatory damages and a further $347 million in punitive damages.
The plaintiff's attorney, Mark Robinson, said she was grateful for the verdict. He said that Johnson & Johnson was hiding the case for years.
In her defense, Eva Echeverría cited a study that was conducted in 1982 led by researcher Daniel W. Cramer.
It explained how women who used talcum powder on their genitals increased their risk of ovarian cancer by 92%
It was then that Johnson & Johnson was urged to put a label on the product to warn consumers of its possible consequences.
However, the company ignored this.
Furthermore, this is not the first demand of this nature received by Johnson & Johnson, which is based in New Jersey. According to the Los Angeles Times, there are 300 pending lawsuits in the California records alone.
Undoubtedly this is small compared with the more than 4,500 in the whole country. Unfortunately, there are now thousands of petitions from women who claim that they developed ovarian cancer as a result of using talcum powder to eliminate vaginal odour.
The company has already lost about $300 million in four of five previous cases in Missouri. However, Johnson & Johnson plans to appeal and demonstrate the quality and safety of its product.
The question is: Is the use of talcum powder actually safe?
It's no news that this product is associated with the risk of ovarian cancer. Regardless of the claims, the International Agency for Research on Cancer lists the use of talcum powder on intimate parts as a "possible cause of cancer".
For its part, the British ovarian cancer support charity, Ovacome, says there's not enough evidence to say that the use of talcum powder increases the risk of developing the disease.
If so, cancer statistics would increase by 1 in 3 women.
 What is it that brings talcum powder under the spotlight?
Apparently, it's because of the substances in its ingredients. Talcum powder, also known as magnesium silicate, is a mineral that contains asbestos.
This not only causes severe respiratory problems, but also carcinogenic effects that have been studied since 1971. Therefore, regulations require that it be substituted with corn starch.
This has been used for babies since the 70's. However, there are suspicions that the research is not thorough enough as it is based on the amount of product that people remember they used, which is not exact.
There are many studies that say there is no relationship between talcum powder and ovarian cancer.
It's a lot like studies on cigarette smoking: the more you smoke, the greater your risk of lung cancer. However, researchers still don't know if this is the case for talcum powder.
Either way, we recommend you be careful! Douching could double your risk of ovarian cancer.
How can you prevent it?
Talcum powder goes through cosmetic product reviews. Therefore, it doesn't receive an exhaustive examination by Food and Drug Regulators.
There are millions of products on the market as beauty products that are not good for our health. In any case, it's always best to use natural products with fewer toxins.
It might interest you...