Is Vaginal Birth Possible After Having a C-Section?
Giving birth vaginally after having had a Cesarean delivery (VBAC) has its risks and benefits. For a successful delivery, the mother needs to meet a certain profile. Learn more about this process below.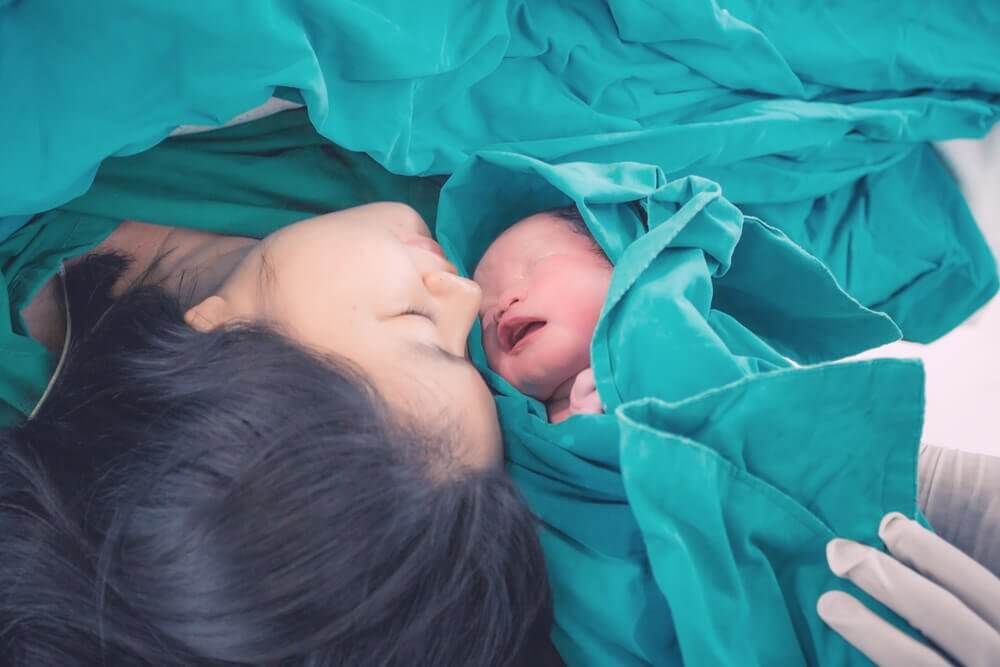 Cesarean section
A Cesarean section is a surgical operation that removes the fetus and placenta by opening the abdomen and uterus. It's a very common procedure as it can prevent the complications that could occur in a vaginal delivery, keeping both the baby and mother safe.
Vaginal birth
A vaginal delivery is the traditional birthing method. The baby exits the womb through the vagina. Vaginal birth is the most recommended option when there are no risks.
Chances of a successful delivery increase if the mother has already given vaginal birth. On the other hand, it decreases if the mother has ever experienced complications during labor.
Complications of vaginal birth
Prolonged labor
Weak and irregular contractions signal prolonged labor, which slows down dilation and birthing process. Factors that can effect prolonged labor are disproportion of the mother's pelvis and the baby's head, birthing with a narrow cervix, or an irregularity in the baby.
 We recommend that you read:
Premature labor
Premature labor begins before the 37th week of pregnancy. It can occur due to the membranes rupturing too early, uterus abnormalities, any illness the mother might have, malnutrition, infections or other unknown causes.
Fetal distress due to lack of oxygen
This complication occurs when the baby shows an alarmingly fast heart rate or if there's meconium present in the amniotic fluid, preventing the baby from receiving vital oxygen.
Breeching
If the baby breeches, the risk of injury in a vaginal delivery increases four fold. These complications could also occur if the baby exits feet or knees first.
After receiving the information on the possible complications of vaginal births, if the mother still chooses a VBAC, she should see a medical specialist to determine if she fits the profile to undergo the delivery process.
Below are several of the conditions for a successful VBAC:
Profile of a VBAC candidate
Overall, a woman who wishes to undergo a VBAC should have:
A history of only one Cesarean section made with a low-transverse incision.
No other scars on uterus.
Pelvis size should meet clinical standards.
No history of uterine rupture, medical complications, previous obstetric problems or uterine fibroids.
Good physical condition regarding issues such as diabetes, high blood pressure, heart disease or genital herpes.
Benefits of a VBAC
Prevent invasive abdominal surgery.
Reduce the risk of placenta problems for future pregnancies.
When compared to C-section, there's less blood loss and a lower risk of infection.
Less risk of complications linked to repeated surgeries. This includes damages to the intestines and vagina.
Less pain after giving birth.
The baby is born in a healthy condition, not prematurely like many C-sections cases.
The baby's lungs are much stronger in vaginal deliveries cases.
Risks of VBAC
No delivery method is free from risks. However, studies do show that there are less deaths in successful cases of VBAC than in those of repeated C-sections.
In addition, the uterus might tear where the C-section is left. Unfortunately, this could cause a hemorrhage and impact the baby's oxygen supply.
Medical experts recommend abandoning the VBAC procedure if the mother needs to take oxytocin (Pitocin) to induce contractions.
When doctors have to abort VBAC and opt for an unplanned C-section, there could be surgical risks such as a hemorrhage or infections in the uterus or incision. In these cases, the baby could suffer long-term neurological damage or even die.
Requirements for a VBAC
Naturally, there needs to be a constant fetal monitor to monitor the baby's heart rate. After all, this could be an indicator of any problem. In addition, the mother needs an IV and avoid eating during labor in case a C-section is necessary.
It might interest you...