Is it Safe for Children to Eat Chocolate?
Did you know that not all commercial chocolate is the same? In this article we'll tell you which types are safe for children and which you should avoid so as not to damage their health.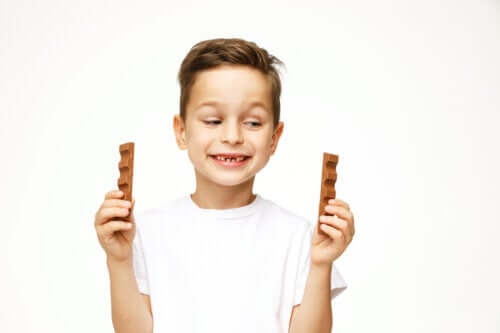 Most children love chocolate. However, many nutrition experts warn that not all types on the market are good for their health. Some contain large amounts of added sugars. Here we'll tell you if it's really safe for children to eat chocolate.
Before we begin, it's important to emphasize that children need a varied and balanced diet. It's essential to ensure that they consume a wide range of foods, in order to reduce the risk of nutrient deficiencies. As such, many foods have their place in the context of a healthy dietary pattern, but not all of them in the same quantity.
Common ingredients in chocolate
In order to analyze whether it's safe for children to eat chocolate, let's start by taking a look at the main ingredients that make up this product.
Cocoa
Cocoa is a food of vegetable origin with a bitter taste that has a high concentration of phytonutrients with antioxidant properties. According to a study published in The Cochrane Database of Systematic Reviews, the flavonoids it contains help regulate blood pressure levels.
As such, cocoa is a high-quality food that's good for our health. So, the cocoa in chocolate is a positive.
Whole milk
Milk, whether liquid or powdered, provides quality micronutrients, such as calcium. This mineral improves bone health, reducing the risk of fractures in the medium term. This can be seen in research published in the journal Nutrients.
However, for optimal absorption of the mineral it's important to make sure the body has adequate levels of vitamin D. Otherwise, there's a chance of a calcium deficit.
Milk is also a source of quality proteins and fats. For these reasons, it's considered a healthy food.
Sugar
The main problem with chocolate is its sugar content. Commercial products often contain large quantities of this ingredient, which reduces their quality.
In fact, regular consumption of added sugars by children is associated with an increased risk of developing conditions such as obesity and diabetes, according to a study published in the Journal of Pediatric Gastroenterology and Nutrition.
Health benefits of chocolate for children
It's safe and beneficial for children to eat chocolate as long as it's a quality product. This means that it should contain at least 75% cocoa, which in turn means a lower percentage of added sugars.
The following are some of the benefits of eating chocolate:
It helps control blood pressure
As already mentioned, cocoa flavonoids help regulate blood pressure, which translates into a better functioning cardiovascular system. In the long term, this means a lower risk of developing complex diseases.
It slows down aging
Studies have found that one of the keys to delaying the onset of premature aging is to increase the amount of antioxidants in your diet. Chocolate with a high percentage of cocoa is an ideal food to help achieve this goal.
It provides energy
Let's not forget that chocolate provides lots of energy. This is good for children, as they're usually very physically active. However, sedentary people should consume it in moderation.
Main risks of chocolate for children
The risks of chocolate consumption in children depend on the quality of the product. Commercial chocolate with a low percentage of cocoa and a large amount of sugar can have the following negative effects:
Increased risk of obesity: Regular consumption of fructose and glucose is associated with a higher incidence of childhood obesity. This is a serious health problem that leaves after-effects and can lead to the development of other diseases.
Higher incidence of diabetes: This condition is closely connected with obesity. The main risk factor is consuming a lot of simple sugars combined with a sedentary lifestyle.
What type of chocolate is best?
Choosing the right type of chocolate is crucial when it comes to a healthy diet. As a general rule, it's better to opt for chocolate with more than 75% cocoa, regardless of whether it contains milk or not.
It's also a good idea to avoid products with artificial sweeteners. These additives negatively impact the intestinal microbiota. In the case of children, bacterial diversity in the gut is important.
It's safe for children to eat chocolate
As you've seen, it's safe for children to eat chocolate, as long as it's high quality. This is the key factor you should take into account. Commercial products with a high percentage of sugar have negative effects.
Finally, it's important to emphasize the need for good education about nutrition during the first stages of life. The lessons learned during this time develop into habits in the future.