Is it Dangerous to Wear Hair Extensions?
Hair extensions, regardless of the type, pose risks to the health of your hair. Permanent or semi-permanent extensions in particular can lead to significant damage to the hair.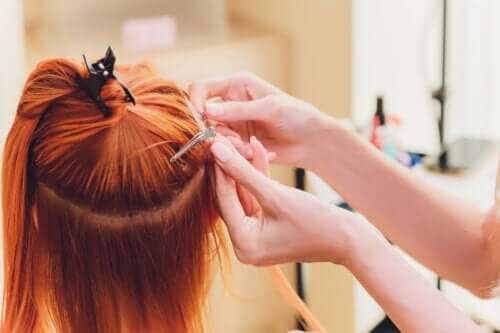 Hair extensions is a beauty technique that consists of adding sections of natural or synthetic hair to your hair to lengthen it or make it more voluminous. Although it's one of the most popular aesthetic procedures in the world, it does pose several risks.
Models like Naomi Campbell have said that hair extensions have caused several problems to their hair. Even so, many people use these extensions without taking precautions.
But why does it cause problems? What should you know about them?
Below, we'll take a look.
Types of hair extensions
There are different types of hair extensions. They differ based on the way that they're attached to the hair or the scalp. In a similar vein, the techniques specialists use to fix them determine their level of risk.
Let's take a look at them:
Adhesives extensions
This type of extension requires a special glue to adhere the extensions to the scalp.
These should be fitted and removed by a hairdresser, and the adhesives they use have to be hypoallergenic. However, this isn't always the case.
Braiding extensions
This technique is very popular, but also one of the most damaging for the hair. It consists of making horizontal crowns with very fine braids. These stay hidden in the middle of the hair and the extensions are then sewn into these braids.
The benefits of this type are that they don't require chemicals or heat. The drawback, however, is that it puts a lot of weight and strain on the hair.
Loops or staples
These extensions are semi-permanent and last between two and six months. In this technique, extensions are added to locks of hair using a loop or staple.
An expert hairdresser should carry out this procedure. It can cause heavy strain on the hair.
Silicone and keratine
Similar to the adhesive extension technique, this consists of melting silicone or keratine to the scalp to fix the extensions there.
This type requires maintenance every three or four months. Heat, compressed air, or ultrasound is used to fix them. However, these cause strain on the hair.
Clip-in extensions
This type is the least damaging. The locks of hair that act as the base for these extensions have one or several clips attached.
After you're done with them, you can take them out as easily as any other hair clip or slide. Generally, they're used on specific occasions and only for a couple of hours.
What are the risks of hair extensions?
No type of hair extension is inoffensive, but, whatever the case, the most harmful techniques are those that are more permanent. In the following section, we´ll explain the risks that you expose yourself to when using these attachments.
Hair loss
This is one of the risks present in almost all of the types of extensions. Given that the extensions are fixed to the hair, they prevent it from shedding naturally. This can mean that when you go to remove them, large clumps of hair can come out at the same time.
Chronic mechanic irritation
Extensions exert traction or strain on the hair follicles. Over time, this can cause them to be stunted and, as a result, make the hair finer.
In more serious cases, it causes alopecic sections or 'bald spots' to appear all over the head. If you stop using the extensions in time, then this process is reversible; but if you don't then it isn't.
Deterioration 
The extensions can damage the hair cuticles. It not only reduces the hair's brightness and vitality but can also cause frizz, fragility, and even breakages.
Scalp injuries
There are cases where the extensions cause damage to the scalp. This can even lead to folliculitis, where the hair follicles become inflamed.
If this happens, red blotches that are sometimes filled with pus will develop. They can be sore and itchy.
Allergic reaction to hair extensions 
Although this isn't very common, some people will have an allergic reaction to the glues that fix the extensions or to the extensions themselves.
If this is the case, you should take them out immediately and consult a doctor.
Are hair extensions a good idea?
Beauty shouldn't harm health. For this reason, in general terms, specialists advise against hair extensions, since each type poses some kind of risk. If you do decide to get them, it's very important that you use them in moderation and only occasionally.
Sometimes people use extensions to conceal some types of alopecia. Nevertheless, these cases must be approached with care since some techniques can worsen the condition and cause inflammation or irritation to the scalp.
General advice dictates that you shouldn't go beyond double the length of your natural hair so that you don't put too much pressure on the hair. Similarly, it's always best to visit a professional at a hair salon to get advice on which is the best type of extension for your hair in its current state.
Advice for wearing hair extensions
If you do decide to opt for extensions, you should choose natural hair, not synthetic versions, since these are a lot easier to wash and maintain. Additionally, you should implement a good care routine to reduce the possible adverse side effects.
It's not a good idea to color the hair to standardize the color, as this can increase the level of risk. You should also use a hairdryer with moderation and brush it delicately.
Bear these tips in mind!
It might interest you...