Is Cod Healthy? Nutrients and Benefits
In this very interesting article, discover the answer to the question "Is cod healthy?" Read on to learn more!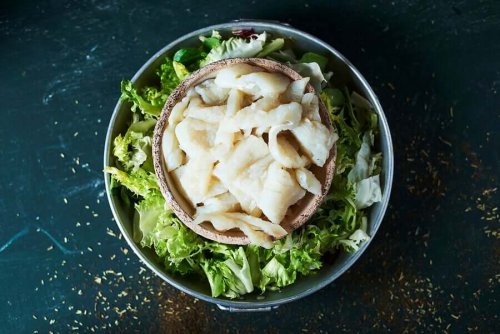 Watching your diet means taking care of your health. In this sense, fish should be a part of your diet, and eating cod is an excellent option if you want to invest in your health. Is cod healthy then? We've got the facts!
Cod is a very healthy whitefish that should be part of your healthy and balanced diet. It's a species of cold sea fish and lives at between 1650 and 2000 feet, although it's common for it to swim at around 500 to 650 feet under the surface.
Seasonal cod is fished from late autumn to spring. However, you can find salted, dried, smoked, or frozen cod throughout the year.
Do you want to know more about this fish? Is cod healthy? In this article, we share its benefits and how best to cook it.
Why is cod healthy?
Do you like fresh cod? Well, maybe you're interested in knowing a little more about its health benefits, as well as its nutritional value and the importance of its nutrients. In fact, fresh cod is easily digested and doesn't contain a lot of fat.
Also, it's rich in minerals such as calcium, phosphorous, and iodine. This is perhaps one of its most distinctive characteristics. Just 4 oz of fresh cod contains 170 milligrams of iodine, which can decrease according to the recipe and conservation.
Although it has many health benefits, we decided to summarize them in the following way. In short, cod:
Improves the functioning of the nervous system and muscle activity
Regulates the water balance inside and outside cells due to its potassium content
Increases the phosphorous present in our teeth and bones
Favors the formation of red blood cells, the synthesis of genetic material, and improves the functioning of the nervous system thanks to the fact that it contains B vitamins
Nutritional value of fresh cod
Here are the other nutrients that you can find in 4 oz of fresh cod:
1 oz of protein
1.01 g fat
352 mg potassium
190 mg of purines
89 mg of sodium
26 mg of calcium
24 mg of magnesium
0.40 mg of zinc
0.32 mg of iron
2 mg of vitamin C
1 mg of vitamin E
5.15 mg of vitamin B3
0.20 mg of vitamin B6
0.06 mg of vitamin B1
0.05 mg of vitamin B2
Compared to other fresh fish, cod contains a lot of sodium. However, when compared to other foods rich in this mineral, such as cheese (500-1,000 mg) or canned fish itself (500-800 mg), the amount of sodium cod contains isn't relevant.
On the other hand, salted cod contains even more sodium (up to 8,100 mg per 4 oz), since salt is used as a preservative. Therefore, people who suffer from hypertension or fluid retention can consume fresh cod and salted cod, as long as they remove all the salt.
How to prepare cod
On the market, you can find cod in different formats: fresh, salted, smoked, or frozen. Thus, you can find it throughout the year and can prepare it in many ways.
Cod recipes are extremely varied. You can steam cod fillets, cook them in the microwave, or bake, fry, or grill them to enjoy the flavor of this nutritious fish.
You can also use it as an ingredient to make original salads, prepare fish paella, or cook famous chickpea stew with cod and spinach.
Suggestions for children
Cod is a fish with a pleasant but more intense flavor than other whitefish. This can be an advantage for children to enjoy it. In fact, one of the reasons why they reject fish is the lack of flavor of some of them, when compared to, for example, pork or steak.
Since you can eat cod in various ways, the possibilities of pleasing children's palates increases. Cod croquettes, meatballs, and fillets cooked with sauces are wise options for children.
In conclusion, there's no doubt that cod is a fish that provides many health benefits. This is why we hope that these tips on how to make it will encourage you to consume it more often.
It might interest you...