Is Acne Leaving Marks on Your Face? Learn About 5 Face Masks for Pock Marks
Even though they can be a little slow in giving results, the truth is that the ingredients in these face masks for pock marks are very beneficial when it comes to reducing the scars left by acne.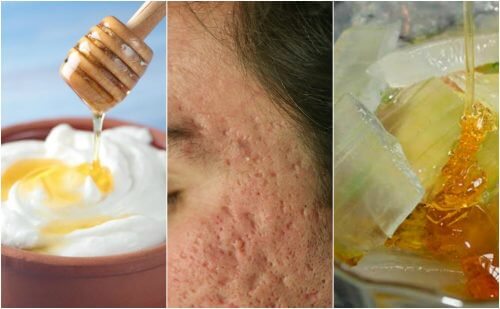 Acne is a skin disease. When it happens chronically, it can leave marks on your skin that are difficult to get rid of. These are often known as pock marks or acne scars.
Acne develops differently for everyone. However, it's almost always a result of your hormonal activity and habits. Many cases are so aggressive that they affect your tissues almost like a rash.
The problem is that not everyone knows how treat it. In their search to reduce its appearance, some people combine chemical products that can make it worse.
We can't deny that many commercial treatments give good reduction results. However, it isn't a good idea to use several at the same time. Plus, some are very expensive.
Because of this, we want to propose some natural masks. Thanks to their combination of ingredients, they promote the regeneration of the affected areas without causing undesired effects.
Try them!
Natural Face Masks for Pock Marks
1. Natural yogurt and lemon face mask
This easy combination of natural yogurt and lemon gives your skin lactic acid and vitamin C. These are two nutrients that are key for repairing your skin.
Applying them gives your cells nutrients. Plus, it also promotes the removal of dead skin so that it doesn't get in the way of healing.
This remedy should only be used at night. This is because it leaves your skin sensitive to the sun. If you're exposed to solar rays, you can develop spots.
Ingredients
5 tablespoons of natural yogurt
2 tablespoons of lemon juice
Instructions
Add the ingredients to a container.
Mix them until you get a smooth cream.
How to use it
Spread the mask on the affected areas. Let it work for 30 minutes.
Rinse with warm water. Repeat its use 3 times per week.
2. Coconut oil and vitamin E
The natural cream made of coconut oil and vitamin E is a hydrating and rejuvenating product. Because of its high content of antioxidants and nutrients, it gives skin with imperfections many benefits.
Using it on a regular basis reduces the negative impact of free radicals. At the same time, it reduces the appearance of spots and scars left by acne.
Ingredients
2 tablespoons of organic coconut oil
1 teaspoon of vitamin E
Instructions
Mix the coconut oil with vitamin E until you get a smooth creamy product.
How to use it
Spread the mask all over your face. Focus on the areas and the damaged or scarred areas.
Let it work for 30 minutes. Then, take off the excess with a wet cloth.
Use it every night.
3. Cucumber and rose water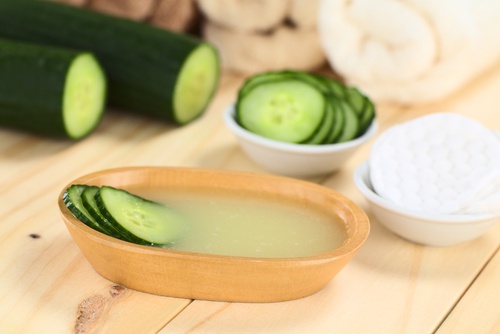 This refreshing cucumber and rose water mask is a solution for oily skin that tend to develop pimples.
It has water, antioxidants, and vitamins. Together, they clean your pores deeply while supporting tissue healing.
Ingredients
Instructions
Skin half a cucumber and put it in a blender with the rose water.
After getting a thick paste, start to apply it.
How to use it
Take off any makeup on your skin. Then, apply the mask on the areas you want to treat.
Let it work for 30 to 40 minutes, then rinse it off.
Use this treatment three times per week.
4. Aloe vera and honey
This is an infallible treatment for treating the reduction spots, scars, and acne. It involves mixing aloe vera gel with honey.
These ingredients have antioxidant, anti-inflammatory, and hydrating properties. These help the cellular healing process to give you soft and smooth skin.
Ingredients
3 tablespoons of aloe vera gel
2 tablespoons of honey
Instructions
Mix the aloe vera gel with the honey to get a creamy paste.
How to use it
Spread the mask over all of your face. Then, let it dry for 30 seconds.
Rinse it with lukewarm water and repeat its use three times per week.
5. Gelatin and pineapple juice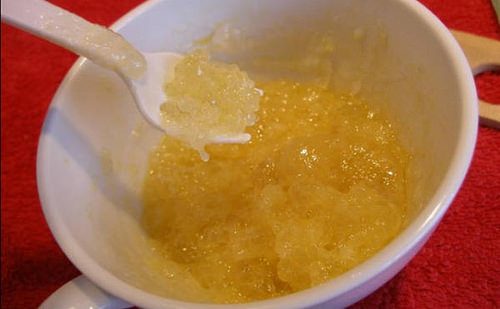 This gelatin and pineapple juice mask allows you to remove the impurities that accumulate in your skin's pores.
Also, it gives you essential vitamins and amino acids. These help you to reduce the spots caused by chronic acne.
Ingredients
1 tablespoon of flavorless gelatin
5 tablespoons of pineapple juice.
Instructions
Soak the flavorless gelatin with the pineapple juice to get a thick paste.
How to use it
Apply the mask over all of your face and let it work for 20 minutes.
After, when the mask is dry, take it off carefully with warm water.
Use this treatment two or three times per week.
Avoid using several masks at the same time.  In addition, keep in mind that the results can take time for you to notice them.
Are you ready to try these treatments? If you want to get rid of the pack marks left by acne, try one of these great natural masks!