How to Use Wood-Burning Ovens
If you're hoping to use a wood-burning oven, there are some guidelines and tricks you should keep in mind. We'll share some in today's article.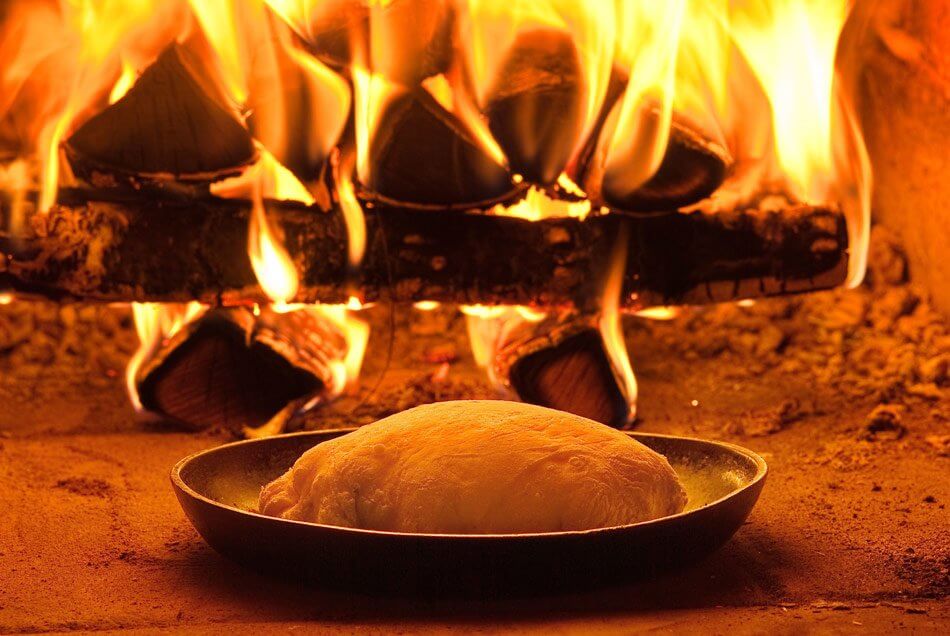 Wood-burning ovens are some of the oldest ovens in existence. As you might expect, they're very different from the modern versions we use today. However, they have the same purpose: to cook food healthily and naturally. Learning how to use wood-burning ovens will help you get the most out of this appliance.
Originally, wood-burning ovens were created underground. You would put embers at the base of the hole, then add the food. Then, you would cover the stones to keep the heat in. This would cook the meat in its own juices and preserve all its nutritional properties.
Modern wood-burning ovens have a different shape, but their cooking method remains the same. They retain a lot of heat so they're quite efficient. Also, you can make some very delicious meals: pizzas, meats, bread, and pastries.
How to use wood-burning ovens
In today's article, we'll share some guidelines for how to use wood-burning ovens in the most efficient way possible. You should note that they're cheaper than modern ovens since you'll save on gas and electricity. In addition, your meals will taste better than ever!
Get a good fire going
First, you want to get a good fire going in your oven. The secret is to get good firewood. If you don't have a lot of time, you can start with softwood that will catch fire quickly. After the fire reaches the right temperature, you can add harder wood.
Put the firewood about 4 inches thick across the entire base of the oven. Be sure to use the finest wood first. Then, you can gradually add in the thicker wood.
Let the fire breathe
At first, you'll want to leave the oven door and the draft door open. That way, a good amount of oxygen will be able to fuel the fire. 
Cooking
Before you can start cooking, the fire will need to reach about 930 degrees Fahrenheit and stay there for about half an hour. Then, once the flame dies down, remove some of the embers, and wait for the oven to cool to about 480 degrees Fahrenheit. In addition, you'll want to reduce the circulation to a little more than half by closing the door.
Although your cooking temperature will vary depending on the amount and type of food you're making, you can start cooking once it reaches 480 degrees. 
Additional guidelines for wood-burning ovens
Some of these guidelines may seem minor, but they end up making a big difference in your end product:
Firewood: Use vine shoots, oak, or holm oak.
The shape of the wood: Place the wood in the shape of a pyramid. You can also use paper or firestarters to help light your flame.
Fire: While you're making the fire, be sure to keep the draft and the door open
Food: You should put the food in the oven once the dome turns white.
Use: When the flame starts to cool, you can use it to cook stews or fish.
Time: You'll want to turn your oven on an hour and a half before you actually plan to start cooking.
Be careful when you use wood-burning ovens
Like any appliance that uses fire, you need to be careful. Wood-burning ovens have high temperatures, so you run the risk of burning yourself. The doors and the handles can get hot very suddenly. Therefore, we suggest using oven mitts and always having them handy so you don't forget to use them.
Also, you need to be careful when opening the door because you won't feel the heat immediately. As a result, you may think that nothing is happening. However, convection flows work differently than gas or electric ovens. So, you should open the door and try to stay as far away as possible.
In addition, you have to make sure you have all the tools you need handy. For example, you might need a long-handled shovel that will allow you to reach the bottom of the oven without having to get too close. There are also special gloves for handling hot objects that will be very useful.
Conclusion
Cooking your food in wood-burnings ovens is a wonderful experience that will take you back to the very origins of culinary art. They're very easy to use, as long as you follow the guidelines we share with you. 
Remember to take the temperature into account. For example, you cook bread at 430 degrees Fahrenheit, meat at 480 degrees, and stew at 300 degrees.
We hope you can get the most out of your wood-burning oven, and that you're able to enjoy some nutritious and tasty meals. However, you need to ensure you're taking the necessary precautions to protect yourself and your loved ones as you cook. 
It might interest you...