How to Use Rice to Get Enviable Skin
Although there are many chemical exfoliants that help to eliminate dead cells, we can make more beneficial ones with natural ingredients that will expose us to less dangerous ingredients.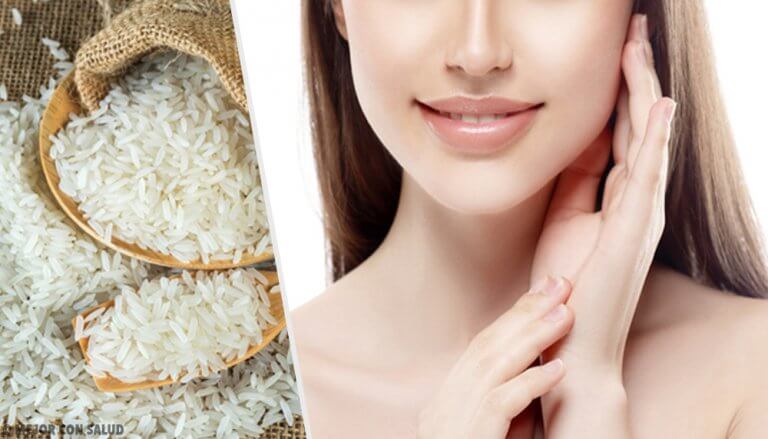 Regularly exfoliating your skin is essential for keeping it beautiful, radiant, free of dead cells and the possibility of developing imperfections.
Although industrial exfoliants are effective, the best option is to make them at home.
On occasion, women are carried away by packaging that says "100% natural" without thinking that the product can contain the same strong chemicals that may affect our skin's health instead of helping it.
Because of that, we recommend that you take advantage of the benefits that some household ingredients can offer. Rice, for example, has benefits that will help you enjoy smooth skin, free of impurities without needing to apply any unknown substances to it.
The properties of rice
It's main benefit is that it removes dead skin that accumulates in our pores, letting our natural oils hydrate our body and give life to our skin.
Rice is rich in vitamin B vitamins, vitamin E, magnesium, manganese, calcium and potassium. Our skin will absorb these substances from the first application of the exfoliant.
Rice water exfoliant
Ingredients
Rice remains
1/4 cup of rice water (62 ml)
4 drops of essential lavender oil
1 tablespoon of coconut oil (15 g)
Preparation
Add the rice water to the blender with the essential lavender oil and coconut oil. Beat for a few seconds and add the rice so that the mixture becomes creamy.
When it is ready, put the blender's contents in a glass jar and refrigerate to use later.
Once prepared, if kept in the fridge, the mixture can last for two weeks without problem.
How to use
Use two hands to obtain enough cream to cover your entire face and make a mask. You can apply it to other parts of the body if you would like to exfoliate them without any issue.
Let sit for at least 10 minutes. Start to massage your skin so that the exfoliant can get rid of your dead skin cells.
Once it has hardened, rinse with warm water, preferably, to open your pores so that the mask does not stay inside of them.
You should not use this exfoliator more than 3 times a week, just like with any other cream of its kind. If you notice any counterproductive effects, stop using it and see your doctor.
Rice mask
Ingredients
Half cup of white or whole grain rice (75 g)
Two tablespoons of water (30 ml)
5 drops of coconut water
Preparation
The first thing you should do is crush the rice into a powder. Blend it until it starts to crumble and, then, strain the powder to get rid of any lumps.
The second step is to put the rice powder in a container and add two tablespoons of mineral or filtered water and then the five drops of coconut oil.
Mix well until you have a creamy looking paste. 
The coconut oil has essential fatty acids that will keep your skin hydrated and radiant longer.
Application
To apply it, clean your skin first so that your skin is clear of oil and make-up.
Then, spread the exfoliant with the pads of your fingers in a circular motion. Put special emphasis on the forehead, nose, and chin.
When finishing the treatment, rinse the mixture with a lot of water. Your face will be totally cleaned, this cream even works to eliminate black heads.
Benefits of rice exfoliants
Makes skin smooth
Rice can balance natural oil production, hydrating the skin itself and keeping it smooth for a longer period of time.
Combining it with coconut oil will give your skin a radiant glow.
Fights acne
Since it doesn't contain chemicals, rice doesn't cause eczema on the skin. It also strengthens your pores, making it an ideal tool when it comes to fighting acne.
If you apply this three times a week, the recommended amount, you can deeply clean your skin. This will eradicate pimples and black heads.
Alleviates sun burn
The UV rays that are emitted by the sun can cause the skin to suffer burns that are almost unnoticeable for us. This exfoliant enriches the skin with vitamin B and its antioxidant power helps to keep it healthy.