How to Take Care of Your Baby's Navel
To take care of your baby's navel, all you need is a bit of soap and water and to dry the area well. In the past, doctors prescribed antiseptic creams, but nowadays, they're only reserved for cases with confirmed infections.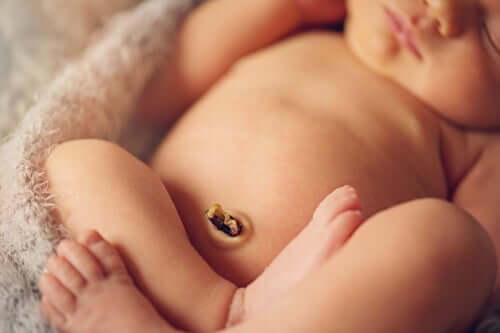 Do you know how to properly care for your newborn baby's navel? The navel is that funny little circular thing we all have in our abdomen, although each one has a different and unique shape. It's actually a scar that forms after cutting the umbilical cord, the tube that unites babies with their mother during gestation.
The umbilical cord allows both nutrients and gases to be exchanged between mother and baby throughout the pregnancy. In other words, it's the area that actually links the mother to her child.
Shortly after birth, the umbilical cord is cut to free the fetus. However, it's not cut flush with the baby's abdomen. Rather, the doctor or nurse will leave an inch or so, which takes a few days to fall off. Eventually, the cord falls off on its own, leaving the baby's navel.
Many mothers are concerned about this, as the baby's navel, in those first days of life, requires certain care in order to heal properly. Otherwise, it's at risk of becoming infected. Therefore, in this article, we'll explain how to take care of your baby's navel.
How to care for your baby's navel
As we've already mentioned, the navel is a scar that forms when the baby's umbilical cord is cut. Therefore, it's a delicate area, as there's a risk of infection. It's essential to pay attention to it and maintain proper hygiene.
During the first few days, if the baby and mother have been admitted to the hospital, the nurses will probably take care of it. More often, however, everything takes place normally and it's the new parents who must take care of their baby's naval.
First of all, it's very important to wash your hands thoroughly before touching this area. Our hands are a great source of germs, so this is one of the unavoidable steps you'll need to follow.
Once you've washed your properly, you can start the process. The truth is that, although for years, parents have used other disinfectant liquids, such as alcohol or hydrogen peroxide, these aren't necessary. The cleaning should be done with soap and water.
The procedure
To clean your baby's navel, you can use sterile gauze. Wash the naval gently with gauze soaked in water and a little neutral soap. Then, you should let the area air out and dry a little. A few seconds is enough. Air favors the healing process of the navel.
It's important to note that you should clean your baby's naval at least once a day. In the event that your baby soils their diaper, then you should repeat the process. In addition, it's best not to cover the navel. But, if you do, make sure that the area is dry beforehand.
When are other products used?
For a long time, experts have recommended the use of antibiotic or disinfectant creams to treat the navel area. This was thought to reduce the risk of infection. However, we now know that this isn't the case.
In fact, these products caused the umbilical cord to take longer to fall off. Therefore, antibiotic creams and antiseptics are only used when an infection is already present or the risk's very high. For example, in areas where there aren't good hygienic conditions.
You may be interested in: How Long Should a Premature Baby Stay in the Hospital?
What are the risks for the baby's navel?
Since it's a healing process, the baby's navel's exposed to possible infection. Therefore, it's important to follow the steps mentioned above. In addition, it's important to be aware of this risk in order to be able to distinguish the symptoms and treat them in a timely manner.
When the navel becomes infected, it may appear red or swollen. The baby may even develop a fever. Another sign of infection is blood in the area or a foul-smelling discharge.
If any of these signs appear, you should go to the pediatrician to have the navel properly observed. The same applies if the cord doesn't detach on its own in the first 12 to 15 days after birth.
It might interest you...