How to Manage Grief During Home Confinement
As the days go by, it's more and more possible that people close to us may die. In this article, we'll explain how to better manage grief during home confinement.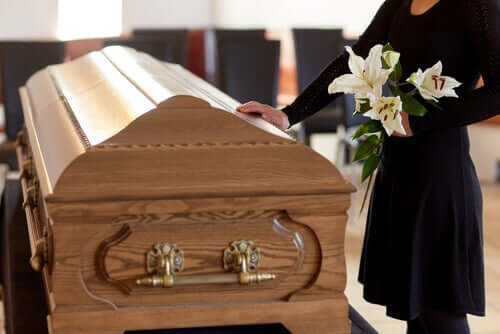 Having to manage grief during confinement has been a reality in many families during this confinement period and continues to be so. Worldwide, nearly 250,000 deaths from COVID-19 have already occurred. Unfortunately, there's every indication that the numbers will continue to rise in the coming months until truly effective treatments or a vaccine are available.
This has led to a very significant number of deaths in many countries, especially in Europe and North America. Added to these losses we need to add those due to other unavoidable causes, like old age and underlying health conditions. Also, there have been many who haven't been able to receive adequate attention to due to the saturation of the ICUs in some areas.
This is why we're faced with a high number of situations where people can't say goodbye to their loved ones in the usual way.
What can we expect regarding grief during home confinement?
"There's no other situation like grief, where the pain affects every single area of our lives. It's biological (it hurts the body), psychological (it hurts the mind), social (it hurts society and its way of living), empathic (the pain of others hurts us) and spiritual (it hurts the soul). When we lose a loved one, the past, the present, and especially the future all hurt. Our whole life experiences this pain and hurts deeply."
-J. Montoya Carraquilla-
The death of a loved one is one of those situations in life where we most need human contact. It's a time of fragility in which we feel our soul breaking, and sharing it with the rest of our loved ones eases our pain.
In the current situation, this isn't possible in many countries. So, as a result, our grief process can be affected in many different ways:
Our stress levels may increase significantly, as being isolated makes it more difficult to deal with this new situation. Stress can alter our heart rate, cause us to have insomnia, nightmares, headaches, or digestive problems, among other symptoms.
Our emotions may intensify even more due to the very stress of confinement.
We may have difficulty trying to manage grief and going through the normal grieving processes because we're unable to hold a wake or funeral traditionally.
It's even more difficult to accept the reality of the situation. If you didn't live with the deceased person and don't notice their physical absence, then at certain times it may seem like that the person hasn't even died.
What emotions are most common when grieving?
Many thoughts, feelings, and emotions arise when we're faced with the death of a loved one. Children tend to be more irritable and to be more scared, while adolescents and adults are more likely to be sad and to get depressed. However, it's important to remember that each person will manage grief in his or her own way, and there are many ways to express it.
However we manage grief, emotions will certainly take center stage in the early stages.
Some of the most common ones we may experience are:
Sadness
Sadness is the emotion most associated with grief. It may manifest itself in the form of tears, but also with a lack of energy, not looking after our hygiene, pessimistic thoughts, or little interest in things around us, among others.
During grief, it's important that we allow ourselves time and space to experience sadness. In that way, we won't repress it and we'll be able to deal with it better.
However, it's also important for us to carry out activities to try and keep that sadness away during the rest of the day. If not, then the sadness can easily turn into depression and become more difficult to deal with.
Fear
Fear is easily heightened in times of mourning. It can manifest itself in the following ways:
We may be afraid that someone else close to us will also die.
There's fear that we won't be able to cope with the situation.
We experience fear of becoming ill ourselves if the person has died of a contagious illness.
We may be afraid of driving if the death was caused by an accident (for example).
There's an increased fear of death.
We may suffer from other fears that can come and haunt us at such a time.
No matter what, we must learn to live with our fears to reduce them. If we try to avoid them, then they'll become bigger. Strategies such as cognitive restructuring or systematic desensitization can effectively help us to manage them. Seeing a therapist – even if just for over-the-phone consultation – can help with this.
Anger
When we don't accept a situation or consider it to be unfair, then anger often appears. This can be very disabling if we don't know how to manage it properly.
At these times, learning how to do breathing and relaxation techniques or self-control techniques can be very helpful.
Guilt
Guilt can flood and fill our thoughts if we think we didn't do everything that we could have done. To overcome this, we have to learn to forgive ourselves and also to forgive others who we think have acted wrongly in some way.
Strategies to manage grief in quarantine
"Mourning transforms the broken and wounded soul, the soul that no longer wishes to get up in the morning, the soul that is unable to find a reason to live, the soul that has suffered an incredible loss. Grief has the power to heal."
-Elisabeth Kübler-Ross-
The fundamental difference to other times of mourning that we've experienced is that, in the current situation, most people haven't been able to say a proper goodbye to their deceased loved one. In some cases, patients and loved ones have been able to share their last words by phone or video, but this hasn't always been possible.
Also, during the state of emergency, wakes are prohibited and only a very limited number of people can attend the funeral, sometimes as few as three. Because of this, it's important that we bear some strategies in mind.
Preparing a farewell ritual
If we can't physically say goodbye to our loved one, then we can prepare a different kind of farewell. This could be a letter, a drawing in the case of small children, collecting together some photos, or writing a poem, along with many other things. You can be creative and do what feels best.
Avoiding social isolation
Even if we can't physically give hugs, it's important to share our feelings with those closest to us. Technology allows us to make calls, video calls, and send messages to each other, both written and audio ones.
Let's use these tools to ask for anything we may need, and to communicate our emotions with others. The pain will still be deep, but it's easier to bear when shared.
Letting feelings out to manage grief
Negative emotions intensify when we experience grief. So, we mustn't avoid them and should let them flow. The more we avoid them, the more we prolong the suffering.
Managing negative thoughts
What we say to ourselves internally when trying to manage grief is key to our emotional well-being. Therefore, it's important to be aware of whether our thoughts are becoming overly negative.
Crying
Crying releases stress hormones and has a sedative effect. In the face of the loss of a loved one, grief is inevitable. If it's accompanied by tears, it will help us to manage this emotion better.
Writing
Writing is a highly therapeutic strategy. Since we can't relate to others as we would like to during the lockdown, writing will help us not to feel so alone. It will also help us to know ourselves better, to connect with our emotions better, and to express what we find difficult to put into physical words.
Physical exercise
Doing some sort of physical activity reduces our level of stress, anger, and anxiety and we highly recommend it for those who are experiencing deep sadness. Because of this, we must be active in some way to feel better. Do this either by moving around the house (if strict confinement continues) or by going outside when possible.
Final recommendations to manage grief in lockdown
Grief is a process that makes us experience very deep pain. The path can be a very difficult one. The current situation makes this even more difficult, as the home confinement makes it hard to share our pain in the way we're used to.
Despite how incredibly difficult the situation us, it's important to remember that it's a temporary situation. Later on, we'll be able to share a more elaborate farewell with the rest of our family and friends.
Until that moment arrives, we must continue to go through all the normal stages to manage grief. To do so, it's essential that we get in touch with our emotions deeply, and don't try to avoid them.
Also, if we share them with the rest of our family, friends, and support group, we'll feel closer to them, we'll strengthen our bonds, and that connection will help us to deal with all the pain better.
It might interest you...