How to Make the Best Chocolate Tart in the World
Due to the nature of the ingredients used in its preparation, make sure to eat this chocolate tart the same day it's made so it doesn't spoil.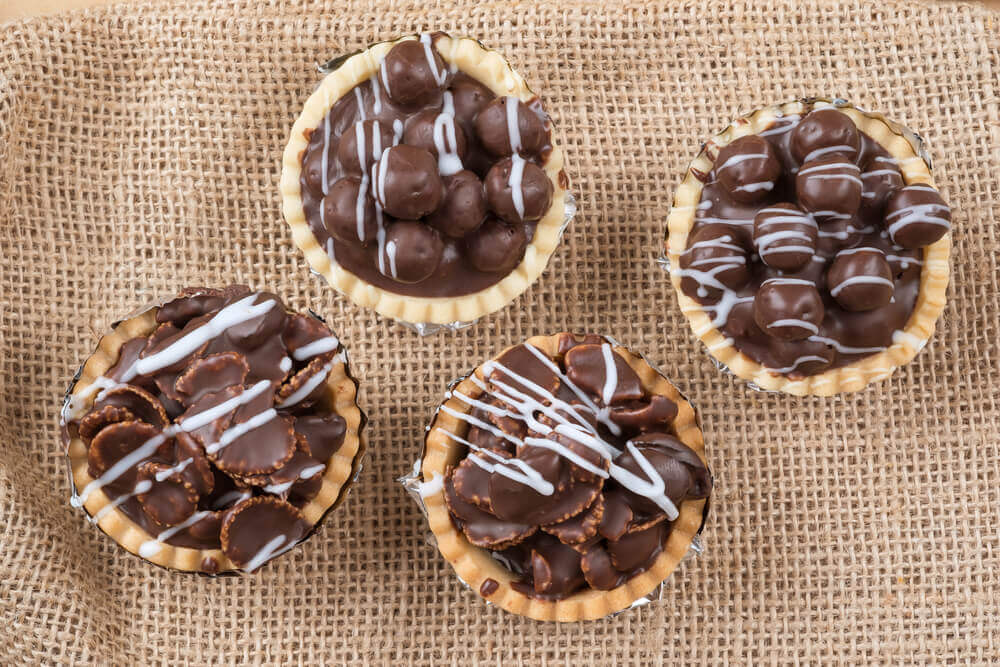 Chocolate tart is a dessert that many people enjoy. Among the wide variety of desserts that exist, it's always a good option to count on.
The main ingredient, as you have learned, is chocolate. However, given that baking is an art that cultivates creativity, many people have varied the recipe. For this reason, several options have been created to make the dessert. These include a variety of quantities and ingredients.
Now, the best chocolate tart in the world is usually considered the one that manages to group a set of ingredients in a harmonious way without it being too sweet for your dinner guest. 
In this article, we'll take a look at a few possible recipes so you can choose your favorite.
Making a Chocolate Tart with Powdered Sugar
Ingredients for the Base (8 servings)
1/4 glass white wine
1 teaspoon salt
1/4 glass water
1/2 cup olive oil
3 cups wheat flour
Plastic Wrap
Preparation
To start, get a bowl to mix the flour and salt. Stir with a spoon to mix both ingredients. Then, make a hole in the middle of the bowl to pour the olive oil and white wine. The alcohol is what will help to ferment the dough. Otherwise, yeast would have to be used.
Then, mix everything in circular movements until the flour absorbs all of the liquid. Once you have a compact mass, proceed to knead a little more with the hands until a ball forms.
Let it sit in the bowl covered for 20 minutes. After 20 minutes, knead the dough again for a few minutes and fold it into a ball again. After that, cover the container and let it rest for another 30 minutes.
Next, cut the dough into eight equal pieces and place each one on a piece of plastic wrap. Roll and flatten the dough with a rolling pin. Shape the dough until you get a thin circle or oval, like a wafer.
Then, repeat the process until you have done all eight pieces. Set this aside until the filling for the chocolate tart is ready.
Ingredients for the Filling
2 dark chocolate baking bars (250 grams)
1 cup whipping cream
2 1/2 tablespoons butter
Powdered sugar for decorating
Optional: 1 medium egg, cinnamon stick to decorate
Utensils: A mold for the tarts, fork
Preparation
First, preheat the oven to 200 ºC.

Then, put the eight wafers in the tart molds and poke a hole in the bottom with a fork. As an option, you can beat the egg and, using a brush, put a light layer of egg on each tart.
Then, put them in the oven for 3-4 minutes.
When done, take them out of the oven and let them cool to room temperature. Once cooled, remove them from the mold.
Chop the butter and chocolate into small pieces.
Meanwhile, place the cream in a pot and bring it to a boil. Once it starts to boil, take it off of the burner and add in the chocolate and butter.
Stir the cream, chocolate, and butter until mixed thoroughly. After it's mixed, allow it to cool to room temperature. It's important to stir the mixture once in a while.
Finally, fill the tarts with chocolate and put them in the oven for 7 to 8 minutes. Before serving, it is recommended to sprinkle with powdered sugar.
Take a look at this article: Four Nutritious Homemade Desserts with Minimal Ingredients
Enjoying a Chocolate Tart
A chocolate tart is an excellent option for sharing on any occasion. It tastes delicious and is best served fresh. Nevertheless, you can enjoy it at room temperature as well.
As for the topping, this can be varied using lemon zest. Also, you can add pieces of fresh fruit (strawberries or bananas) or nuts, among others.
It might interest you...