How to Make Melon Jam
You can make melon jam to take advantage of the properties of this fruit. In this article, we'll give you 3 great recipes to try.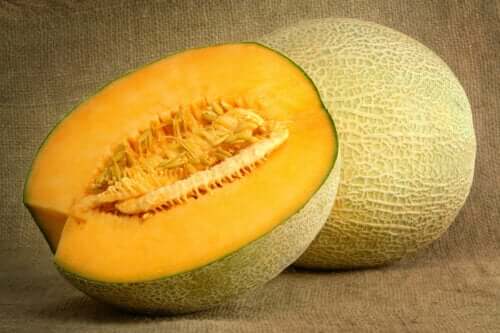 Melon jam is a new way of eating this delicious fruit. It has lots of phytonutrients and antioxidants, but it also has a high sugar concentration. Because of this, you shouldn't include it in your usual diet, but it is great for special occasions.
Keep in mind that melon jam is hard to find. It's not common to see it at the supermarket, and so it's best to make it yourself at home. Here, we're going to give you the best 3 options if you want to try this delicious sweet treat.
Melon jam
First of all, melon stands out for its water content. Hydration is an important element to stay healthy. When you lose too much water, some of your body's systems can become inefficient, according to a study in Emergency Medicine Clinics of North America.
On the other hand, melon has pigments and other antioxidant phytonutrients inside. In fact, these have been shown to neutralize the formation of free radicals. This process is related to a worse state of health and the development of chronic diseases in the medium and long term.
Ingredients
2 pounds of clean melon
1 lemon
2 cups sugar
Ground cinnamon
Step by step instructions
The first thing you need to do is cut and clean the melon. You need to remove all of the seeds, then cut it into small pieces and place them in a pan.
Then, it's important to add the sugar and let it all rest for at least 24 hours so that it macerates properly. To do this, it's best to keep it in the fridge once you add the yellow crushed lemon peels.
After the 24 hours have passed, heat the melon mix on the stove and cook it over medium heat. Next, add a couple of tablespoons of ground cinnamon. It's best to stir every once in a while and let the mixture cook for 2 hours.
When it's done cooking, you should have a dense, thick jam, and you don't need to do anything else. The jam is ready for packaging.
To do this, fill jars with the jam and sterilize it in a water bath to preserve it well.
Another option to prepare melon jam
Melon also stands out for its soluble fiber content, like many other fruits. It can ferment at an intestinal level and positively impact your intestinal microbiota. This is according to research in The British Journal of Nutrition. 
Now, we're going to offer you another option to prepare melon jam. This one will have slightly different organoleptic characteristics.
Ingredients
2 pounds of clean melon
1 1/2 cups of sugar
1 lemon
Step by step instructions
This option has less sugar, so it's less sweet. The first thing to do is to wash the melon well, just like the previous recipe. Also, it's important to let the melon macerate with the sugar overnight in the fridge so the liquid can release.
The next day, add the lemon juice to the mixture. Heat it in a pan over a medium heat for about 30 minutes until the melon is dissolved.
It's important to remove it to prevent it from sticking. Once the time has passed, add the jam to a glass blender to make it more homogenous. Finally, you can preserve it in jars just like the first recipe.
The third way to prepare melon jam
If you weren't a fan of the first two recipes, we'll show you a third that you might be interested in. We recommend that you experiment with the 3 options and pick your favorite, since they all have slightly different flavors.
Ingredients
2 pounds of clean melon
1 apple, peeled
1 1/2 cups of sugar
The zest of half a lemon
Step by step instructions
First, clean the melon and apple, and cut them into large pieces. Then, place them in a bowl with the sugar. Cover the container and place it in the fridge to macerate overnight. Then, immediately afterwards, add the lemon zest and add the mixture to a saucepan over medium heat to cook.
It's important to stir every once in a while, and let it cook for at least half an hour. During this time, the texture of the jam will change until it becomes homogenous.
From here, you can add it to a blender or leave it as-is. Of course, you can also store it in jars, just like the first two recipes.
Make melon jam
With the three recipes we've given you, you can make melon jam in a simple way. It's an alternative to the more traditional fruit jams, with the exception that you can't normally find this in stores. You'll be pleasantly surprised by its taste!
It might interest you...