How To Make Kimchi: The Healthiest Fermented Food
Kimchi is a Korean food made with fermented cabbage and spices. In this article you'll discover why it's so healthy and how to make it at home. You have to try it!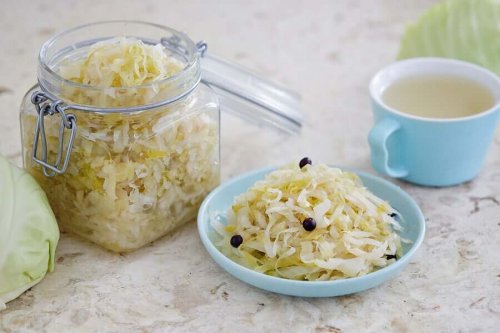 Do you know how to make kimchi? What's in the recipe? Well, we'll start by saying it's an interesting combination of fermented vegetables whose consumption is good for your body. It comes from Korea, where it's the national dish.
In fact, it's one of the most eaten meals in the country, and was even declared an Intangible Cultural Heritage of Humanity by UNESCO. The main ingredient is normally cabbage, but it can be made with other vegetables. We'll give you more information below.
What exactly is kimchi?
The term kimchi refers to a typical dish from Korean cuisine that is made with different fermented vegetables and seasoned with spices. The most widely-used recipe is made with cabbage or Chinese cabbage, but there are versions with spicy radish, peppers, and other vegetables.
The condiments they use to add flavor to this dish include red chili flakes, garlic, ginger, chives, and salt. These ingredients are what influences its unique aroma and its salty and spicy flavor. Why has it become so popular? Is it one of the healthiest fermented foods?
Kimchi's popularity is due in large part to the fact that it contains the lactic acid bacteria Lactobacillus kimchii and other microorganisms that benefit your digestive health. Additionally, it's full of vitamins and minerals, including vitamin K, riboflavin (vitamin B2), and iron.
Benefits of eating kimchi
To make kimchi you have to complete a process of fermentation inside hermetically sealed glass containers. You put the vegetables in them and leave them for several days, even months. In that time, its texture and flavor start to change, and it acquires its health benefits.
According to a report published in the Journal of Medicinal Foods in 2014, the live cultures that form during fermentation, like the added ingredients, increase the properties of this food, making it very beneficial to your body. In general, eating kimchi helps to:
Strengthen your intestinal microbiota and digestive health
Reduce the risk of diabetes and other metabolic diseases
Control high cholesterol
Reduce cravings and prevent obesity and weight gain
Strengthen your immune system to reduce the risk of bacterial and viral diseases
Prevent premature aging
How do you make homemade kimchi?
Just like with other fermented foods, kimchi has a strong smell that isn't always pleasant to people. At the same time, some people don't like it because of its spicy and acidic flavor. However, if you just give it a chance, little by little, you'll start to like it.
In fact, due to its wide variety of flavors and varieties, it ends up being a favorite dish for many people. How do you make kimchi at home? Since this food is becoming more and more popular, it's no surprise that you can often buy commercial brands in stores.
However, making it at home isn't hard and it guarantees you can use 100% organic ingredients. While there are many recipes you can try, we'll share with you one of the most traditional versions. Enjoy!
Ingredients
1 Chinese cabbage
2 tablespoons of salt (40 g)
1 tablespoon of rice flour (20 g)
1/4 teaspoon of Korean chili flakes (you can also use dried chili or cayenne)
4 tablespoons of fish sauce (80 g)
2 tablespoons of sugar (40 g)
3 chives (the green part)
3 cloves of chopped garlic
1/2 teaspoon of fresh chopped ginger (2.5 g)
1 pinch of hot paprika
Preparation
To start, dissolve the salt in a cup and a half of water. Wash and chop the cabbage and put it into the water and salt mixture.
Then, let it sit for 3 or 4 hours until it softens.
Next, make the sauce by mixing the rice flour with a cup of water. Heat it on medium heat for 5 minutes, until it thickens. Then, remove from heat.
After that, add the chili, fish sauce, and sugar. Stir well so that everything mixes.
Likewise, add the chopped ginger, garlic, and chives.
Check to see if the cabbage is soft and rinse it to remove the excess salt.
Once you do that, add the sauce and mix it well so the kimchi absorbs it.
Now you just have to put it in a glass container and wait until it ferments and releases all of its juices.
Are you excited to make kimchi at home? Keep in mind that you can use it as an appetizer, a side dish, or a main dish. It's often served with rice, but it also goes well with salads, pizza, and many other dishes.
It might interest you...