How to Make Homemade Quinoa Bread
Quinoa is a pseudo-grain that doesn't contain gluten, so it's ideal for people with celiac disease. Did you know that you can use it to prepare delicious baked goods? Discover a simple recipe for quinoa bread here!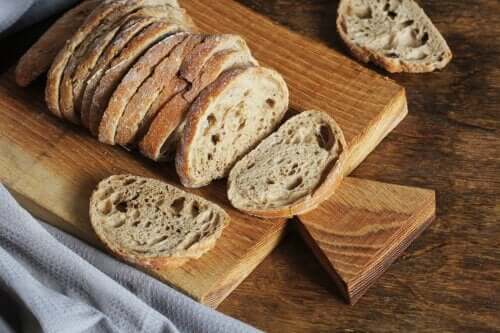 Quinoa bread is a healthy recipe that's ideal for people with celiac disease or gluten intolerance. Quinoa, as stated in a publication in Foods, is a source of amino acids, minerals, fiber and antioxidants. At the same time, it stands out for its versatility, as it can be easily incorporated into many recipes.
In this case, in addition to quinoa, other ingredients such as chia seeds and rice flour, which are nutritious and gluten-free, will be used. Are you ready to prepare this bread at home?
Below, we'll share the step-by-step instructions and go over some of the benefits of quinoa.
What is quinoa?
Quinoa's a food that's native to the Andes. For years, it was a sacred and vital product for the Inca culture. In fact, its name in Quechua means "mother grain", as for decades, it was the main source of protein for indigenous peoples.
In any case, these little ball-shaped grains belong neither to the grain group nor to the seed group. As established by science, they're considered to be "pseudograins". At the same time, it's important to point out that quinoa comes in different varieties and species.
In general, it's a versatile food that can be cooked in a similar way to rice, with prior washing and soaking. It can also be milled to make gluten-free flour or dough. Thus, due to its neutral flavor, it can be used for both sweet and savory recipes.
Read also: The Eight Best Types of Gluten-Free Pasta
Recipe for making quinoa bread at home
One of the many preparations that can be made with this pseudo-grain is quinoa bread. It's an ideal preparation to complement breakfasts, snacks, or main meals. In addition, it can be accompanied with other foods, such as vegetables, jams, meats, etc. Let's get to work!
Ingredients for quinoa bread
1 and 3/4 cups of quinoa (350 g)
1/4 cup of chia seeds (50 g)
1 cup of water (250 ml)
1/4 cup olive oil (50 g)
1/2 teaspoon salt (1 g)
1/2 teaspoon of baking soda (1 g)
3 tablespoons lemon juice (45 ml)
1/2 cups of rice or amaranth flour (100 g)
1/4 cup peeled sunflower seed (50 g)
Previous steps
First of all, remember to wash the quinoa several times. After that, soak it for 8 hours. This way, the anti-nutritional substances that this grain has will be eliminated. If you already know that you're going to prepare this bread, then it's best to do this the day before.
Once you've soaked the quinoa, drain the water and set the quinoa aside in a bowl.
Leave all the ingredients on hand.
Preheat the oven to 325 degrees Fahrenheit.
Soak the chia seeds in half a cup of water until they release their mucilage and double in size.
Step-by-step instructions for preparing quinoa bread
If you've already completed all of the above steps, add the quinoa and hydrated chia in a food processor or blender. You don't have to drain the water from the seed, as the idea's that this will help "bind" the dough.
Turn on the processor for a few minutes to grind the grains. Then, add the half cup of water, olive oil, baking soda, salt, and lemon juice.
Process again until you get a paste-like mixture. This process takes between 3 and 5 minutes.
When you've achieved this paste, remove the mixture from the processor and place it in a bowl. Add the amaranth or rice flour little by little, until it's completely integrated. Let it rest for 5 minutes.
In the meantime, coat the baking pan with parchment paper and oil spray.
Then, place the mixture in the pan and spread evenly. Cover with the sunflower seeds and bake in the oven. The baking time is approximately 1 hour, but this is variable. Therefore, we recommend you check when the bread's golden brown on the outside.
At this point, if you prick it with a knife and it has a slight amount of moisture inside, take it out of the mold and let it cool.
The outstanding benefits of quinoa
Due to its nutritional quality, quinoa's stood out among many foods. For this reason, it's now recommended for improving the quality of our diet. Evidence suggests that its properties help promote well-being and reduce the risk of disease. So, what are its main benefits?
Increased energy
Quinoa is a source of energy because it contains quality or complex carbohydrates. These are absorbed slowly and produce a sensation of fullness without causing alterations in blood glucose levels.
Therefore, several studies indicate that it's ideal for people who want to eat healthy food and, at the same time, be more active. It's even suitable for people with diseases such as diabetes.
Among other things, it's worth mentioning that a percentage of these carbohydrates make up what's known as "dietary fiber", a component that's not digested. Therefore, this food helps to control your weight.
Protein contribution
In addition to the energetic function of this pseudo-grain, we can also mention that it's a natural source of vegetable protein. In fact, several studies show that it can even compete in quality with animal protein.
Unlike other grains, quinoa contains the 10 amino acids (units that form proteins), necessary for the body in an adequate proportion. Therefore, it's considered nutritionally superior to wheat, rice, and corn.
Protection against stress
Quinoa's useful for combatting stress due to the amino acid tyrosine that it contains, and the calming effect of tryptophan and glycine. Moreover, it contains magnesium, a mineral necessary for the optimal transmission of nerve impulses. Thus, it favors the reduction of disturbances and irritability.
Why prepare quinoa bread?
Quinoa is a healthy food that provides essential nutrients in the diet. Therefore, preparing bread from this pseudo-grain is a good idea if you're looking to improve your health and well-being. It's easy to make and can be served in many ways.
The most interesting thing is that it's one of many recipes suitable for people with celiac disease or those who can't consume gluten. Its combination of ingredients is free of this protein and, at the same time, it's full of many other beneficial nutrients.
Are you ready to try some homemade quinoa bread?
It might interest you...