How to Make Crispy Fries
Do you like fries but don't know how to make your homemade fries crispy? In this article, we'll give you some tips for delicious crispy fries.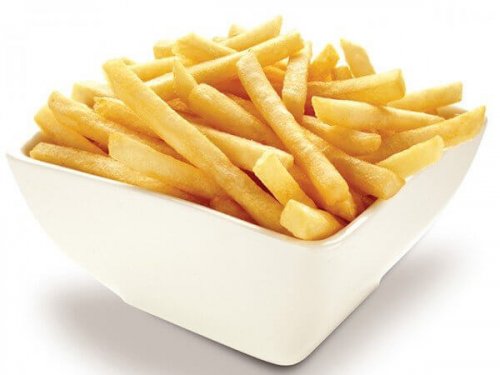 Who doesn't love a crispy side of fries? Lots of times you might wind up with the opposite outcome, however. That's why today we want to give you some tips for making crispy fries.
The potato is the second most cultivated food in the world, after rice. It's very nutritious and is recommended by many nutritionists (in moderation, of course).
Among its many outstanding properties, potatoes:
Today, we want to tell you how you can make sure your side dish of French fries has that crunchy texture you love. Learn how to make crispy fries in a few simple steps by following these techniques.
How to Make Crispy Fries
Trick #1: Freeze Them
One of the easiest ways to get your fries crispy is to freeze them. In fact, this trick is most commonly used in restaurants because it's so practical.
Ingredients
Preparation
Wash, peel, and slice the potatoes.
Then, place them in the plastic bag or wrap and freeze them for at least one hour.
Remove from the freezer after an hour and heat the oil in the pan.
Fry the French fries until they're completely browned.
Remove from the pan, allow to cool slightly, and season with salt to taste.
Enjoy your delicious, crispy fries!
Trick #2: Use Peanut Oil
Peanut oil is widely used in many kitchens. It can be used for frying or just to add a mild nutty flavor to certain dishes. It's also ideal in this case because it helps your potatoes stay crispy with the perfect consistency.
Ingredients
Preparation
To keep your potatoes crispy, peel them, slice them, and wash them well to remove any excess starch.
Heat the peanut oil in the pan over medium heat and add the potato slices.
Fry for two to three minutes, then let them cool.
Place them in a bag and store them in the fridge for one hour.
After that time, remove the potatoes and fry them again until they're completely golden brown.
Finally, season with a little salt and serve.
Trick #3: Wheat Flour or Cornstarch
One thing that might help you in the future is the fact that wheat flour and cornstarch are excellent ingredients for giving food a crispy texture when fried. Remember this next time you make French fries.
Ingredients
Preparation
Peel, slice, and rinse the potatoes. This time, you can slice them into thick strips because the flour you choose to use will do all the work.
Sprinkle the flour or cornstarch in a shallow bowl and dredge the potato slices in it.
Heat the olive oil in the pan and add the potato slices.
Once they are golden, remove from the pan and blot them dry on paper towels.
Add the salt and then serve.
Trick #4: Soak Them in Water and Add Salt Before Frying
Salt is another one of the techniques you can use to make foods more crispy. In this case, you can use any of the ingredients we mentioned earlier.
To start with, peel, slice, and wash your potatoes. Soak them in a bowl of water for at least five minutes.
Let the potato slices drain well to avoid getting burned by oil when water enters the frying pan.
Sprinkle them with salt before you fry them.
Then, heat the pan and add the potatoes. Fry them until they're golden brown.
Remove your fries from the heat and blot any oil. However, don't allow them to cool, because the salt will make them tender.
We can promise you that these tricks will help you make best crispy fries you've ever prepared!
It might interest you...