How to Make Castilian Garlic Soup - Find Out Here!
Garlic soup may not sound appealing at first, but you will soon change your mind and add this traditional Castilian recipe your winter menu when you discover its flavour and multiple benefits.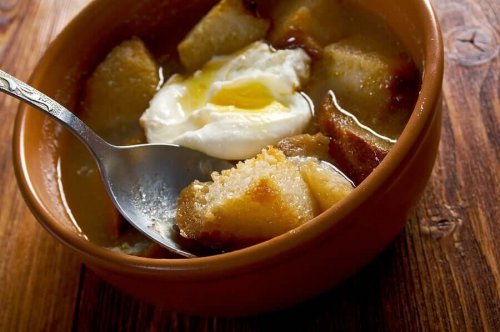 Suffering with the flu or not feeling well? Have you lost all desire to cook or make complicated recipes? Lucky for you, Castilian garlic soup is a great option.
Castilian garlic soup originates from Spain, where it's frequently eaten during the cold seasons such as Christmas. It's also traditionally cooked at Easter.
In this sense, garlic, the key ingredient, is an active ingredient that helps generate the feeling of warmth. In addition, among many other things, you can obtain a lot of health benefits from it.
Of course, Castilian garlic soup isn't just garlic. It also includes eggs, olive oil, Serrano ham and even chorizo. This dish is easy to prepare. It's also very practical, delicious, healthy and nutritious (thanks to the calorie content of the meat stock).
How to make Castilian garlic soup at home
As mentioned previously, Castilian garlic soup is very popular among Spanish people. It's very traditional and requires very few ingredients.
From a nutritional and health point of view, it can be eaten by almost everyone. As a medical precaution, it's not recommended to those who have conditions, such as hypertension, high cholesterol, type I and type II diabetes, etc. however, those who are on special diets can try it.
It's a wonderfully practical recipe, especially for those who don't enjoy cooking, as it's super quick. Also, you'll feel full afterwards thanks to the poached eggs.
Discover: The Incredible Weight Loss Powers of Garlic
Ingredients
10 cloves garlic, peeled
6 eggs
4 cups meat broth (1 liter)
12 slices of stale bread
6 strips of Serrano ham (150 g)
2 tablespoons extra virgin olive oil (30 ml)
2 tablespoons sweet green paprika (30 g)
1 tablespoon salt (15 g)
1 pinch of ground black pepper
Read this article: 8 Ideas for Using Stale Bread: Don't Throw It Out!
Instructions
Start by washing the garlic and then cutting them into very fine pieces.
Then, put the garlic into some water and oil and put it to one side. A bowl will be fine.
Then, in a large pan, on low heat, begin to warm the extra virgin olive oil.
Add the garlic and the Serrano ham and stir.
When the garlic turns a golden color, add the bread and continue stirring. Remove from the heat for a few minutes.
Then add the paprika and continue mixing the ingredients.
Pour in the meat stock. Put it back on a very low heat and continue stirring the ingredients.
Cook for 20 minutes. After 20 minutes, add more bread (optional). Don't forget to season.
Finally, add the eggs while the soup is still cooking and cover with a lid. Do this after approximately 15 minutes of cooking.
Finally, serve hot and enjoy!
It might interest you...