How to Make a Great Chicken Pot Pie
Chicken is recommended for healthy diets, and today we'll bring you a delicious chicken pot pie recipe.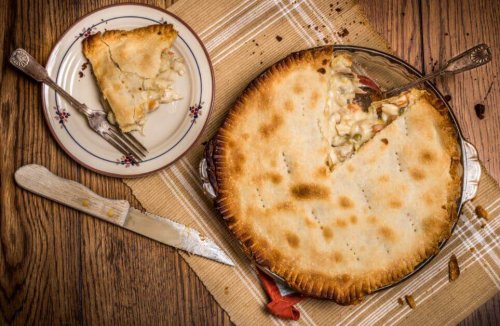 Chicken pot pie is a simple and delicious dish for any gathering with friends or family. As shown in an article published in Food & Nutritional Research, chicken is a food that's packed full of nutritional value and is a good addition to any healthy, balanced diet. It's also high in protein. So, read this article to learn how to prepare a delicious chicken casserole.
Delicious chicken pot pie recipe
Chicken pot pie is a popular recipe all around the world. Every country has its own way of preparing it. Today we'll be suggesting a version with apples, vegetables, cheese, and ham, ideal for lunches, snacks, or dinner. You'll love it!
Chicken pot pie ingredients
Breadcrumbs
9 oz of onion
4 oz of tomato
5 eggs
1 large apple

Pie pastry
4 fl oz of water
1 red or green bell pepper
A cup of grated cheese

1 oz  butter
8 fl oz of cooking cream
16 oz of chicken fillets
1 small can of ham pate (4 oz)
1/2 cup of diced tomato or tomato paste
1 cup of chopped ham
1 chicken stock cube
Instructions
Pie filling
First, dice the chicken breasts
Then, cut the apple into slices
After that, mix them with the ham, grated cheese, and pate.
With this mixture, we'll enjoy the intense flavor of the ham, the texture of the chicken, the creaminess of the pate, and the sweet touch of the apple.
Pie topping
First, beat the eggs in a bowl
Then add the cream and stir well until you have a smooth mixture
Vegetable filling
Cut the tomato, pepper, and onion into small pieces.
Drizzle a little oil in a frying pan and heat.
Then add the onions and peppers to the pan and fry on low heat.
Once the onion browns and the peppers soften, add the tomato.
Next, you'll need to prepare the sauce. Boil the water in a pot and dissolve the chicken stock cube.
When the stock cube is completely dissolved, add in the tomato paste.
Stir thoroughly, and then pour it over the fried vegetables.
Fry it on high heat for 2 minutes to reduce the sauce.
Putting it all together
Preheat the oven to 350 degrees F.
Grease a baking tray with butter and sprinkle with breadcrumbs.
Arrange the pastry for the pie, adjusting it well to the mold.
Add the ham and chicken mixture, distributing it evenly.
Pour on the sauce, and spread it all over the surface.
Add the egg and cream mixture.
To finish, put the pie in the oven and let it bake for 30 or 40 minutes.
This chicken pie is a perfect dish for any gathering and it can serve at least 4 people. What's more, while you can always enjoy it warm, it's also delicious cold. Because of this, it could also be a good option for an outdoor excursion.
It might interest you...