How to Make 3 Anti-inflammatory Creams to Help Calm Muscle Pain
Although they usually don't present problems, you should try it out on a small area to avoid possible allergic reactions before applying these anti-inflammatory creams.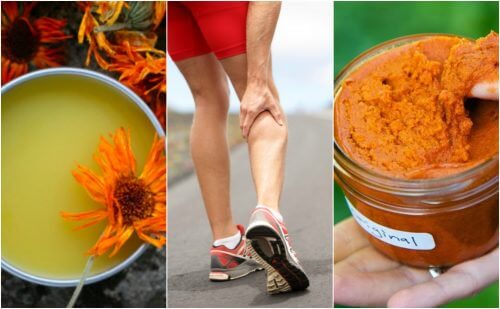 Muscle pains are a common annoyance that generally appear as an inflammatory reaction caused by excessive physical activity or an injury.
Their appearance is also associated with the disabilities that come with aging. In some cases, they are the product of continuously being exposed to stress.
These pains can be light or severe. This depends on their origin and the treatment that you tend to them with.
While rest is a great help, muscle pains almost always requires other therapeutic methods in order to accelerate their recovery.
Fortunately, in addition to anti-inflammatory drugs and painkillers, there are natural products whose application will help relieve the pain.
Don't hesitate to try them out!
1. Clay and natural oil cream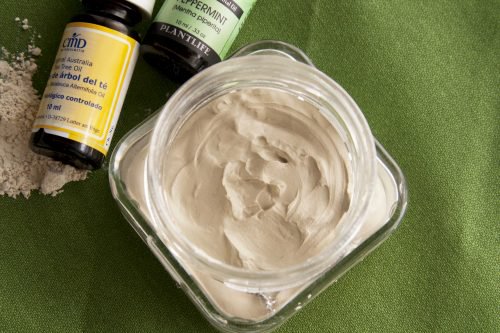 First of all, the relaxing properties of clay combined with the anti-inflammatory powers of marigold and lavender oil provide a different way to treat the muscle pain and stiffness.
These ingredients help with blood circulation. By increasing cellular oxygenation, they relax the contracted muscles.
Ingredients
3 tablespoons of white clay (30 g)
2 tablespoons of marigold oil (30 g)
2 tablespoons of lavender oil (30 g)
Preparation
Add all of the ingredients to a container and mix them until you have a creamy paste.
How to apply
Rub the anti-inflammatory creams over the sore muscles and massage the area for 3 to 5 minutes.
Let the cream sit for 15 minutes and then rinse.
Repeat this up to twice a day.
2. Bee's wax, coconut oil, and arnica cream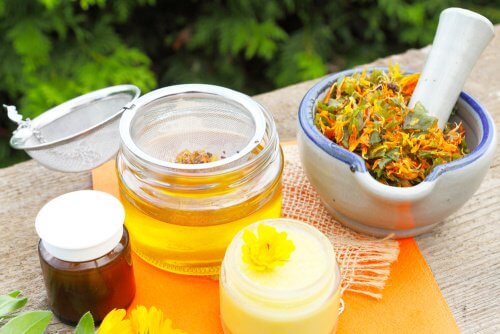 The relaxing power of this natural cream is ideal for reducing muscle pain caused by physical exercise or a blow.
Its anti-inflammatory properties relax the affected zone. By improving circulation, they help to accelerate its relief.
Among its ingredients, we want to highlight arnica. This plant is known for its ability to relax the muscles and joints.
This is because it has an effect similar to those of painkillers, which makes it ideal for reducing the severity of pain.
Ingredients
3 tablespoons of bee wax (45 g)
1 tablespoon of coconut oil (15 g)
2 tablespoons of arnica oil (30 g)
Preparation
First, add the bees wax to a heat resistant container and cook it.
When it is melted, turn down the heat and add the coconut oil and the arnica.
Stir well and let sit until it reaches room temperature.
Once it has a creamy consistency, you can use it.
How to apply
Use the amount of cream that you feel is necessary and rub it over the muscles that you want to treat.
Let sit without rinsing and repeat use twice a day.
3. Coconut oil, cayenne pepper, and arnica cream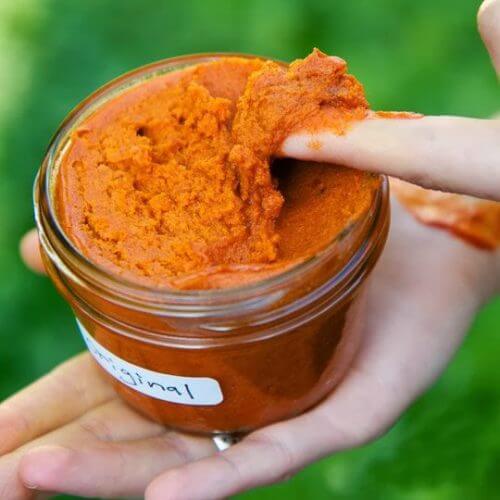 Another way to take advantage of the qualities of arnica is by preparing this anti-inflammatory cream with coconut oil and cayenne pepper.
The result is a relaxing and anti-inflammatory product. When massaged onto the affected area, it reduces pain and stiffness. 
The cayenne pepper helps to create a nice, warm sensation at the affected area, and this helps to stimulate circulation.
Ingredients
4 tablespoons of coconut oil (60 g)
1 teaspoon of cayenne pepper (5 g)
3 tablespoons of dried arnica flowers (30 g)
Preparation
Pour the coconut oil into a heat-resistant container and let it melt over a double burner or in the microwave.
Once melted, add the cayenne pepper and the arnica flowers.
Stir with a wooden utensil and heat for at least 2 minutes.
After 2 minutes, let the cream sit until it is room temperature and until it has the right consistency.
How to apply
Try out a small amount of the product on an area of your skin. You should do this because the pepper can cause allergic reactions in some people. 
If you have no problems, rub the cream over the sore muscles and massage it slowly for 5 minutes.
Rinse the treated zones with warm water and repeat the application whenever you feel it is necessary.
Are you ready to make them? If you're bothered by muscle pain frequently, prepare one of the creams that we have mentioned and get the benefits of an alternative treatment.
However, keep in mind that it's sometimes necessary to complement the use of these creams with relaxing and soothing exercises.