How to Look After Your Feet During Home Confinement
Some people, such as diabetics, children, and the elderly should take special care of their feet during home confinement.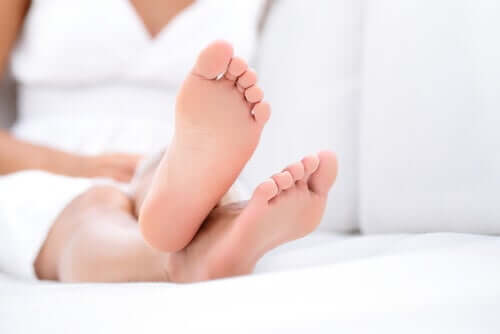 Home confinement due to the coronavirus pandemic has been declared in most countries around the world. Under this confinement, we must stay at home and only go out for essential and permitted activities, such as shopping, working, or exercise. In this article, we'll talk about how to look after your feet during home confinement.
It's a difficult situation because our physical activity has been greatly reduced over the past few weeks. In addition to this, all of our routines and habits have changed, and even our diet. Because of this, it's quite normal that our whole body may be suffering in one way or another, including our feet.
Our feet have become used to certain footwear and physical activity. Plus, they're vulnerable to cuts and problems, such as an ingrown toenail. In this article, we'll explain everything you need to know about home confinement and foot care.
How does confinement affect our feet?
Confinement forces us to stay indoors and restricts most of our outdoor activities. This, of course, makes our mobility very limited. While it's true that we could exercise at home, some people don't have enough space and others aren't particularly motivated to do so.
During our normal routines, almost everyone spends time every day walking, whether that's to go to work, go shopping, or just to go for a walk. The fact that all this has been restricted inevitably turns us into more sedentary people, and we often spend a lot of time lying or sitting down.
Confinement has also altered our dressing habits. When we're at home, we seldom use the shoes we would have normally worn when we had our typical routines. As silly as it may seem, our feet can become unaccustomed to wearing them.
Chiropodists say that it's never a good idea to wear the same footwear nearly all the time. The same goes for going barefoot. Going barefoot is completely natural, but it's easier to hurt yourself or get cold feet.
What's the problem with injuries?
Although most injuries that may occur to your feet during confinement aren't serious, some situations require special attention. For example, older people and diabetics should be more cautious.
Diabetic foot is a condition that usually appears in those with long-term diabetes or poor glucose control. It consists of a loss of sensitivity in this part of the body, and it can worsen any injuries sustained.
On the other hand, there are other injuries that you should take into account. Any blow to the feet during confinement may cause a fracture or muscle problem. We must also highlight ingrown toenails, which can create a lot of pain and even an infection of the foot.
How should you look after your feet during home confinement?
To prevent any problems with our feet during confinement, there are some very simple measures that we can put into practice. First of all, ideally, you should carry out some form of daily exercise routine.
There are many easy and fun ways to exercise at home. You'll be able to find plenty of videos of routines created by trainers online, as well as exercise apps. You can even create your own personalized routine tailor-made to your requirements.
It's also a good idea to change your shoes at least a couple of times a day. Choose comfortable shoes, such as sneakers or shoes that you wear daily. This will prevent your feet from becoming unaccustomed to your footwear.
Finally, it's very important to follow proper hygiene rules and try to wear socks and shoes that allow good perspiration. Our feet are a very important part of our body and we shouldn't forget to look after them during confinement.
It might interest you...