How to Live with a Person with Coronavirus
Because of the rules being imposed worldwide by the advancement of COVID-19, it's a priority that we understand how to live with a person who has coronavirus. This is the situation in many homes, and today we'll tell you what you can do.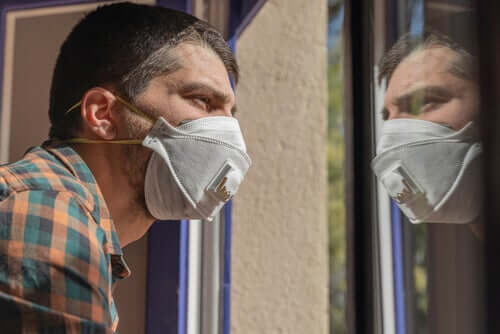 It's very important to know how to live with a person with coronavirus. This is because not all patients are hospitalized. There simply isn't enough space. Therefore, many people have to quarantine at home, and cohabitation is often unavoidable.
This isn't a mistake on behalf of the health care systems or the doctors who treat cases. It's quite correct that certain patients diagnosed with coronavirus are spending the quarantine period in their own homes, and even with other relatives. This is to prevent over-saturation of the health services when it comes to less severe cases.
The measures of mandatory confinement that are being established all over the world specify that social separation is vital to reduce the spread of the virus. However, the fact that some people have to live out the symptoms of coronavirus at home isn't a contradiction. The authorities assume that those who have the virus must respect the self-isolation together with their families or those they live with.
However, fear is also very understandable. Those who have someone infected with COVID-19 in their homes wonder how they can live with someone with coronavirus without becoming infected themselves. And, in this case, what steps should we take to reduce the risk?
In this article, we'll explain how you can do this and the measures you should apply in the affected homes to do it. The coronavirus pandemic has created a special global situation, and, as such, requires special measures.
The spread of the coronavirus
So far, research agrees thatCOVID-19 spreads through respiratory droplets that humans expel through their noses and mouths. Those droplets can enter the mucous membranes of a non-infected person, causing the disease.
The virus can also survive on different surfaces for a time. This is a very important factor to consider in your home. The virus could remain on tables, couches, chairs, cell phones, computers, and televisions. When someone touches these objects, then the risk of infection increases.
The COVID-19 pandemic has shown that we're dealing with a highly contagious virus. Although it isn't one of the most lethal viruses that humanity has ever faced, it's notorious for its ability to spread. Also, in the globalized age, we're living in, travel and contact between humans have favored its spread. That's one of the reasons why countries are increasingly intensifying their quarantine restrictions.
Living with a person with coronavirus
Once the presence of a coronavirus-infected person in the home has been confirmed, we will have to take certain extra confinement measures. This goes beyond the confinement that our country may have imposed or the restrictions that apply to the geographical area where we live.
First of all, the infected person must wear a mask. However, they shouldn't wear just any mask, but one that has an FFP2 filter or higher, to ensure that their viral particles don't disperse.
Secondly, there must be a protocol for separation of more than two meters (6 feet) between people inside the house. This is a difficult task, but you should strictly adhere to it. You'll have to arrange ways of circulating that avoid bringing people into close contact.
Dishes, towels, and bedding must not be shared. Whatever the person infected with COVID-19 uses should be theirs alone. In the same way, most items must be kept for personal use, even if they are not normally shared. This means that cell phones, computers, and books used by the infected person are for that person only.
Hand washing is essential. All members of the household should wash their hands frequently with soap. If you have frequent use of water and soap, then it won't be necessary to use alcohol gel.
How to clean the house when living with a person with coronavirus
The WHO has given a series of recommendations when cleaning a home in situations like these. These recommendations specifically apply to homes where the people are living with a person infected with COVID-19.
The person cleaning the house should wear a mask and gloves. These should be superior to the FFP2 category (as mentioned above). Cleaning cloths and other materials should be placed in a specific bag and hermetically sealed. The bag should be made of resistant plastic, without too much possibility of tearing. You should also place the disposable masks and gloves in the bag.
The cleaning itself requires you to use a solution of water with bleach at a ratio of 1 part disinfectant to 49 parts of water. For clothes and dishes, where bleach isn't used, the usual washing should be carried out by separating the objects that the infected person has used. If you use a dishwasher, then the temperature should be 60º C or more (140º F).
When does the quarantine period end?
Since the person has been diagnosed officially, only a health authority should decide when the person is free of the disease. A doctor must declare them to be free of the disease. This can't be a unilateral decision by the patient or the family. Until such time, you must keep adhering to the previously mentioned isolation measures.
It might interest you...