How to Get Children Interested in Museums
Going to a museum with children doesn't have to be a drag. Find out the best tips for helping your children enjoy a different and educational day out!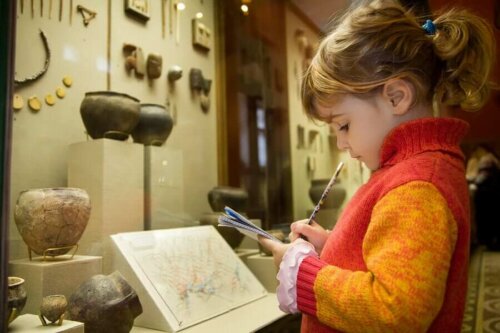 Would you like your children to be interested in museums?
So, don't miss this article. Here are some handy tips for getting your little ones to enjoy an educational and different family activity!
Museums are spaces of science, art, and knowledge, which help even the youngest of children discover their interests. More and more museums are becoming interactive to attract young children with multiple activities.
Why visit a museum with children?
Visiting museums with children can be an activity that generates nerves and even a little fear in parents and teachers, simply because from the very beginning, some little ones seem "to refuse" to enjoy the outing. "It's boring", "there's nothing to do there," "it's an adult thing" are some of the things that some children may say.
However, as parents, we mustn't back down, because going to a museum with children can be a fun and unique experience! Museums are a perfect learning opportunity for young (and not so young) members of the family.
There, it's possible to enjoy full immersion in a theme and discoveries that are part of the experience. Of course, it's necessary to get children excited about museums, help them learn, but above all, let them have fun.
Let's take a look at how.
How to get children interested in museums
Here are some practical tips to help your children be a little bit curious and not resist this family activity!
1.  Choose the museum theme well.
The first step in getting them interested in museums is choosing the theme of the museum correctly.
If your child likes dinosaurs, what are you waiting for? Go visit your local dinosaur museum! Or if their teeth are falling out and you live in Madrid, why not visit the tooth fairy museum?
Think about which subjects that your little one is interested in and look for a museum that focuses on that. This way, your child will be more likely to go and be fascinated by the visit.
Nowadays, there are many museums perfect for keeping even hyperactive children interested. Find out if there are any in your city!
2. Talk to your children to get them interested in museums.
On many occasions, children aren't aware of the cause. It may simply be because a friend has commented on them. Think about it: does your child know what a museum is and what they'll find there? If they've never gone, it's impossible for them to know!
Explain to your children what they can expect in a museum, how they should behave, and what they can or can't do there. Talking with them is very important for them to really understand what the activity is about.
3. Share experiences with them.
Empathy is extremely important at each stage of our lives and especially with our children. Tell your children about a time you went to a museum and try to spark their interest. If your child has visited a museum and is bored, you can share a similar experience you've had and then another one where you had fun!
Putting ourselves in our children's shoes helps us to build a strong parent-child relationship. They feel understood and we get them to listen to us and consider our opinions.
4. Prepare for the trip to help them be interested in museums.
The interest in museums depends very much on the preparation before arriving.
To do this, offer your children a couple of possible museums to visit and then focus on the theme. That is, if you visit a train museum, read stories about them before, watch a film with them and encourage their questions about the topic.
You can even prepare activities for while you're at the museum:
Bring black-and-white images to color based on what you see in the museum.
Prepare questions about what you'll see in the museum.
Print a sheet of pictures of the paintings, trains, dinosaurs, or whatever they'll see in the museum so that children can mark what they are finding.
Take a tour of the chosen museum website. Many offer printable children's activities to make the visit more enjoyable nowadays.
5. Create an adventure.
Visiting a museum doesn't have to be a one-off trip. In fact, we recommend that you prepare a whole adventure around it.
For example, go out together to eat somewhere, go to the museum together and back, spend some time in the park. This way, you'll help your children relax without the "pressure" of going to the museum.
6. Lower your expectations. 
You don't intend to spend the whole afternoon at the museum. It's important that your children feel comfortable there and when they're not,  then it's better to take them home.
Remember: Your children's comfort and pleasure is what matters most.
7. Explore with a full stomach and an empty bladder.
It may seem obvious but your kids will enjoy the activity more if they're not hungry and don't feel like going to the bathroom. Make sure their primary needs are met before entering the museum and while exploring.
8. Be patient.
The aim of this trip is that the family has fun. Remember, it's a new experience for your kids, so be patient and get ready to answer any questions, catch their attention when they start to get bored and rest every time if they need it.
We hope we've helped you create an interest in museums in your children. Try visiting your city's museum with the little ones and enjoying an educational activity with the family!
It might interest you...