How to Fight Migraines Naturally with 5 Delicious Smoothies
While you can drink these smoothies to fight migraines naturally, they can also be very useful for preventing migraines from appearing.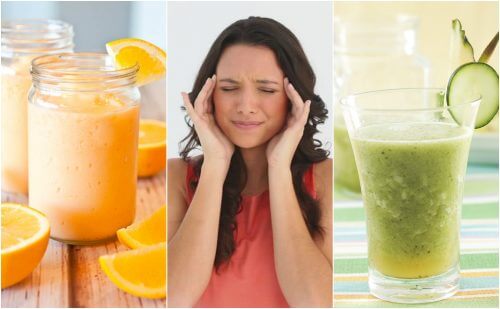 Migraines cause a strong, pulsating, one-sided headache. It's almost always accompanied by nausea and sensitivity to light and sound. 
It can come in light forms and barely last a few minutes. However, it can also become a chronic problem and last for several days.
Unlike normal headaches, the pain is usually localized in just one side of your head. Plus, it can cause visual and neurological problems.
Its main causes have to do with environmental factors like being exposed to pollution. However, it's also related to stress, hormonal changes, and a bad diet.
Learning how to fight migraines naturally can improve your quality of living significantly.
Luckily, besides conventional painkillers, there are alternative treatments that can help to reduce the severity of its symptoms and fight migraines naturally.
Among these, we find several fruit and vegetable smoothies. Because of the nutrients they give your body, they make it easier to control this problem.
Discover them!
1. Pineapple, coconut water, and green vegetables smoothie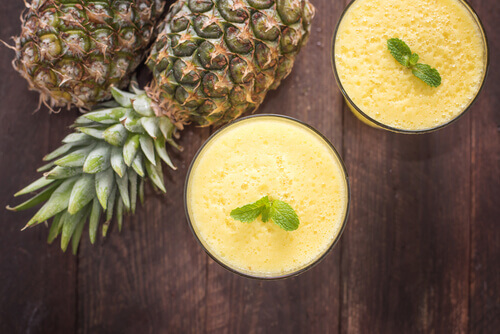 First of all, the ingredients that we combine in this homemade drink give your body anti-inflammatory and pain-relieving compounds. These help to fight migraines naturally.
In addition, its antioxidants and enzymes inhibit the destructive work of oxidative stress. Plus, it helps to increase the process of cellular oxygenation by stimulating your blood flow.
Ingredients
3 pineapple rounds
5 kale leaves
1 celery stalk
½ lemon, juiced
A half of a cucumber
½ teaspoon of grated ginger
1 cup of coconut water
Instructions
Add all of the ingredients to the blender.
Then, blend them until you get a smooth drink.
How to drink it
Drink this smoothie before the first symptom of migraines.
2. Fruit and oat milk smoothie
The vitamins, minerals, and fibers this smoothie help to control inflammation. This reduces the headaches that are caused by migraines.
Plus, these nutrients increase the level of energy in your body. They also stimulate your circulation, which stops the symptoms from lasting longer.
Ingredients
1 ripe:
1 tablespoon of nuts
1 cup of oat milk
Instructions
Chop the fruits and blend them in the blender with the nuts and the oat milk.
How to drink it
After achieving a drink without lumps, drink it as soon as possible.
Drink all of the smoothie if you feel a headache or sensitivity to light.
3. Watermelon and cucumber smoothie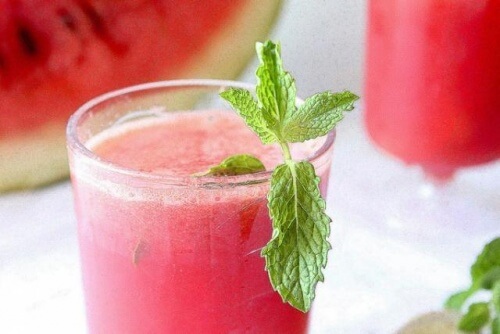 The watermelon and cucumber smoothie is a great remedy for migraines that start because of dehydration.
These ingredients help to balance your body's electrolyte levels. In addition, they also reduce inflammatory imbalances associated with fluid retention and help to fight migraines naturally.
Ingredients
4 watermelon rounds
½ cucumber
1 tablespoon of honey
½ cup of water
2 mint leaves
Instructions
Add all of the ingredients to your blender, except the mint leaves.
Blend it until you get a smooth liquid.
Serve it and garnish it with the mint.
How to drink it
Drink this smoothie on hot days or when you feel the characteristic pain of a migraine.
4. Orange and coconut milk smoothie
Orange juice with coconut milk not only gives you an exotic tropical flavor. In addition, it also gives your body antioxidants and nutrients that relieve strong headaches.
Drinking it increases your energy level. At the same time, it optimizes your cellular oxygenation. It also reduces the inflammation in your tissues.
Ingredients
4 oranges, juiced
½ cup of coconut milk
1 cup of ground linseed
Instructions
Juice the oranges and blend them in the blender with the coconut oil and linseeds.
How to drink them
Drink the smoothie for breakfast or before the first symptom of this problem.
5. Pineapple, banana, and oat smoothie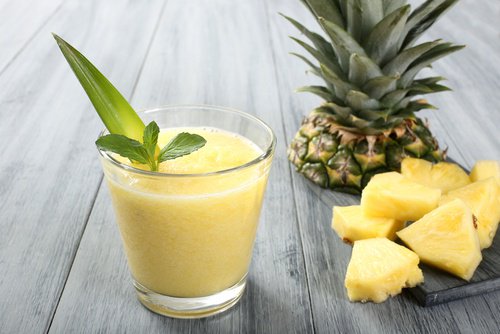 Rich in antioxidants, fiber, and digestive enzymes, this delicious drink it ideal for filling you with energy and preventing migraine episodes.
Its ingredients stimulate your blood flow. Plus, they also control inflammatory imbalances that influence the appearance of this pain.
Ingredients
3 pineapple rounds
1 banana
3 tablespoons of oats
1 cup of water
Instructions
Put all of the ingredients in the blender. Then, blend them until you get a smooth drink without lumps.
Of course, you need to drink it to control the symptoms of this disease.
Do migraines interrupt your days? Make one of the smoothies we've listed and see how good they are at preventing this problem.